As the clock struck midnight and the calendar ticked over to Tuesday, the 4th of September, a section of a new, sprawling train station in Hong Kong was officially handed over to mainland Chinese jurisdiction, where China's national laws will hold sway.
Train stations do not typically make for headline-grabbing news, and government officials seemed to want to keep it that way, having not invited any members of the press or even publicly announced the brief handover ceremony held at the West Kowloon station late Monday night, according to reports (link in Chinese) from local press.
For the Hong Kong and Chinese governments, the station represents a crucial economic link between Hong Kong and China, and the application of Chinese law in a section of the train station is simply a logistical arrangement to make passing through customs and immigration (pdf) more efficient. But to many academics and everyday Hong Kongers, it is an ominous portent of the city's eroding autonomy amidst China's ever-growing influence.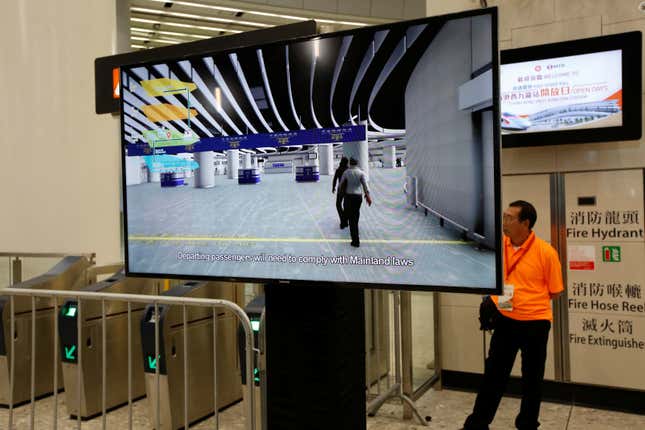 The 26-kilometer (16 miles) Hong Kong section of the Guangzhou-Shenzhen-Hong Kong express rail will link the city to 44 destinations across China and connect it to the world's largest high-speed railway network. The $11 billion project, which has been mired by delays and budget overruns, is expected to carry some 80,000 passengers to and from China everyday when operations start Sep. 23. It is part of China's infrastructural embrace of Hong Kong (though some may describe it as a swallowing up), a multi-billion dollar push to more closely connect the city with the rest of China.
Also scheduled to open later this year is a $20 billion bridge—the world's longest sea bridge—that will link Hong Kong with Macau, the world's casino capital and a former Portuguese colony, and the southern Chinese city of Zhuhai. These two mega-infrastructure projects will knit Hong Kong together with neighboring urban areas into the so-called Greater Bay Area (paywall), which China hopes will rival San Francisco's Bay Area as a high-tech megalopolis.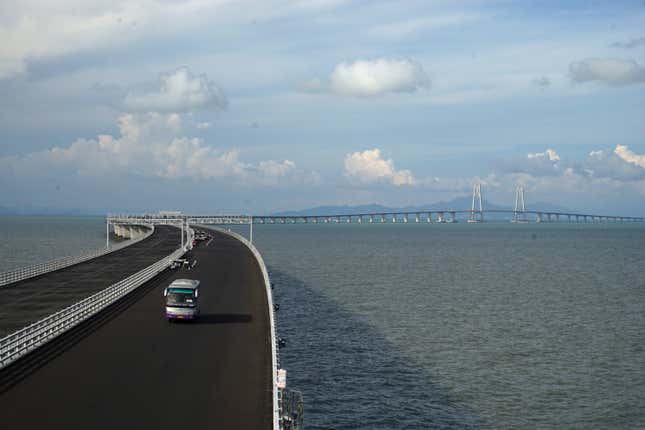 At the West Kowloon train station, where new high-speed trains will cut the two-hour trip to Guangzhou to under 50 minutes, the Chinese government has leased 1.1 million square feet of the terminus—about a quarter of the total floor area—within which mainland Chinese law will be enforced. That area includes the Chinese section of immigration and customs, the waiting hall for departure passengers, and all platforms and trains. In addition to mainland Chinese customs, immigration, and quarantine procedures, China will also be able to legally enforce its criminal laws in the leased area. As many as 800 mainland officers will be stationed there, including 160 police officers, according to the South China Morning Post.
Government officials say this arrangement saves travelers from having to go through border clearance procedures twice, but many are worried that granting Chinese jurisdiction over Hong Kong territory, even if small and contained, will undermine the city's prized political autonomy. One political commentator has called (paywall) the project "China's Trojan train into Hong Kong."
Hong Kong is a former British colony that was returned to Chinese sovereignty in 1997. Under the "one country, two systems" arrangement with China, intended to last 50 years, Hong Kong was granted a "high degree of autonomy," with robust and expansive civil liberties like free speech and free press, an independent judicial system, a semi-democratic political system, and a free-market economy. What is to happen after 2047 has not been spelled out.
Now, the two vastly different political and legal systems of China and Hong Kong are being brought into an unprecedentedly close physical proximity.
"Essentially what you have is the rail terminal in Hong Kong being a Chinese enclave… But outside of that you're still in Hong Kong jurisdiction, where Hong Kong rules apply," said Steve Tsang, director of the London-based SOAS China Institute. "In itself the railway terminal thing is not a fatal blow" to Hong Kong's autonomy, he added, but the city will now have to work hard to contain China's potentially creeping jurisdiction and a further erosion of its sovereignty in the future.
The arrangement at the new train station comes after a series of events that have already deepened fears that Hong Kong's autonomy is being diminished much before the 50-year mark. These include the abductions of Hong Kong-based booksellers selling material the mainland deemed politically taboo, the barring of some young pro-democracy activists from running for the city's legislative assembly, and the imprisonment of others. These steps followed the massive Umbrella Movement protests of 2014, a response to what was seen as China's betrayal in not keeping a commitment to bring in a more democratic process for Hong Kong to elect its leader. The chief executive is currently chosen by a tiny, pre-selected pool of voters.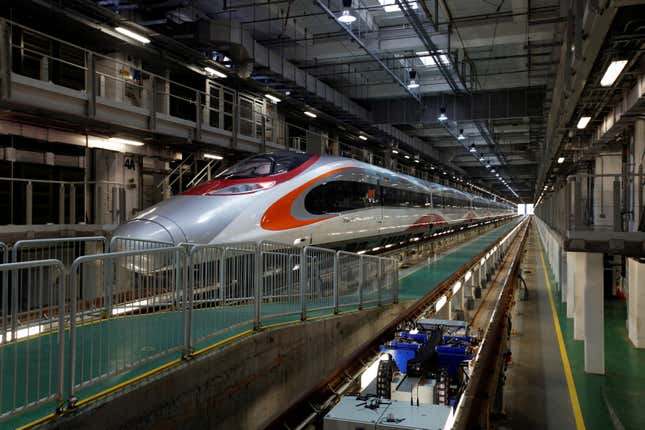 Several parties have sought a judicial review of the plan, which are expected to be heard next month, after the arrangement is already underway.
Government officials maintain that the joint checkpoint at the West Kowloon station is standard international practice. "Juxtaposed controls," as they are known, exist between the US and Canada, and between the UK, France, and Belgium. And Hong Kong itself has leased 4.4 million square feet— four times the size of the area leased to China in the West Kowloon station—in the Shenzhen Bay Port to conduct its own border clearance since 2007.
The problem here, said SOAS's Tsang, comes down to power differentials: "The relationship is not equal."
Whereas the UK and France, for example, are equal partners in international law, Hong Kong is unquestionably the weaker party compared to China. The arrangement, Tsang said, was pushed through in spite of commitments toward "one country, two systems," which were made in the first place because of concerns in Hong Kong that China might one day extend its own system into the city.
"So if you carve out a particular enclave in Hong Kong and in effect turn it into an area where Chinese jurisdiction applies, you are making people in Hong Kong worry about it," he said.
From China's point of view, meanwhile, it's a clever move. Victoria Hui, an associate professor of political science at the University of Notre Dame, wrote in a piece of analysis that when the trains start rolling in, Hong Kong will be swallowed up as part of greater Shenzhen—"just another 'mainland' Chinese city"—as Chinese jurisdiction begins on Hong Kong soil.
"It is a genius stroke to send in bullet trains instead of bullets."