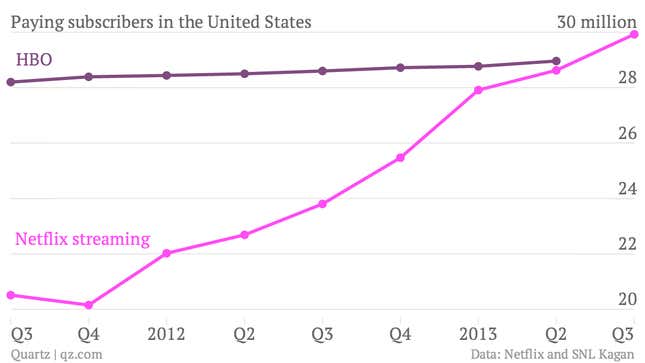 Netflix just reported that its streaming video service had 29.93 million paying subscribers in the United States at the end of September. That surpasses, for the first time, HBO's paid subscriber base of 28.96 million in the US.
The milestone is particularly significant because the two companies have converging strategies, to an extent. Netflix has started calling itself a "network" and investing heavily in original programming. Time Warner's HBO, meanwhile, has been pushing its own streaming video service and hinting at a future less bound to cable TV.
HBO's subscriber figure is an estimate by research firm SNL Kagan and dates to the end of the June. It may have risen in the past quarter but isn't likely to catch up to Netflix.
Netflix reported third-quarter earnings of $0.54 per share, beating analyst expectations. It turned a profit of $31.8 million on revenue of $1.1 billion.
But investors, as always, focused on the company's subscriber figures. Netflix had a total of 47.4 million subscribers at the end of the third quarter, including people trying out the service for free. It had 31.1 million streaming subscribers (29.9 million of them paying) in the US and 9.2 million (8.1 million paying) in the rest of the world.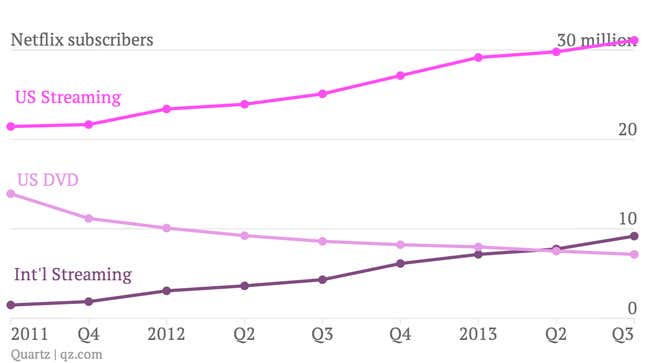 More: