The 2018 Nobel prize in economics was awarded to two Americans, William Nordhaus of Yale University and Paul Romer of New York University (and a former chief economist at the World Bank), for their decades of research into how to create sustained long-term economic growth.
Nordhaus and Romer "have designed methods that address some of our time's most fundamental and pressing issues: long-term sustainable growth in the global economy and the welfare of the world's population," the Swedish academy said (pdf). "At its heart, economics deals with the management of scarce resources. Nature dictates the main constraints on economic growth and our knowledge determines how well we deal with these constraints. "
Though they share this year's Nobel prize and both focus on long-run macroeconomic analysis, the crux of their work is very different: nature and knowledge. After the announcement, Romer said he hoped that the prize would spread the message that "people are capable of amazing things when we set about doing something." Romer's work centers on how the accumulation of ideas sustains growth, and how technology develops in a market economy. Nordhaus, meanwhile, is considered the father of climate-change economics; he is the first person to create a quantitative model that shows the interaction between the economy and the climate.
Put another way, Romer's research contributes to our understanding of how humans harness ideas to create economic growth, while Nordhaus's work highlights how we have an equally amazing capacity for destruction.
Since the 1970s, Nordhaus has built models to determine efficient paths for coping with climate change. His DICE model, which stands for the Dynamic Integrated Climate-Economy model, is widely used to gauge the consequences of climate policy interventions. His research suggests that best remedy for climate change caused by greenhouse gas emissions is a global system of carbon taxes enforced by all countries.
This diagram shows carbon dioxide emissions for four climate policies, according to his simulations: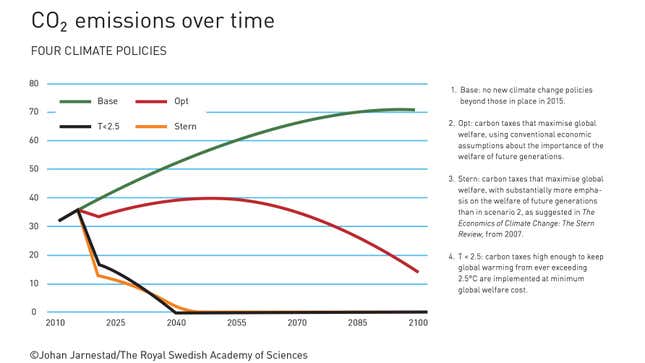 Romer's research has promoted so-called endogenous growth theory (pdf), which describes how investments in human capital, innovation, and knowledge are significant contributors to economic growth. Since the 1990s, Romer has demonstrated how economic forces govern the willingness of firms to produce new ideas that lead to breakthrough innovations.
Romer left his position at the World Bank (paywall) in January after just 15 months, after a series of clashes with the organization's staff that included disagreements over everything from grammar in reports to fundamental methodological differences. He called out irregularities in the World Bank's ease of doing business rankings and said they had become political, promising to correct them going back four years. He lost his managerial duties at the bank's research arm following a staff revolt against his efforts to improve the quality of writing in the group's publications.
Nordhaus and Romer will share the 9 million Swedish krona ($988,000) prize. This is the 50th anniversary of the Sveriges Riksbank Prize in Economic Sciences in Memory of Alfred Nobel. It has only once been to given to a woman, Elinor Ostrom, who died in 2012. Last year, the prize was awarded to Richard Thaler, an American economist at the University of Chicago, for his contributions to behavioral economics.