This item has been corrected.
Russian billionaire Mikhail Prokhorov, the owner of the Brooklyn Nets, walked into the middle of geopolitical dispute over the world's most sought-after pink salt and left with a $3 billion stake in a global mining company. If all goes as expected, Prokhorov will also walk away with a ticket to freedom for the company's CEO, who was thrown into jail by a post-Soviet autocrat this summer.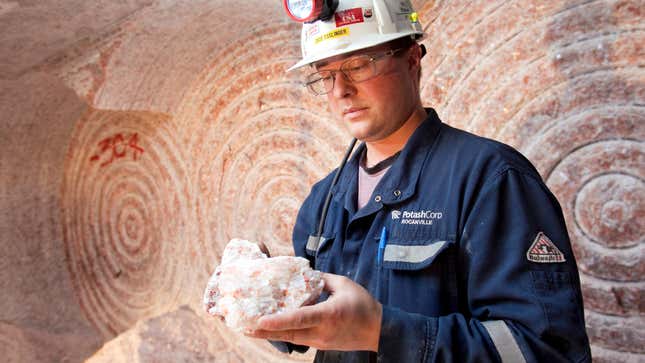 The company at the heart of the dispute is Uralkali, which produces a fifth of the world's potash, an important ingredient in fertilizers needed to make farms more productive and feed the world's growing population. Until July, the company was partners with Belarus's state-owned potash company, Belaruskali, in an informal cartel that kept prices high. It then abruptly broke up the arrangement, ensuring that prices would fall, allegedly because its partner was striking secret side-deals.
In response, the prime minister of Belarus lured Uralkali's CEO, Vladislav Baumgertner, to Minsk, and threw him in prison.
This elevated a boardroom dispute to a diplomatic clash between Russian president Vladmir Putin and Belarus's own autocratic ruler, Alexander Lukashenko, whose country's economy is heavily dependent on both potash exports and Russian largesse. Belarus apparently demanded new ownership for Uralkali, and that's where Prokhorov came in. Onexim, the investment fund he founded, purchased 21.7% of the company from the former majority owner and fellow billionaire Suleyman Kerimov. The price was not revealed, but at its current market capitalization the shares are worth $3.3 billion. The second largest owner? China's sovereign wealth fund.
With new ownership in place, Belarus is reportedly planning to allow Baumgertner, who was released to house arrest in Minsk after a month in prison, to be extradited to Russia as long as he is charged with a crime there. Once out of Belarus, those charges may be dropped, and there has been some speculation that the company may seek to re-establish the joint marketing relationship.
Prohkorov, whose net worth is estimated at $13.2 billion, made his fortune as a mining investor during Russia's wild west industrial privatization, purchasing major stakes from the government at dubious prices. In 2012, he ran against Putin for Russia's presidency; other candidates alleged Prohkorov was trying to split the opposition's vote as a favor to Putin. His purchase of the Uralkali stake likely came with the tacit approval of the Kremlin.
In the US, Prohkorov's biggest claim to fame is his ownership of the Brooklyn Nets professional basketball team, a franchise in the National Basketball Association (NBA), and, ironically, also a cartel.
Correction (Nov. 20): An earlier version of this article incorrectly named the CEO of Uralkali as Felix Baumgartner, not Vladislav Baumgertner.