After emerging from a massive corruption scandal and the exploding Note 7 phone fiasco, Samsung has been on a tear in recent years. The company should have been losing market share to competitors whose phones did not blow up, or whose executives were not at the center of a government crisis. Instead, Samsung produced a string of excellent phones that includes its most recent launch: the Galaxy S10.
Announced at a 10-year celebration of Galaxy phones in San Francisco in February, the S10 actually encompasses four Galaxy S models: the standard S10, a smaller, more affordable S10e, the larger S10+, and the giant S10 5G. Quartz spent the past month (off and on) living with the S10+ to see if it holds up to previous models. Here's what we found.
What's good
The camera is great. As has become the norm for Samsung smartphones in recent years, the S10+ has a wonderful camera setup. It features three cameras on the rear, including a 16-megapixel super-wide-angle camera, as well as a regular wide-angle and a telephoto camera (both of which are 12 megapixels). These combine to let you pick up vivid colors and sharp detail in photos, and produce some interesting depth-of-focus tricks. You can also change how much you want the background blurred after you've taken a photo (more on that below).
They can pull out some lovely colors without much work:
And even help decidedly average photographers like myself pull off some sharp shots: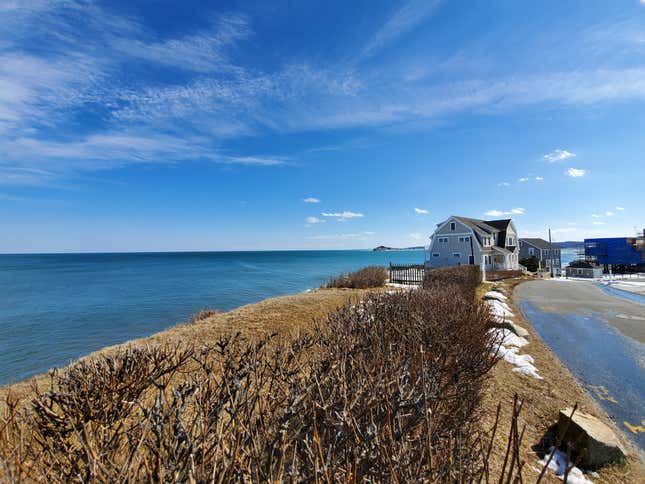 The three rear cameras also let the phone capture an amazing field of view for any scene; these three photos were all taken one after another from the same spot, using the three different zoom toggles on the S10+.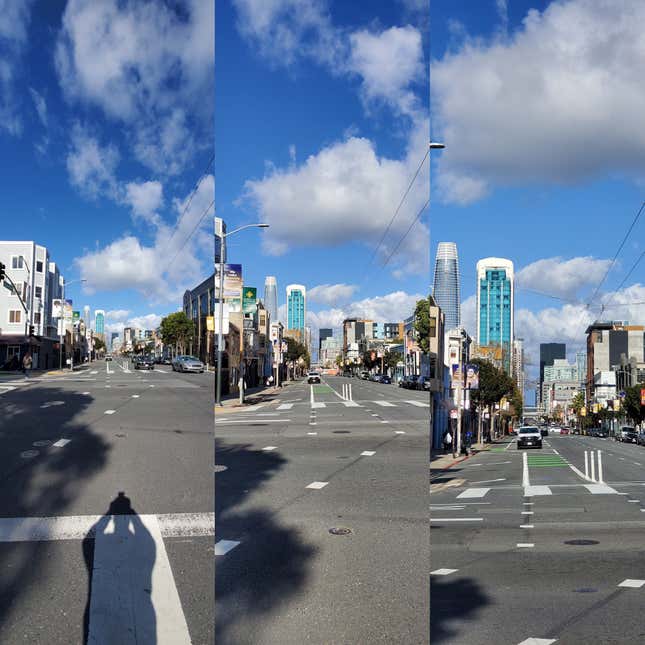 The S10+ also has two front-facing cameras—10 and 8 megapixels, respectively—that allow for super-wide selfies, meaning you should be able to get more people into your group shots. But be warned: When you use both the wide-angle selfie camera or the super-wide rear camera, there's a bit of distortion as the edges of the images start to fishbowl.
The display is sharp and massive. The huge 6.4-inch high-resolution AMOLED display is a joy to look at, whether you're playing games, watching movies, or just reading emails. As Samsung has hinted at before, if its displays weren't great, its competitors (like Apple) wouldn't be buying them.
The battery life is decent. The marketing for the S10 claims the phones have "all-day battery," although it's perhaps intentionally unclear whether that means 24 hours or just the amount of hours most people are awake. Either way, the S10+ had no problems getting through more than a whole day for me on a single charge, although sometimes the battery drained quite quickly, and it wasn't clear what I was doing to cause that.
Reverse charging. Although Samsung wasn't the first to do it (Huawei took that crown), the Galaxy S10's ability to charge other devices is both a fantastic party trick and a potential lifesaver. If you're on a trip and forgot to bring more than one cable, fear not! When it's plugged in, the S10 can pass power through the phone to another device sitting on its back, like Samsung's new Galaxy Buds wireless headphones, or even a competitor's.
Simple interface. Samsung has in the past been criticized for adding far too much of its own junk to the Android operating system, including apps that few people used and software styling that just felt bloated. It's slimmed down what it includes on devices now (although it still has its own app store if you're hankering for Samsung-themed apps), and the S10 provides a clean, simple Android experience that is generally enjoyable to use.
What's not so good
Finicky fingerprint scanner. Samsung managed to ditch the awkwardly placed fingerprint scanners its older phones had on their backs and incorporate one into the display. While this means ample screen real estate, and no more difficult finger stretches, the scanner isn't quite as reliable as others I've used. It struggled to read my fingerprint unless my finger was in a very specific position, and often told me there was no match. I found myself double-tapping the screen to wake up the phone's facial-recognition cameras to unlock the device instead of using the fingerprint scanner.
Camera effects go too far. While it's nice for the occasional Instagram post, the camera-blur effects on the new S10 phones border on comical. Here's a shot of me with the "Zoom" effect turned up to the maximum: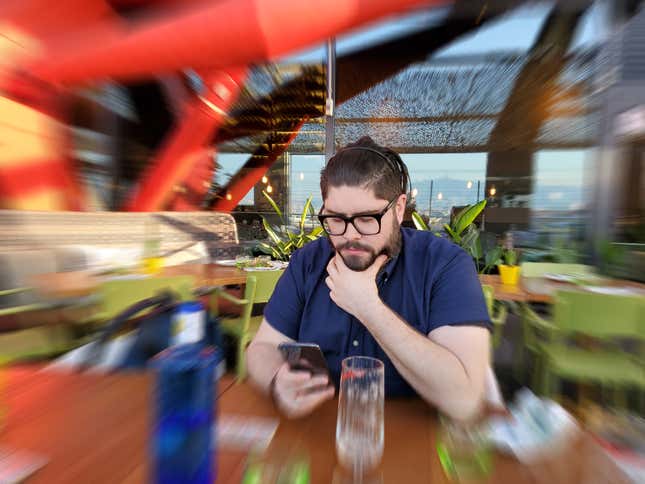 Camera placement is strange. The rear cameras are fine enough, but the cameras on the front confuse me. Some will complain that they're hanging out on the right-hand side of the display, which is a little odd given that's where battery and cell-network information usually goes, but that's not what bothers me. It's that the cameras aren't centered on the background, in most cases touching the bottom of the top status bar in apps, making it look like the cameras were plopped in as an afterthought: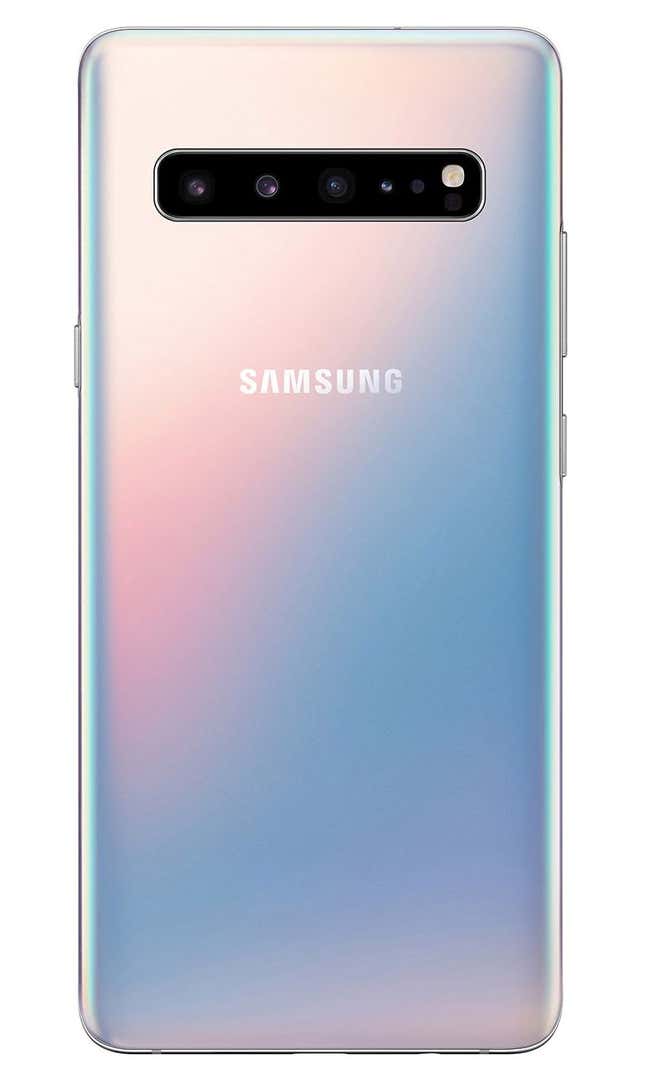 It's big. Like all of Samsung's recent plus-sized models, the S10+ is a big phone to hold in your hands. It stands about 6.2 inches tall and nearly 3 inches wide, meaning there's little chance your fingers will be able to stretch from one side of the screen to the other.
Bixby still doesn't add value. Samsung's answer to Siri is very much a work in progress. Its ability to recognize and respond to questions is subpar, especially compared to the Google Assistant, which is also available on the phone, and the answers Bixby gives are stilted and robotic. Bixby Vision, the AI tool built into the camera, can sort of recognize objects, but can't do much with that information. At least you can make the dedicated Bixby button do something else now.
Bad gimmicks. Samsung has been trying to copy Apple's "Animoji"—the animated cartoon heads you can overlay on yourself using augmented reality in the iPhone—for about a year now, and… it still has a long way to go:
It also seems to struggle with AR overlays for third-party shopping products:
It's costly. It wasn't that long ago that a new top-of-the-line Galaxy phone cost around $700, but those days are sadly behind us. The standard S10 starts at $900, and the S10+ at $1,000. You can pick up the S10e for $750, but if you compare the three devices, you'd be getting a smaller battery, fewer cameras, less memory, and a smaller screen. That's a lot of cut corners to save $150.
Should you get one?
The S10+ does not reinvent what a smartphone is (another device Samsung announced in February may end up doing that), but it does once again prove that Samsung is on top of its game for producing high-quality mobile hardware. This is a very solid upgrade over last year's Galaxy S model, which I called pretty much perfect, and if you're in the market for a large Android device (that doesn't have a stylus), this is the one to choose—assuming you're fine with the price. If you're using an S8+ or S9+ and don't feel a massive need to upgrade, you aren't missing too much. But if you're due an upgrade, this is a fantastic device, and the majority of the detractions above are just nitpicking.
And if you're on an iPhone and considering switching to Android, this is a great choice to experience how the other side lives, but there's not much that Samsung's phones have these days that iPhones don't. Apart from a headphone jack, that is.