More than four years after it first bought a stake in Chrysler, Fiat is finally taking full control of the American automaker. The deal is valued at $4.35 billion for the 41.5% of Chrysler that Fiat does not already own.
The transaction is expected to close by Jan. 20, according to Fiat (pdf). The markets clearly think Fiat boss Sergio Marchionne got a good deal—the Italian car company's shares are soaring today: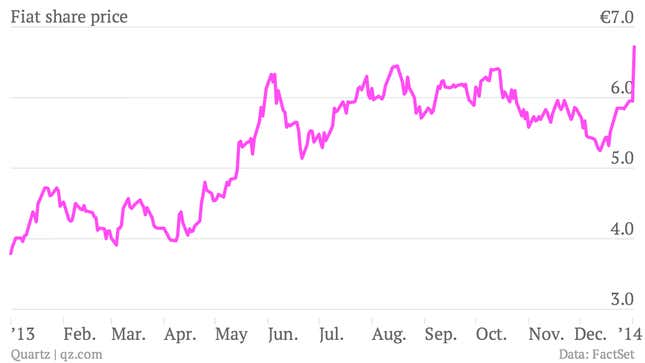 Fiat's outright purchase avoids a public offering of the Chrysler stake, which was a gambit by the stake's owner, the United Auto Worker union retirement trust, to get a higher price for the shares. But Marchionne structured the acquisition in such a way that Fiat will pay only $1.75 billion of the headline purchase price—the remainder will come from Chrysler's own cash, in the form of a $1.9 billion special dividend and $175 million annual payments over the next four years to the union trust.
Analysts thought that the trust could force Fiat to pay $5 billion for the stake, so Marchionne's clever financial engineering explains much of the surge in Fiat's share price today. With Fiat's home markets in Europe deep in the doldrums, robust auto sales in the US have been propping up the Fiat-Chrysler alliance for some time. With full control of Chrysler, Marchionne will gain a free hand to integrate the two groups, exploiting economies of scale to save costs.
In all, Fiat will have spent just under $4 billion during its gradual takeover of Chrysler. This is a far cry from the $36 billion it cost Daimler-Benz to gain control of Chrysler in 1998, or the $7.5 billion private equity firm Cerberus spent to acquire an 80% stake in Chrysler in 2007. Chrysler was laid low by the financial crisis, its reliance on gas-guzzling sport utility vehicles badly exposed when consumers cut back during the recession. Falling sales and huge debts pushed it to the brink of liquidation in 2009 before Fiat came to its rescue, revamping product lines and slashing its bloated cost base.
The combined Fiat-Chrysler group ranks seventh in terms of global vehicle production (pdf), ahead of Honda and behind Nissan. But even after today's run-up, Fiat's market capitalization lags many of its competitors, as does the implied valuation for Chrysler as a stand-alone entity. Patience and shrewd negotiation may have fetched a discount for control of Chrysler at a crucial time for Fiat, but in many ways the hard work is just beginning.