Men In Black: International—the fourth film in the Men In Black franchise and the first since 2012—was a comical failure.
The sci-fi film grossed just $30 million over its opening weekend in June, more than $20 million less than the three previous films grossed during their openings. According to Hollywood market research firm CinemaScore, audiences gave the film the lowest grade in the series. And it received a woeful 22% on review aggregator Rotten Tomatoes; If you multiplied that by four, it would still be worse than the rating for the first Men In Black film in 1997.
Assessing the catastrophe, a Sony Pictures executive had this to say to the Hollywood Reporter: "The movie needed a greater reason to be."
You'd think that "a reason to exist" would be the first thing a studio figures out before it greenlights, produces, and promotes a movie with a nine-figure budget. But that's not how Hollywood operates. When it comes to once-lucrative franchises, the strategy is to make more movies, and ask questions later. Or…never. These blockbusters are what put butts in seats, and studios are hesitant to wander too far from proven intellectual property ("IP," the characters and stories that they own).
But the time is coming when they might have to just that, because many of the biggest franchises in cinema history are either ending, on hiatus, or dealing with major creative problems.
"Phase three" of Marvel's Cinematic Universe 1 ended this year with Avengers: Endgame. The comic-book conglomerate owned by Disney isn't going to stop making superhero movies, of course, but Endgame could provide the company an opportunity to think outside the box with its next series of heroes—and perhaps provide an opening for rival DC Entertainment (owned by Warner Bros.) to revitalize its own franchises.
Disney's other gargantuan property, Star Wars, will wrap up in December with the final movie in the reboot trilogy that launched in 2015. No, Disney is not done with the franchise just yet—the company is already developing another Star Wars trilogy with The Last Jedi director Rian Johnson—but can they really keep this up forever? There will (likely) come a time when audiences don't want another Star Wars, the same way they clearly don't want another Men In Black or X-Men. Even the universally beloved Toy Story is no sure thing in perpetuity: While Toy Story 4's $118 million opening was objectively good, it still missed analyst expectations by a wide margin.
Other studios are in far, far more dire situations than Disney. Can they find or create new intellectual property to replace the popular brands that have dominated cinemas for decades? Are audiences growing fatigued of seeing the same characters and stories in theaters every year? And what, exactly, constitutes a "franchise" in 2019? Is it just a film series, or can it be a person? A company? An aesthetic?
The Hollywood franchise is in flux, and the next two years will be critical in determining what works and what doesn't as the industry reckons with a century-old machine that's finally running out of steam.

The movie franchise is Hollywood's cash cow
The American box office has barely grown in the last three decades, and all that's keeping it from crashing are the big franchise movies, or "tent-poles," propping the whole system up.
Familiar series like Star Wars, Harry Potter, and Jurassic World have an edge over new movies simply because they're familiar (hence the rise of the "legacyquel" 2 and the remake 3).
Going to the movies is a big time and energy investment. With a mega-series like Avengers, everyone knows exactly what they're getting in exchange for their two hours and $20. Franchises are safe and comfortable. Viewers, already familiar with the canon 4, feel connected to them through history and shared experiences. And because of that, franchise films rise to the surface amid the flood of content across film, TV, and the internet.
So far this year, Jordan Peele's Us is the only film to appear in the top 10 in box office receipts that's not part of a movie franchise. Every other film in the top 10 is either a sequel 5, spinoff 6, or reboot 7. 2018 was the same; only Bohemian Rhapsody met the criteria for an "original" film untethered to any existing film franchise. In 2017, every single one of the 10 highest-grossing films of the year were franchise films.
The film industry is "slowly shrinking, upheld only by fast-rising ticket prices," writes Matthew Ball, a media analyst and the former head of strategy at Amazon Studios, in a Twitter thread. "And survival is only due to the massive blockbuster." Another insider told Vanity Fair that "all movies that aren't giant Marvel movies, or Star Wars, have more competition from streaming services offering compelling content at home."

How we got here: A history of the franchise

The biggest players in movie franchises
Hollywood and its many franchises are run by just a few companies. The "big five" studios, under which the vast majority of famous film brands are owned, are: Disney, Universal Pictures, Warner Bros., Sony Pictures, and Paramount Pictures.
Below them are a group of "mini-majors" like Lionsgate and CBS Entertainment, though those studios don't own much lucrative IP (Lionsgate's biggest ongoing property is the John Wick series—though it sure seems like its Hunger Games trilogy isn't quite as dead as we thought—there's talk of a prequel 8.)
Here's how the various companies stack up. We've listed the big properties they each own, key people at the top of each organization, and a brief guide to their histories and strategies in approaching franchise movies.
Disney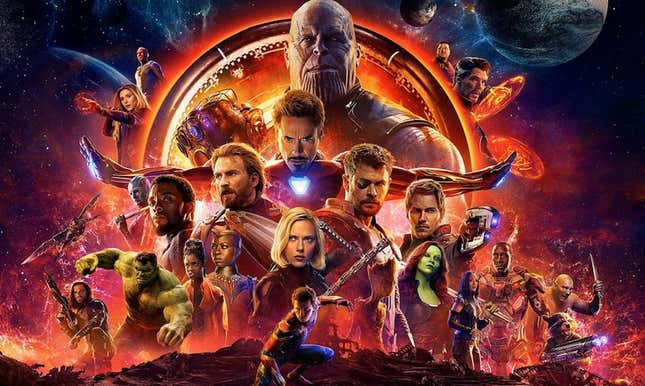 Subsidiaries: Marvel, Pixar, Lucasfilm, 20th Century Fox
Franchises: Avengers, Star Wars, all the Pixar characters, The Lion King, Pirates of the Caribbean, Avatar
Names to know: Bob Iger (Disney chairman and CEO), Alan Horn (Disney Studios chairman), Kevin Feige (president of Marvel Studios), Kathleen Kennedy (president of Lucasfilm), Jim Morris (president of Pixar), Pete Docter (Pixar chief creative officer), Emma Watts (Fox film vice chairman)
Number of Hollywood movies this year to date: 10 (including Fox)
Share of 2019 box office to date: 39.2% (including Fox)
The rundown:
Disney is the biggest company in entertainment by several orders of magnitude, and one of the most important companies in the world. After its takeover of 20th Century Fox, Disney now owns nearly half of the global box office on its own.
Disney's strategy is simple: milk all of its many iconic brands for all their worth, and buy as many more of them as possible. After purchasing Lucasfilm (Star Wars) and Marvel (Avengers), Disney now owns the two biggest movie franchises in the world, in addition to its usual roster of Pixar films and family-oriented entertainment. And now Disney owns Avatar as well, after buying 20th Century Fox in 2018. Disney's stranglehold on the industry is so strong that other studios are afraid to release movies around the same time Disney ones are slated to come out. Some have even argued that for the sake of cinema, Disney needs to be broken up.
One recent sign that Disney is eating into other studios' attempts to start new franchises: Warner Bros. has reportedly put production of its much-anticipated anime adaption Akira on hold while director Taika Waititi works on Marvel's Thor 4.
---
WarnerMedia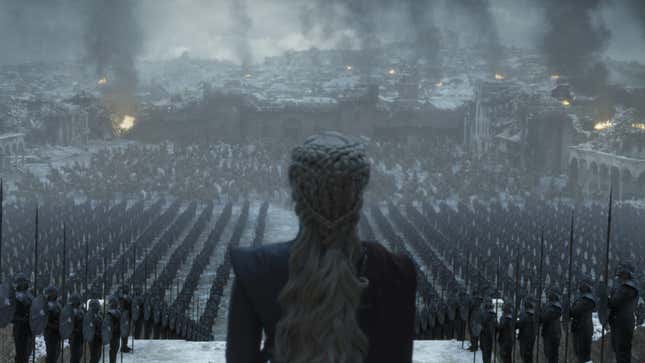 Subsidiaries: HBO, DC Entertainment, Turner Broadcasting, New Line Cinema
Franchises: Pokemon, Justice League (Superman, Wonder Woman, Batman, Aquaman, etc.), Harry Potter, LEGO, The Hobbit
Names to know: John Stankey (CEO WarnerMedia), Bob Greenblatt (HBO chairman), Casey Bloys (HBO programming president), Jim Lee (DC Entertainment chief creative officer), Walter Hamada (DC Films head of production)
Number of Hollywood movies this year to date: 9
Share of 2019 box office to date: 14.7%
The rundown:
Though miles behind Disney in terms of global reach and output, Warner Bros. is the second-biggest movie studio in the world right now, and thus it's arguably the second-biggest player in the franchise game. It owns DC Comics, which means characters like Superman, Batman, and the other famous DC heroes fall under the Warner Bros. umbrella.
After several DC films flopped with critics and disappointed at the box office, the division saw a major leadership shakeup, but some recent films including Aquaman and Shazam! provide some hope that it can right the ship and put up more of a fight against Disney's encroaching monopoly. Just as crucial to Warner's overall business is its TV crown jewel, HBO, along with the many IPs the prestigious cable network owns—namely Game of Thrones. The Emmy-winning fantasy series might technically be over, but the Thrones franchise is not going anywhere. HBO is developing a number of spinoff series, as well as investing in other famous sci-fi and comic book properties like His Dark Materials and Watchmen.
---
NBCUniversal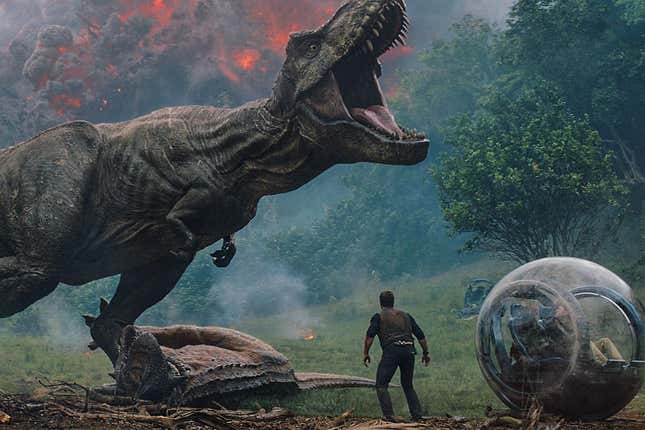 Subsidiaries: Universal Pictures, NBC Entertainment, Focus Features, Dreamworks, NBC, Syfy, USA, Amblin Partners
Franchises: Fast and the Furious, Jurassic World, Dark Universe, Blumhouse Productions, Unbreakable, Fifty Shades, The Purge
Names to know: Steve Burke (CEO NBCUniversal), Donna Langley (Universal Pictures chairwoman), Jason Blum (founder and CEO of Blumhouse), Steven Spielberg (director and Amblin Partners CEO)
Number of Hollywood movies this year to date: 9
Share of 2019 box office to date: 13.7%
The rundown:
One of the oldest major film studios in the world, Universal Pictures is home to some gigantic franchises, including the Fast and the Furious and Jurassic World. If it's not a Marvel or DC property, there's a pretty good chance that means it belongs in the Comcast family, which owns Universal's parent company, NBCUniversal.
With the help of director Steven Spielberg, Universal has produced some of the most iconic blockbusters of the 20th century, from Jaws to E.T. to Jurassic Park—which, by the way, is still a major cash cow for Universal 25 years later. Universal may never be as big as Disney (though not for the lack of trying), but it's right there with Warner Bros. in the second tier of franchise-makers. Universal doesn't own any major comic book properties, so instead it's put a lot of money into more straightforward action and adventure franchises.
---
Viacom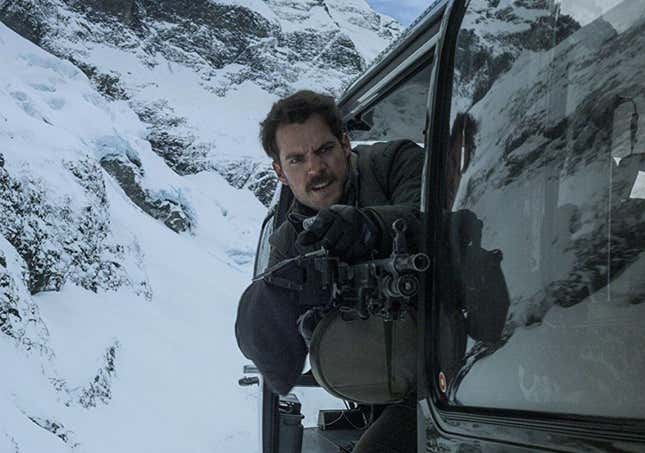 Subsidiaries: Paramount Pictures, BET, Nickelodeon, MTV, Comedy Central
Franchises: Transformers, Mission: Impossible, Star Trek, A Quiet Place, Teenage Mutant Ninja Turtles, Terminator
Names to know: Philippe Dauman (Viacom chairman), Robert Bakish (Viacom president and CEO), Jim Gianopulos (Paramount Pictures CEO)
Number of Hollywood movies this year to date: 4
Share of 2019 box office to date: 5%
The rundown:
Viacom owns a whole bunch of TV networks and other entertainment companies, but for the purposes of this guide we're going to focus on Paramount Pictures, the second-oldest film studio in the US. After success in the 1980s, Paramount has hit a bit of a rut in recent years as it's failed to produce memorable tentpole movies. Paramount doesn't own any superheroes, nor does it have massive brands like Jurassic Park and Harry Potter to fall back on, as Universal and Warner Bros. do, respectively. It's stuck somewhere between being a very large mid-major studio and an increasingly insignificant major studio.
It doesn't help matters that for the last decade-plus, Paramount was plagued by mismanagement and corporate turmoil, which resulted in a long series of mega flops. The studio has taken some big swings out of necessity recently, and it's paid off—to a degree. A Quiet Place was a huge hit and will soon get a highly anticipated sequel. But films like Annihilation, The Cloverfield Paradox, and Downsizing all failed financially. Still, as long as Paramount owns the distribution rights to the Mission: Impossible, Transformers, and Star Trek series—its three most reliable franchises—it'll remain relevant. (Owning distribution rights to a franchise is a little different than owning the IP—Transformers, for instance, was an established brand before Paramount purchased the rights to release the characters in films. Paramount doesn't own the characters, like Marvel does its superheroes. It just possesses the rights to distribute the films, and sometimes those rights change hands.)
---
Sony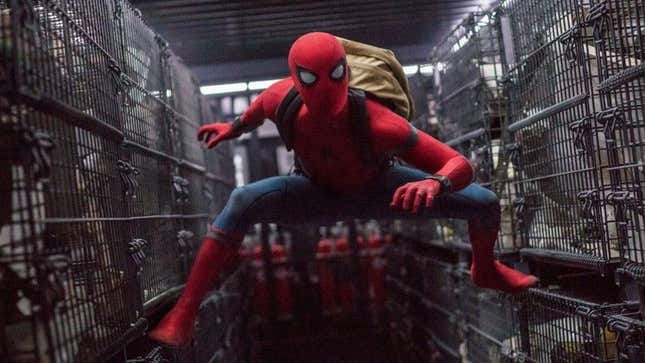 Subsidiaries: Sony Pictures, Sony Pictures Television
Franchises: Spider-Man (shared with Disney), Venom, Jumanji, Goosebumps, Charlie's Angels, Men In Black
Names to know: Tony Vinciquerra (Sony Pictured Entertainment chairman and CEO), Tom Rothman (chairman, Sony Pictures Motion Picture Group), Mike Hopkins (chairman, Sony Pictures Television)
Number of Hollywood movies this year to date: 9
Share of 2019 box office to date: 8.6%
The rundown:
Outside of Spider-Man (we'll get to that in a second), Sony owns a bunch of IP that makes you go "…meh." Now mostly recovered from the 2014 hack that made embarrassing emails written by employees available to the public, Sony is a middle-of-the-road film studio, barely keeping afloat thanks to the strength of a few franchises.
Sony has long maintained the film rights to the Spider-Man character, and while the studio finally agreed to allow him to star in Disney-Marvel superhero films in 2015, Sony still keeps all the box office gross. (After The Amazing Spider-Man reboot flopped, Sony realized it needed Disney's help in translating the character to the big screen.) Disney still gets the merchandising, which is arguably more lucrative anyway—so the Mouse House isn't complaining. For now, that is. It'd love to someday (soon) get back the rights to Spidey, so it doesn't have to share any more iconic comic book heroes with any other studios. Sony's misguided attempt to revive the 1990s sci-fi franchise Men In Black earlier this year resulted in an epic flop.
---
Netflix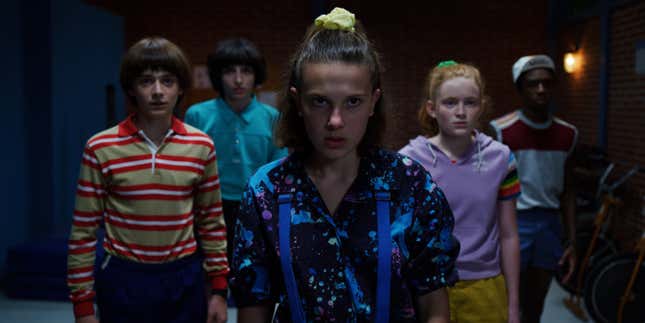 Subsidiaries: None that you need to know about
Franchises: Stranger Things, The Witcher, Bird Box
Names to know: Reed Hastings (Netflix co-founder and CEO), Ted Sarandos (Netflix chief content officer)
Number of Hollywood movies this year to date: 23
Share of 2019 box office to date: N/A
The rundown:
Netflix is the strange variable in this Hollywood equation. Its straight-to-every-subscriber-in-every-country business and distribution model has turned the film industry upside down, attracting big-name talent to its family with massive Silicon Valley paychecks and a promise that films will be seen by a lot more people than if they were released in a traditional theater. Of course, many of the biggest names in Hollywood don't want to give their work to a service that won't show it on a real movie screen, and that's a big obstacle for Netflix to climb if it wants to really make a run at Disney and its globe-spanning, blockbuster movie franchises.
Netflix's war is one of attrition—winning through volume and ubiquity, not necessarily curated quality—but, so far, it's worked quite well. The one thing stopping the streaming service from truly taking over the planet is that it's been slow to develop its own intellectual property. Stranger Things is certainly one—there's no arguing that it's a global phenomenon sure to spawn spinoffs, sequels, and other forms of content when (or if) it ends. And The Witcher could be the next big fantasy franchise after Game of Thrones. But outside of that, Netflix's film catalog is underwhelming, and it seems more committed now to buzzy Oscar bait and cheap rom-coms than it is to seeking out the rights for huge franchises or to fully investing in creating its own.

Franchise fatigue is still a future threat
"Franchise fatigue" is the idea that audiences are getting tired of seeing the same franchise films over and over again, and that that weariness is tangibly impacting Hollywood's bottom line. So, is it actually happening?
In short, no. It's not.
As we mentioned, nine of the top 10 highest-grossing films of 2019 are franchise movies. Though Men In Black: International and X-Men: Dark Phoenix flopped, franchises as a whole are still succeeding—in fact, they're really the only movies succeeding. Most likely, those films flopped because they were just bad, uninspired, marketed poorly, and audiences are tired of those specific stories.
But therein lies the danger. There is enough box office smoke to assume there may about to be a fire, and that studios can't count on their existing franchises to continue forever. And even without a full-on fire, smoke can still be very detrimental! More and more franchises are going the way of X-Men, and the overall global box office has suffered. The film industry has barely grown in 30 years—the population is now more than 25% larger than it was back then, but Hollywood is somehow selling fewer tickets.
The only things propping the entire industry up are those few tent-poles we discussed earlier—and many of those are ending or transforming. So franchise fatigue might not be nearly as dire as the internet would have you believe, but Hollywood isn't in a position of strength right now, and it needs to rethink what franchise movies even mean in order to survive the next 10-20 years. Here are some of the ways they're doing that right now:

"Franchises" aren't just film series anymore
Historically, a movie franchise has always meant a series of films connected by a story, characters, or setting—or at least one marketed as such. And that's how things have changed in the last five years: Studios are beginning to market films as parts of a greater "franchise," even if they're not literally contained within a cinematic universe.
People as franchises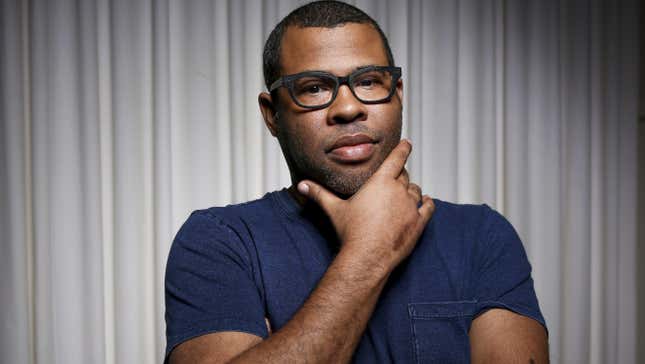 Take Jordan Peele, for instance. After his stunning directorial debut, Get Out, Universal (with which Peele has a production deal) put his name at the top of all advertisements for his following film, Us. The story was totally different, but the brand—Peele—was the same. Get Out and Us might not share any characters or plot, but they share a filmmaker, and that's the intended draw for audiences. The official poster for the film read, "A new nightmare from the mind of Academy Award-winner Jordan Peele," which implies the two films—and all subsequent films Universal produces with Peele—are deeply linked by the mind of their creator.
Peele's brand has extended to television too, where CBS has made him the central figure of its Twilight Zone reboot, even though the filmmaker is only a producer and narrator and didn't actually direct any episodes. Peele is a franchise of sorts, and a lucrative one at that. His first two films have combined to gross more than $500 million on budgets of $5 and $20 million, respectively. That's an infinitely better return on investment than that of the vast majority of traditional franchise series films.
Of course, this concept isn't drastically new. Quentin Tarantino has been marketing his films as parts of his own brand (he even obnoxiously numbers each one within his filmography) for decades. But we're seeing it more and more as studios realize they can draw people to theaters if they go all-in on the merits of a particularly famous or well-liked filmmaker, instead of trying to convince people to see yet another iteration of a story they've already seen a million times already. Warner Bros., for instance, markets every original Christopher Nolan film as its own gigantic movie event. They'd be silly not to, given Nolan's global appeal.
All of Ava DuVernay's projects across film and TV really lean into the fact that she is involved in them. Warner Bros. recently gave her a $100 million deal, not long after Netflix shelled out heaps of cash for the exclusive rights to new content from super-producers Shonda Rhimes and Ryan Murphy. Notice something about a lot of these people? They don't necessarily look like the people that Hollywood has historically canonized. The film industry is, bit by bit, beginning to invest in diversity—not only because it's the right thing to do, but also because it's great business.
Aesthetic as franchise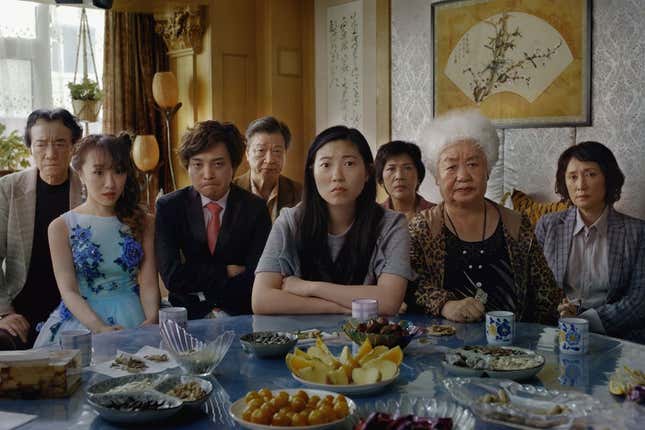 What do Moonlight, Lady Bird, Ex Machina, The Florida Project, The Witch, and Eighth Grade all have in common—besides being critically acclaimed? Cinephiles should know that answer: They were all distributed by indie film company A24. In its seven-year history, A24 has produced nearly 90 films, and none of them sequels, spinoffs, or reboots. Its most recent film, The Farewell, boasts a 100% rating on Rotten Tomatoes.
These films don't share any characters, plots, settings. They don't even really share many ideas at all. But they all share that A24 aesthetic—an obvious value of the original, the bold, and the diverse. None of these stories are exactly like the other, and that's what makes them A24 films. The company's commitment to that vision has helped it earn 25 Oscar nominations already.
To advertise Moonlight and Lady Bird as part of a film franchise would be totally weird, of course. But A24 does make sure potential viewers know when they're seeing one of its films. That's why they flash the A24 logo at the beginning of every trailer, always before the director's name. When viewers see that, they know what they're getting. Most other studios don't do that, because their logos are meaningless to the average consumer. As iconic as it is, what would flashing Paramount's mountain logo before a trailer do for anyone? Let them know they're about to watch…a film? They already knew that.
Paramount has no brand. A24, on the other hand, as an indie company that isn't beholden to the same economic pressures, can act as a curator—almost like the film industry's version of an HBO. If A24 makes a film, it's more often than not worth watching. The company has branded itself spectacularly, and we may see companies new and old try to do the same as they tackle the next stage of what it means to create a film franchise.
Studios are creating franchises from new types of IP
A quick browse of the timeline above tells you all you need to know about how Hollywood has traditionally come up with the ideas for its franchises: books turn into movies, and then eventually movies turn into other movies. And the cycle never ends. Truly original cinematic IP based on no existing source material, like Star Wars, for instance, have been exceedingly rare throughout history. (Okay, okay, Star Wars was very clearly inspired by other space operas like Flash Gordon and Dune—but it wasn't explicitly based on them either.)
Because the studios are still scared to risk big investments on completely original ideas, they need to get their inspiration from somewhere other than just books and other movies. So where are they looking?
Video games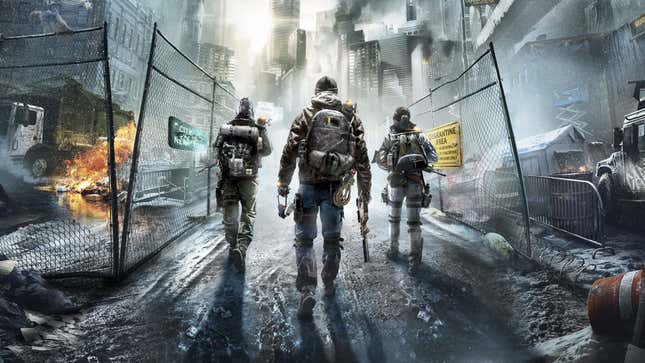 Movie series based on video games have already proven to be largely unsuccessful—though it hasn't stopped Hollywood from coming up with new ways to capitalize on the popularity of gaming. Netflix is set to release The Division, based on an Ubisoft post-apocalyptic game of the same name that will star A-list stars Jessica Chastain and Jake Gyllenhaal. Fighting series Mortal Kombat is getting rebooted as a film series again, but this time with all the R-rated gore that made the game famous. Adaptations of popular game franchises Uncharted and Metal Gear Solid are also in the works.
And, for some unearthly reason, producers in the US and China are jointly developing a film trilogy based on Tetris—you know, that classic arcade game with the blocks. That something like Tetris is even on the table speaks to how desperate the industry has become in adapting thus-far unadapted intellectual property, even when video games have long been difficult to translate to the big screen.
One that could provide a glimmer of hope is Myst, the popular action puzzle series with a sweeping mythology that is just weird enough that it could work as a cinematic universe. Produced by Hollywood co-financier company Village Roadshow (previous projects include Mad Max: Fury Road, Ready Player One, and the Ghostbusters reboot), Myst falls under the CEO's new mandate to make Roadshow a "broad-spectrum content creator" that develops projects across several platforms, according to the Hollywood Reporter.
Art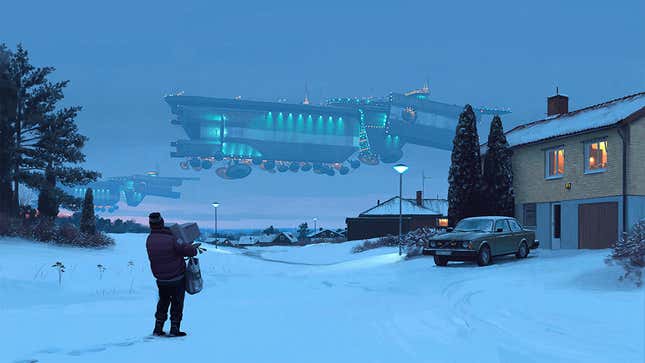 Amazon Studios is developing a TV series based on the paintings of Swedish artist Simon Stålenhag. Laugh if you want, but his work is quite fascinating, blending idyllic Scandinavian landscapes with alien technology. It very well could be a disaster, but at least adapting a series of paintings requires some creativity on the part of the writers and producers. It could, perhaps, lead to a new boom of art-inspired TV and cinema.
Toys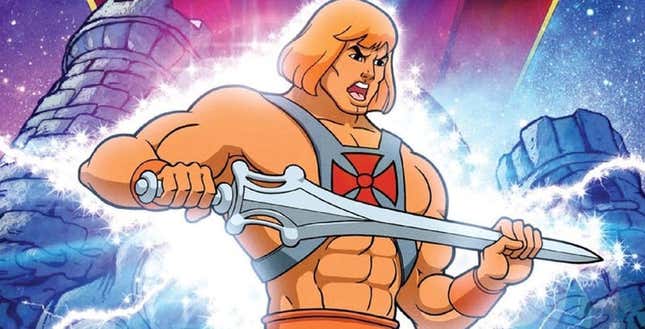 Sony Pictures is rebooting the Masters of the Universe series, based on the Mattel toy line of the same name. Young American heartthrob Noah Centineo will play He-Man, a human with super-strength who does battle with the evil Skeletor. The toys were first adapted into a movie in 1987, when Dolph Lundgren played He-Man opposite Frank Langella as Skeletor. That movie was both a critical and commercial failure, but Sony believes that enough time has passed to try again.
Dungeons & Dragons, Monopoly, Magic: The Gathering, and, (*deep sigh*) Play-Doh all have Hollywood adaptations in the works as well. Toys are among the most nostalgic things people own, and if we know anything about Hollywood, it's that tapping into your childlike sense of wonder is a major priority.
Memes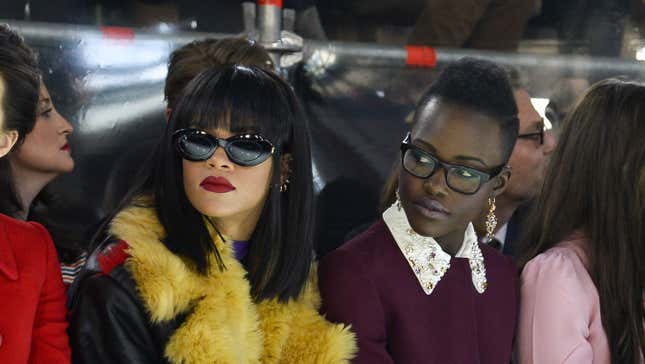 The above photo of pop star Rihanna and Oscar-winning actress Lupita Nyong'o was snapped by Getty photographer Pascal Le Segretain at the Miu Miu fashion show in 2014. Perhaps because of the celebrities' outfits—or more likely the unassailable fact that they look like two undercover spies—the photo quickly became a meme on Tumblr before moving to Twitter, where users imagined it could be a scene from a Hollywood heist movie.
And now it will be. Netflix won an aggressive bidding war for the rights to a film project based on the photo. It gets crazier: Selma director Ava DuVernay is attached to helm the project while Issa Rae, co-creator and star of HBO's Insecure, will write the script.
This meme movie exists at the intersection of several ongoing Hollywood narratives: thinking outside-the-box about where stories can come from, but also the new interest in diversity and the theory that the prestige of specific filmmakers (like DuVernay) can be leveraged into launching a new film franchise. We'll know if this recipe hits the mark if there's a sequel to…whatever this movie ends up being called.

The next big film franchises
With Star Wars, Avengers, Game of Thrones, and other huge franchises ending or changing, there's an opening for new franchises to take over. Here are the most likely candidates:
Avatar (Disney)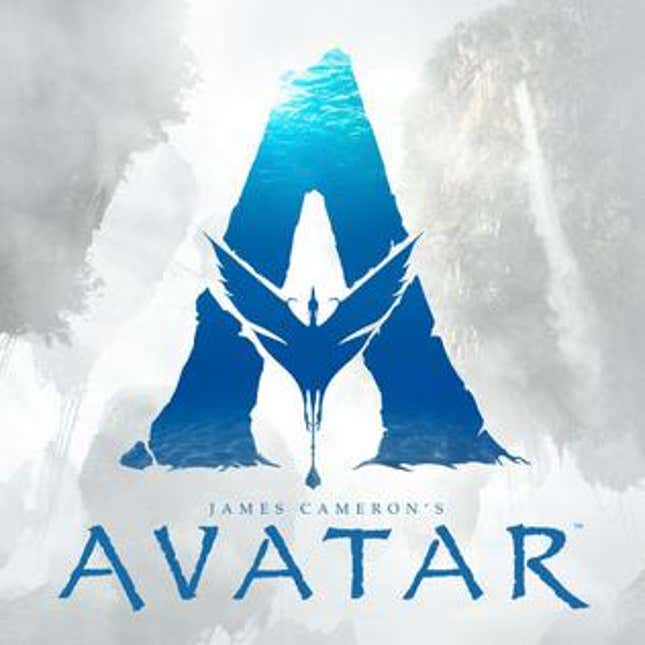 What it is: Twelve years after James Cameron helped make Avatar the highest-grossing movie ever in 2009, the director is finally continuing the franchise with more sequels, starting in 2021. The films take place on the fictional moon of Pandora in the Alpha Centuari solar system, where humans have colonized at the expense of the moon's native population—10-foot tall, blue-skinned humanoids called "Na'vi."
Why it could succeed: Say what you want about the original Avatar's trite script, but some viewers were so dazzled by the film's depiction of the fictional moon of Pandora that they literally became depressed by the thought that it didn't actually exist in real life. Avatar grossed $2.78 billion globally—the most of all time. It stands to reason that the long, long-awaited sequels will bring people back to the theaters. Three more sequels are planned for 2023, 2025, and 2027 respectively.
Why it might fail: Avatar weirdly failed to develop a strong cultural imprint in the years after it was released. And it's now been so long that it's unclear if global audiences even care about Pandora anymore. The general perception of the development of the Avatar franchise is that of skepticism, which may turn into a self-fulfilling prophecy. The story will have to get more creative to ward off a second round of criticism.
Dune (Warner Bros.)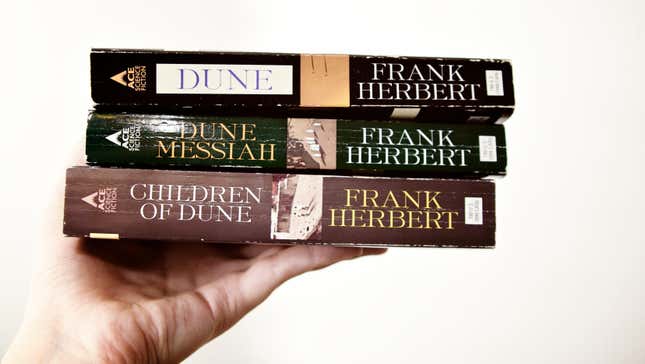 What it is: In 2020, acclaimed director Denis Villeneuve (Arrival, Blade Runner 2049) will direct an adaptation of Frank Herbert's novel Dune, about dynastic power struggles in a future universe where a drug can extend human life and increase intelligence. Some say it's like Star Wars meets Game of Thrones (though of course was conceived long before both). 
Why it could succeed: The cast is terrific, Villeneuve is one of the most talented directors working in Hollywood, and the desert planet of Arrakis is practically begging to be realized on movie screens.
Why it might fail: Dune is a difficult story to adapt for screen—lots of people have tried and failed already. And while popular, Herbert's novels aren't exactly Harry Potter. The ceiling for Dune's audience is high, but it's probably not as high as something like Star Wars or the Avengers. Luckily for Warner Bros., it doesn't necessarily need to be that high in order to provide a successful launching point for a new sci-fi franchise.
PokemonVerse (Warner Bros.)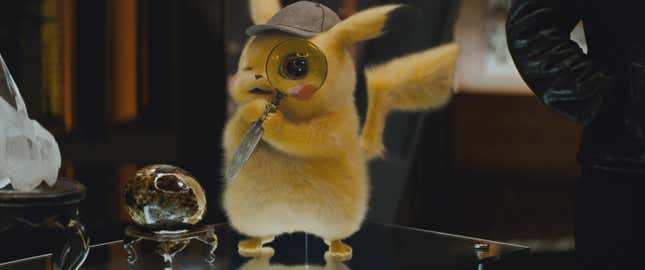 What it is: Launched in 1995, Pokemon started as a series of games for Game Boy, before turning into a wildly popular trading card game, anime series, and most recently, live-action film. Pokemon Detective Pikachu came out earlier this year, and is likely to spawn several sequels and spinoffs.
Why it could succeed: At an estimated $90 billion, the most lucrative media franchise in the world isn't Star Wars or the Avengers. It's Pokemon. And that figure is almost as much as the amount AT&T paid to buy Warner Bros. parent company Time Warner. Pokemon has an enormous global fan base, has been extremely successful across TV, film, games, and other platforms, and is one of the few media properties adept at remaining popular with older generations while catering to newer ones at the same time. There is a lot more room for Warner Bros. to play with in its new Pokemon cinematic universe, and the studios very much intends to. 
Why it might fail: It would be difficult for the Pokemon movie universe to outright fail, but its path to disappointing is a palpable one. Detective Pikachu did good, but not great, at the box office ($427 million) and with critics (67% on Rotten Tomatoes). While these days that's more than enough to greenlight a sequel, it suggests that there isn't a gargantuan appetite for more live-action Pokemon film content, especially if subsequent movies fail to differentiate themselves from the first. Pokemon has a very high floor, but its Hollywood ceiling is probably not as high as something like Dune.
A Quiet Place (Paramount)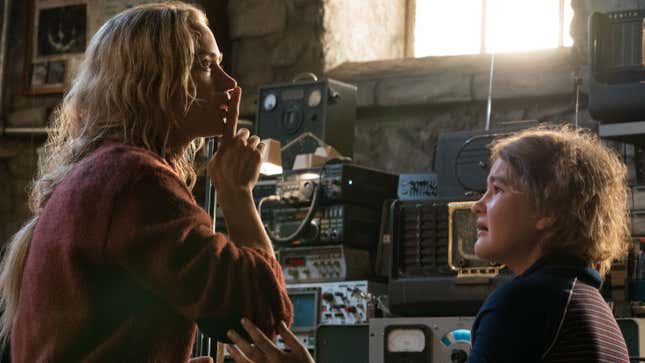 What it is: An original, post-apocalyptic sci-fi thriller directed by and starring John Krasinski (of The Office fame), A Quiet Place follows a family of four trying to survive a world taken over by blind aliens with very good hearing. Much of the movie is silent, with the characters speaking in sign language so as to avoid being devoured. A sequel is scheduled for 2020.
Why it could succeed: A Quiet Place was a big win for original horror, scooping up nearly $350 million at the box office on its modest $20 million budget. Critics and audiences loved it, praising its inventive sound design, lead performances by Krasinski and Emily Blunt (the two are married in real life, as well), and the mere fact that it was a big, fun movie that wasn't already indebted to an existing franchise. It was actually fresh!
Why it might fail: With great power comes great responsibility, and as the A Quiet Place brand grows so too will the expectations for it. The budget for the sequel will almost certainly be much larger than that of the original, and the film won't be able to take anyone by surprise this time. In essence, Krasinski and company will have to get even more creative in developing this sequel than they were when conceiving of the idea in the first place—if they want to keep the momentum going and turn this into the next big global horror franchise.
Uncharted (Sony)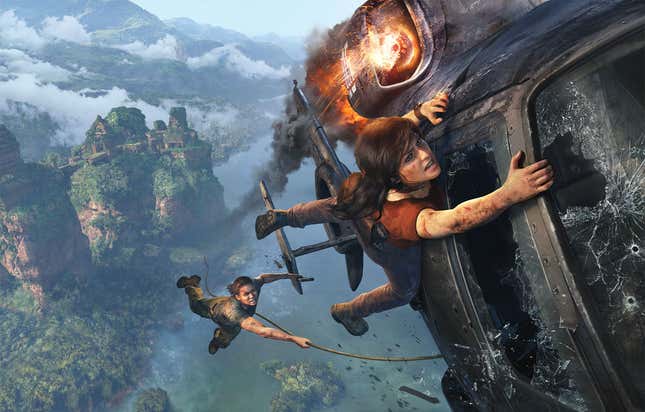 What it is: Based on the popular video game franchise of the same name, Uncharted follows the fictional treasure hunter Nathan Drake (played by Spider-Man himself, Tom Holland). It's set to come out in December of 2020 with Dan Trachtenberg (10 Cloverfield Lane) attached to direct.
Why it could succeed: It has a universally beloved young lead, it will probably remind audiences of Indiana Jones and National Treasure, and it's based on one of the best-selling game franchises of all time. Lots of people have heard of the Uncharted series, but there's still plenty of room for growth, and the brand isn't so saturated that people will come into the movie with fatigue, disillusionment, or annoyance. It's in that sweet spot of already having a substantial dedicated following with lots of untapped potential in new markets.
Why it might fail: It is, after all, based on a video game. The Hollywood graveyard is littered with once-promising video game adaptation projects that imploded. For whatever reason, the leap from game console to movie theater screen is a treacherous one: The two mediums involve very different kinds of storytelling, and analysts have theorized that taking the user control experience out of a game inevitably harms the narrative. Or maybe it's because many video game stories are simplistic to begin with, but you just don't realize (or care) because they let you punch, kick, shoot, and escape things.
MonsterVerse (Warner Bros.)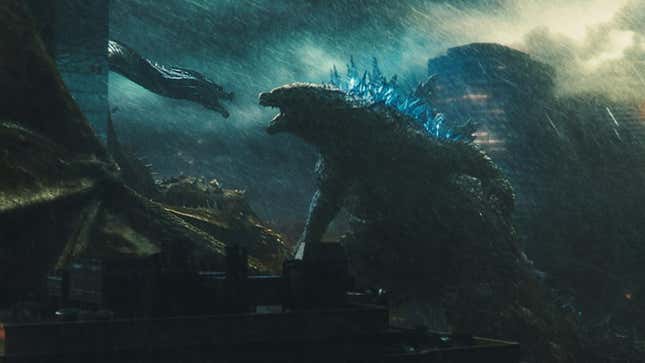 What it is: A reboot of the monster film series Godzilla and King Kong, this Warner Bros. shared universe has already featured three films, including Godzilla (2014), Kong: Skull Island (2017), and Godzilla: King of the Monsters (2019), with a Godzilla-Kong crossover movie scheduled for 2020.
Why it could succeed: Everyone loves giant creatures destroying cities. And both Godzilla and King Kong are among the most famous movie characters of all time. The first three films in the cinematic universe have been successful at the box office, combining for $1.5 billion worldwide.
Why it might fail: Those numbers are good, but not great, and it will be a challenge for Warner Bros. to take the franchise to the next level. As fun as it is to watch giant monsters smash things, these movies don't really connect to audiences emotionally as much as films whose central characters are, you know, actual human beings, do. And there is such a long history of Godzilla and Kong films that there's likely a perception among some potential viewers that they've already seen everything these stories could possibly offer. Ultimately every movie will be the same: large lizardlike things fighting each other while humans run around in a frenzy below. That's proven to be a successful blockbuster formula, but unless subsequent sequels and spinoffs get really inventive, it's hard to see how the MonsterVerse grows much larger or scarier than it already is.
If most of these films have one thing in common, it's that audiences are already generally aware of the brands. People know Pokemon, they know Godzilla, they know Dune—or have at least heard of it, even if they haven't read it. All gamers know Uncharted.
Avatar is a strange case, because when the first movie came out, it was a completely original world. But ten years later, it feels like a large franchise people are familiar with even though it's only spawned a single movie. If Avatar 2 is a success, James Cameron will prove that it is still possible to create huge new brands from scratch—all it takes is a long, long time and lots of money to pull it off.