The Argentine peso is plummeting. The currency fell nearly 18% today, its steepest drop since 2002, shortly after the country defaulted on its debt.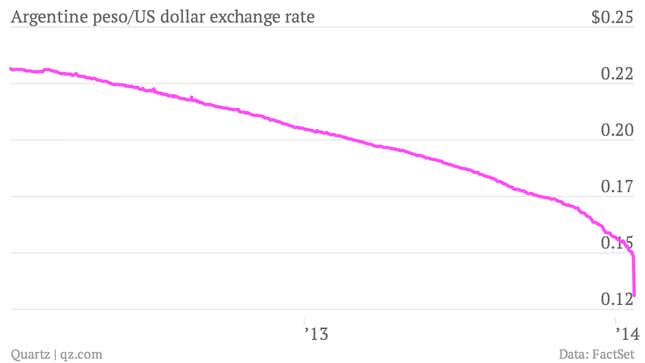 For a bit of perspective, here's what the Argentine peso looks like over the past 18 years: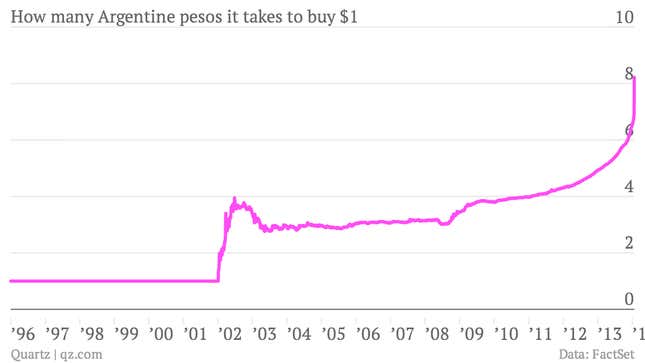 The black market for US dollars has responded in kind, shooting up to a record 12.55 pesos per dollar rate.
At one point, that rate even jumped to $13.10 (link in Spanish).
The reasons for the historic tumble are fairly simple, but also potentially disastrous.
After years of strict currency control, Argentina is finally scaling back. The country's central bank has stopped artificially boosting the peso, effectively allowing the market to decide the fate of its currency. And the market has decided the peso isn't worth much. No one in Argentina wants to be caught holding pesos in case the country defaults on its debt again.
The decision to stop intervening in the currency markets was less of a decision than an obligation. While the practice of currency market manipulation is fairly common, Argentina's central bank actually can't afford to do it any longer. It's quickly running out of dollars to buy up pesos: The country's foreign exchange reserves have been falling at an alarming $1 billion per month rate, and are now below $30 billion, the lowest reading in seven years.
Fewer reserves mean less financial flexibility. (Among other things, reserves are typically used to pay off debts, of which Argentina has plenty.) But the country's economy will suffer mightily if its currency continues to plummet. As Argentina's purchasing power evaporates, so will its ability to import foreign goods.
The resulting spiral could be devastating.