Doug McMillon begins his tenure as Wal-Mart's fifth CEO tomorrow. While that might make today's profit warning from the monolith retailer appear unfortunately timed, there are reasons to suggest it hasn't ruffled any feathers of the Arkansas native, who began his career in a Walmart distribution center in 1984.
The world's biggest supermarket retailer lowered expectations for holiday quarter results out on Feb. 20, which means that its full-year profits will now come in "at or slightly below" $5.11 per share.
It blamed the guidance cut on poor weather—eight winter storms across the US led to significant store closures during the critical shopping period—and on the impact of cuts to government assistance programs, which it described as  "greater than we expected."  The monolith retailer is the biggest beneficiary from food stamps, the program that provides low and no-income Americans with food purchasing assistance.
The glum update may actually be strategic. If he's clever, McMillon is strategically "clearing the decks," a move we've discussed previously whereby new bosses set expectations low so that future achievements look better. Lowering this year's earnings will make it just a bit easier down the road for McMillon to continue the company's long track record of growing full-year earnings per share.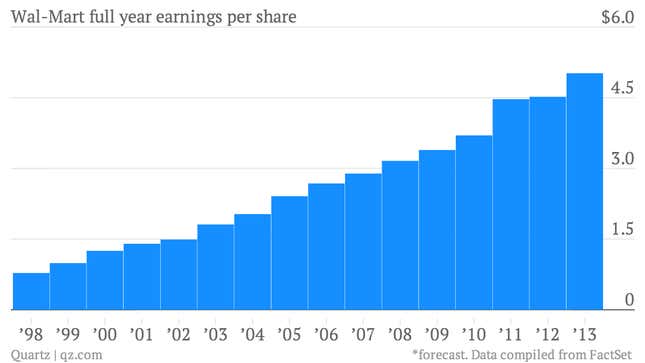 That said, he'll still have to grapple with the company's myriad other problems, including widespread criticism of its low wages.