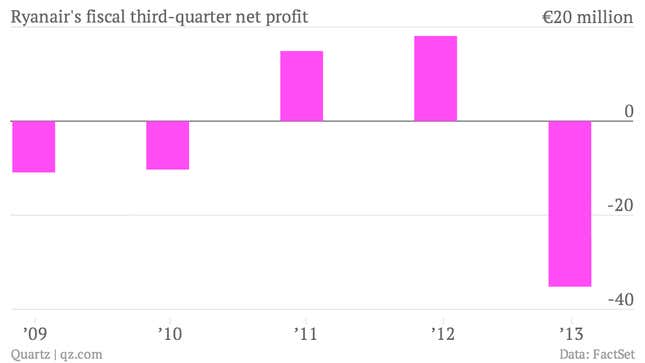 The numbers: The low-cost airline reported a net loss of €35.2 million ($47.5 million) in the three months ending in December as the effects of a price war it launched began to sting. Despite the reversal from a profit of €18.1 million a year ago, investors welcomed the news, which was in line with the company's twice-lowered guidance. Ryanair's share price jumped by more than 5% in early trading.
The takeaway: Passenger volumes were up by 6%, leading the company to boost its full-year forecast to 81.5 million, and advance bookings for the spring and summer were "significantly higher" thanks to lower fares. At the same time, "ancillary" revenues from charges for reserved seats, priority boarding and other add-ons grew by 13% in its latest quarter, softening the impact of a 9% fall in average fares. Recently expanded options for reserving seats will generate enough revenue to offset reductions in a range of other fees, the company said.
What's interesting: In CEO Michael O'Leary's words, a reformed Ryanair intends to "stop unnecessarily pissing people off." (Pissing some people off will apparently remain necessary.) Lower fares may help there, especially if they hurt rival carriers with higher cost bases. Other efforts include fewer sneaky fees and a lower profile for O'Leary himself. The combative chief executive has promised to cede the spotlight to deputies and to end the brash publicity stunts that came to define the airline—and not always in a good way.