Comcast's acquisition of Time Warner Cable not only combines the two largest cable operators in the United States, but the two most hated as well. Their merger could be a chance to erase some of that ill will.
Nobody likes their cable company, but these two are particularly reviled, consistently ranking at the bottom of customer satisfaction surveys. In this recent one, scores range from -100 to 100:

And it's been that way for a while: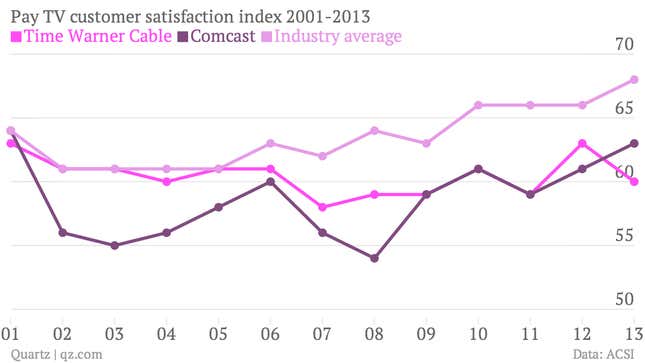 But a peculiarity of the cable industry is that giants like Comcast and Time Warner Cable generally operate in separate regions like local phone companies of yore. For instance, New Yorkers, most of whom get their TV and internet service from Time Warner Cable, aren't yet primed to hate the name Comcast.
In that sense, the merger could help reset customer relationships. It comes at a good time, with Comcast actually adding TV subscribers for the first time in more than six years—thanks, the company claims, to a much-improved cable box that doesn't make you want to throw it out the window. (It really is pretty good.)
Of course, Comcast is still a well-known and not especially beloved brand, even in important markets like New York and Los Angeles that it just acquired from Time Warner Cable. The merger, if approved by US government regulators, is likely to reinforce Comcast's image as a monopolistic conglomerate with an imposing hand in every corner of the media industry. Which is why the combined company should consider renaming itself entirely.
No one asked me, but why not call it Xfinity? That's the brand name of Comcast's TV, internet, and phone service, which is showing some strength. Though some Xfinity customers dislike it, the name is still carries less baggage than Comcast.
The model for such a name change would be European Aeronautic Defence & Space Co. (EADS), the product of halting consolidation in the aerospace industry, which finally simplified things last year by embracing the brand name Airbus. "The renaming simply gathers the entire company under the best brand we have," explained CEO Tom Enders.
But don't hold your breath. When Comcast bought AT&T's cable TV business last decade, its first instinct was to call the new company AT&T Comcast, with this lovely logo:

Whatever Comcast decides to do—most likely, stick with the name Comcast—the company in the greatest predicament here may actually be Time Warner, which owns HBO and Warner Bros Entertainment, among other properties. Believe it or not, Time Warner is a totally different company, but who can blame the public for confusing it with Time Warner Cable?
(To review: Time Inc. and Warner Cable merged to form Time Warner, which merged with AOL before spinning off Time Warner Cable as its own company and separating from AOL, leaving behind Time Warner.)
It's common for cable TV customers to vent their frustration at "Time Warner." The company has contemplated a name change to avoid the stray hostility, and it would certainly benefit from the Time Warner Cable name going away. Perhaps it's simply time to bury the Time Warner demons altogether.