2020 is already the year of the streaming wars. On-demand video streaming is a $24 billion industry. More than 150 million people worldwide subscribe to Netflix alone. And newcomers like Disney+ and AppleTV+ are racing to catch up. Just over a decade after Netflix launched its "Watch Now" option in 2007 and revolutionized traditional television and film, the age of Big Streaming is here.
Quartz's latest presentation walks you through the history of video streaming and introduces four major changes that are already transforming the young industry.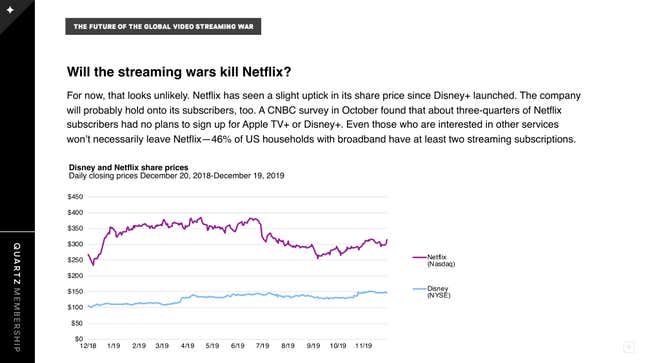 Streaming has become big business, and everyone wants in. Hollywood is finally focused on streaming: Disney+ launched late last year, and NBCUniversal's Peacock and WarnerMedia's HBO Max are set to release platforms in the coming months. Apple also joined the fray with AppleTV+ in late 2019. But at least for now, these new entrants can't topple Netflix's throne. The company captures an estimated 87% of US streaming subscribers.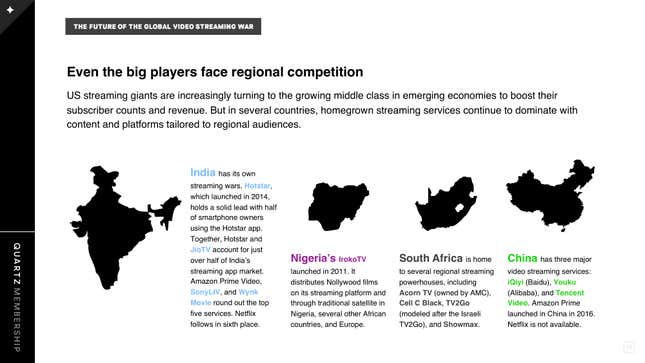 The battle for subscribers extends beyond the US. International audiences are already crucial to Amazon Prime's and Netflix's success, and several of the new streaming giants plan to launch their services around the world. But as US giants seek new audiences, they'll have to compete with well-established regional streamers like India's Hotstar, Nigeria's IrokoTV, South Africa's Showmax, and China's Tencent Video.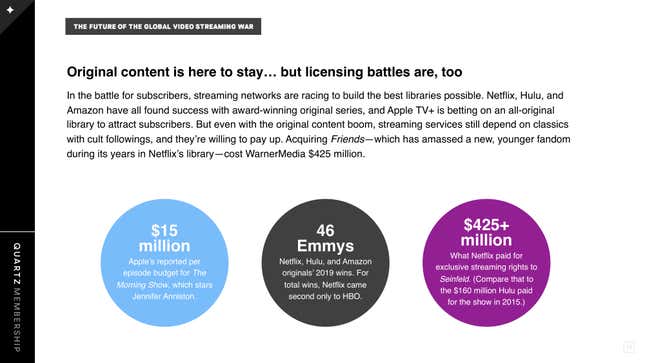 The ultimate winners and losers of the streaming wars will likely be decided on the quality and size of their libraries. Netflix, Hulu, and Amazon have all found success with award-winning original series, and Apple TV+ is betting on an all-original library to attract subscribers. But even with the original content boom, streaming services still depend on classics with cult followings, and they're willing to pay up. Acquiring Friends—which has amassed a new, younger fandom during its years in Netflix's library—cost WarnerMedia $425 million.
To see all of the slides, you can view the PDF version or download the PowerPoint file, which includes our sources and notes. This is one of an ongoing series of member-exclusive presentations, which you can read, reformat, and use as you wish.
Please share any feedback about what would make these presentations more useful—or topics you'd like to see us cover—by emailing us at members@qz.com. These presentations are an exclusive benefit for Quartz members. We'd love it if you'd encourage any friends or colleagues who express interest to become a member so they can access them too.