Tesla's plans to build a battery "gigafactory" have captured all the headlines this week. The ambitious facility could make Elon Musk's electric car maker the world's biggest producer of lithum-ion batteries and even a serious player in the energy industry.
But an equally significant, yet arguably overlooked announcement for Tesla this week came from China. BYD Auto, the Chinese electric car maker, got the go-ahead from authorities to begin selling its vehicles in Beijing and Shanghai amid rising pollution concerns in the two cities.
BYD Auto is backed by Warren Buffett's Berkshire Hathaway, which built a 10% stake in the company back in 2008.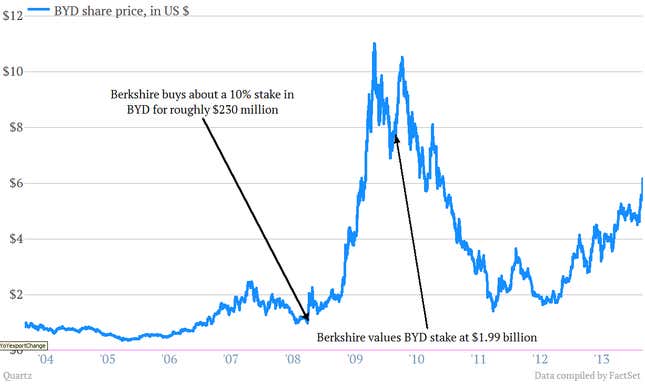 At the moment, BYD's all-electric e6 car—not a high-performance sports car like Tesla's, but "a cross between a sedan and an SUV," has been sold only in Shenzhen, where it is mainly used for taxicabs. It has struggled to gain traction due to a high sticker price (it costs about $60,000 in China, according to the Wall Street Journal) and concerns about safety.
Elon Musk was fairly dismissive about the prospect of BYD becoming a competitor to Tesla back in 2011.
Yet this race is only just beginning. Warren Buffett looks like he will be invested in BYD for the long haul. Last year, he told the Chinese media that Berkshire has  "absolutely no plans to ever sell our stock" in the company. Notably, the Chinese state media are casting doubt on Tesla's ability to succeed in China, echoing criticism it has leveled against the likes of Apple.
And China is a hugely important market for Tesla. Dougherty & Company analyst Andrea James has said it has the potential to be the company's second biggest market. Tesla unveiled highly competitive pricing for the Chinese market earlier this year and plans to start selling cars this spring. Whatever Musk may have said in 2011, BYD may now be the company he has to beat.