An incurable bacterial infection wiping out Southeast Asian shrimp is also ravaging the profits of Red Lobster, whose parent company, Darden Restaurants, saw earnings fall 18% to $109.7 million in the quarter that ended in February. The biggest publicly traded casual dining company in the US, Darden also runs the Olive Garden, LongHorn Steakhouse and other restaurants.
The disease has hit aquaculture farms in the three biggest shrimp-producing nations—Thailand, Vietnam and China—as we've reported in the past. Supply has withered as a result. In Thailand, the planet's biggest exporter of shrimp, supply tumbled 70% last year.
Rising shrimp prices hit Darden where it hurts: Seafood accounts for around a quarter of the total cost of goods for the $6.7-billion company.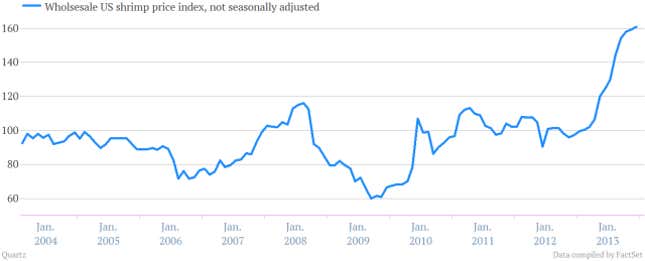 Red Lobster's expenses surged by around $30 million in fiscal Q3—which ended in February—thanks to "very significant inflation" of shrimp prices, said CFO Brad Richmond, according to FactSet's transcript of an earnings call today. A 35% annual increase in prices for the little crustaceans drove up the company's overall food costs 3.1%, Richmond said. And he offered little hope of the shrimp shortage letting up until the second half of the year.
By then, Darden may have spun off Red Lobster (at the urging of some of its investors). In fact, some of last quarter's unexpectedly high costs came from legal and financial fees associated with planning to cut the franchise loose sometime later this year.
If that seems like weird timing, keep in mind that shrimp isn't Red Lobster's only headache right now. Though most restaurants suffered during the US recession, Red Lobster has never really recovered. The company's recent promotional ad blitz has reeked of so much desperation that The Onion, a satirical newspaper, recently lampooned it (its fake headline read "Red Lobster Welcomes Back Defrosted Shrimp Days").
The pitch doesn't seem to be landing: Same-store sales at Red Lobster fell 8.8% in Darden's fiscal Q3, compared with a 5.4% drop for Olive Garden and a 0.3% increase at LongHorn Steakhouse.