It's now nearly two years since Marissa Mayer took the reins at the aging internet giant Yahoo, which is scheduled to report earnings tomorrow afternoon, US time.
It has been an eventful period. There was the Tumblr acquisition, Mayer's Vogue cover spread, and reports of a much-needed cultural change (apparently people even want to work there again). But questions remain about Mayer's broader strategic vision for the company, and its ability to innovate.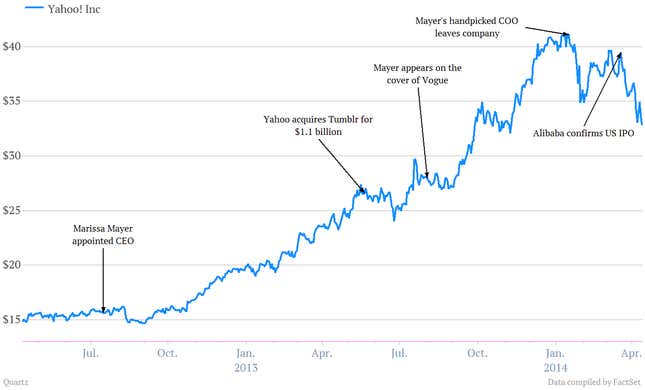 Despite the recent tech selloff, Yahoo shares have more than doubled since Mayer took over. But that's largely due to its 24% stake in Alibaba — the Chinese e-commerce giant that in 2012 handled more sales than Amazon and eBay combined. After a lot of deliberating, Alibaba is now officially planning to go public in the US later this year.
Nomura analysts value Alibaba at $136 billion. That would imply that Yahoo's 24% stake is worth nearly $33 billion, or roughly equal to its entire market value at current prices. In other words, investors don't think Yahoo's core businesses are worth very much. But with Yahoo obliged to sell up to 40% of its stake in Alibaba into the IPO, Mayer "can't hide behind Alibaba anymore," Cantor Fitzgerald analyst Youssef Squali told Bloomberg earlier this year. "She's going to have to step up."
Mayer has already signaled that she sees original content as a huge part of Yahoo's future. She's already hired TV star Katie Couric as the global anchor for Yahoo News, and former New York Times tech columnist David Pogue to start a new tech site. The company is also reportedly on the brink of ordering up to four original premium TV series—a move that has already triggered skepticism. There are also reports she wants to buy the online video service NDN, to create a YouTube rival. "Video has gone from being a novelty to a daily habit for millions of users," she said on the company's last earnings call. "That's why we'll focus on bringing the best partner content from across the web to our users."
Crucially, the Alibaba IPO will provide Yahoo with a multi-billion-dollar windfall, leaving Mayer with a pivotal capital management decision that could shape the company's future. She will have to decide whether to spend money on acquisitions (in a market where high-quality technology assets are currently fairly elevated); on share buybacks; or even (heaven forbid) a dividend.
"The interesting thing about being CEO that's really striking is that you have very few decisions that you need to make, and you need to make them absolutely perfectly," Mayer said at a conference last year. This decision will surely be one of them.