Don't expect the e-commerce giant Alibaba's much-ballyhooed initial public offering to be a blockbuster deal at first, at least from a pure valuation standpoint.
The highly anticipated offering, which is expected to hit the markets any day now (sources tell us the filing of its IPO papers is days, not weeks, away), has been heralded as potentially the largest IPO in history. And while it may indeed be a big deal—with the Wall Street Journal hinting (paywall) at a whopping $20-plus-billion valuation—sources say that the Chinese technology company head by CEO Jack Ma wants to be strategic about its debut in the US markets.
To that end, the IPO documents to be filed with the Securities and Exchange Commission could value the company at a more modest $15 billion, as a so-called placeholder in its offering paperwork, a source familiar with the company said.
The company could still enjoy a hefty offering, that likely will eclipse Facebook's $16-billion 2012 stock debut. But topping the $22-billion IPO record that the Agricultural Bank of China set in 2010 may be a stretch.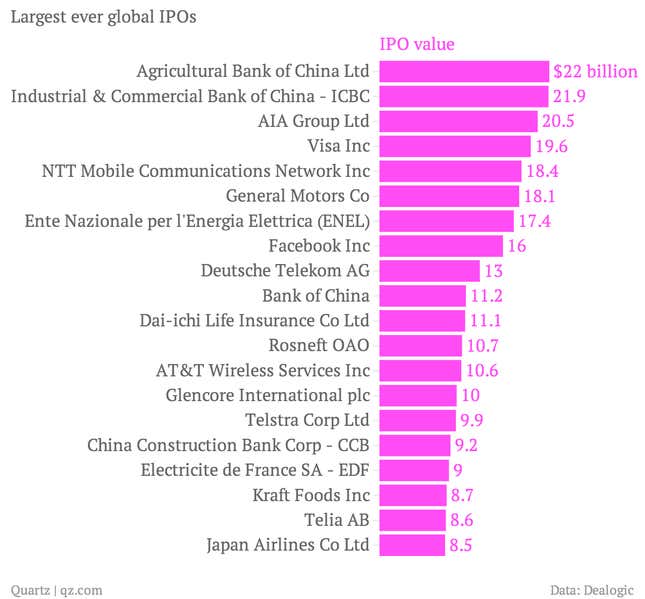 With skittish markets, IPOs can be a tricky business. Bankers familiar with Alibaba's offering say that the Chinese company is keenly aware of the growing skepticism from investors toward over-hyped technology share offerings. Company officials want to manage investor expectations, a source said. That means possibly floating a deal with fewer shares and a smaller valuation at the onset. The idea will be to let investor appetite determine if the price or supply should be jacked up, one bank source said.
Despite the record pace of IPOs lately, managing offerings over the past few weeks has become even more of a challenge than usual. That's especially true after a tech-fueled selloff in stocks that has given investors pause. With uncertainty still swirling about whether or not this is a bubble, it's unclear how individual offerings will be received in the market. Weibo Corp., the company known as the "Twitter of China" (and one that has Alibaba as an investor) lowered the price of its American depositary shares, offering them at $17 in its US IPO a few weeks ago.
To be sure, Alibaba could still turn out to be the mother of all IPOs. It's certainly viewed as a unique company, with its vast mix of businesses (including ones that resemble the digital payment platform PayPal and the online peer-to-peer retailer eBay) housed under one roof. Potential investors will be looking to the public documents that Alibaba officials will release for a picture of how those entities work within the operating company melange.
"[Alibaba] is taking its time because it wants to make sure that investors understand what the company does," said a person close to the deal. A spokesman representing Alibaba declined to comment on the impending offering.
Goldman Sachs, JPMorgan Chase, and Credit Suisse, among other banks, are expected to be the underwriters handling the stock offering. They are likely to avoid filing IPO papers during public holidays recognized in Hong Kong, such as China's Labor Day tomorrow.