In North America, Keurig is king. The rest of the world is Nescafé territory.
Keurig Green Mountain, the company behind the popular single-cup coffee machines and pods, is having a pretty excellent year. It passed a billion dollars in sales in its second financial quarter, up 10% from the same period last year.
The company's impressive performance highlights the dominance of its single-cup coffee products in North American. It is the biggest coffee brand in North America by value, accounting for 18.4% of the retail market with its own branded coffee pods. It also sold 1.8 million brewing machines during the quarter.
In the rest of the world, Nestle's Nescafé instant coffee leads the market, even though many of those regions drink more fresh coffee than instant. Nescafé is just so dominant in the instant category that its sales are higher than other individual brands.
Don't expect world domination from Keurig any time soon. The company barely has any presence outside of North America, and has plenty of work on its hands as it prepares to release a new line of machines and capsules, as well as a machine that makes cold carbonated drinks. Keurig's US rise comes despite concerns that the pods are environmentally wasteful.
The company already partners with many of its competitors in coffee, brands such as Starbucks, Dunkin' Donuts, and Peet's—who all make customized pods for Keurig's machines. (Keurig also just made a deal with J.M. Smucker, which owns Folgers.) So Keurig ends up benefitting from other coffee companies' branding.
Here's the breakdown how Keurig stacks up against its US competitors based on brand market share by value, using data from Euromonitor.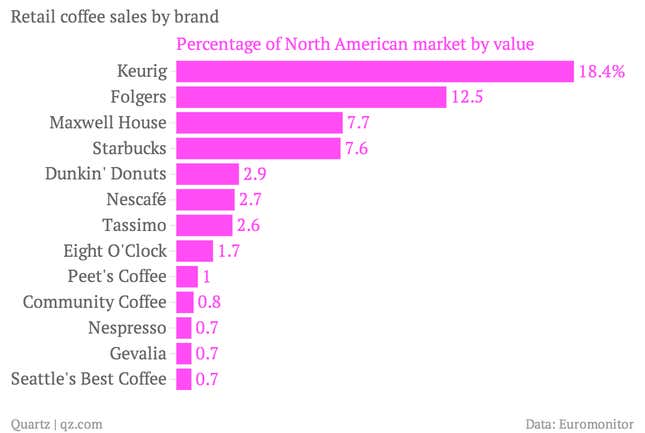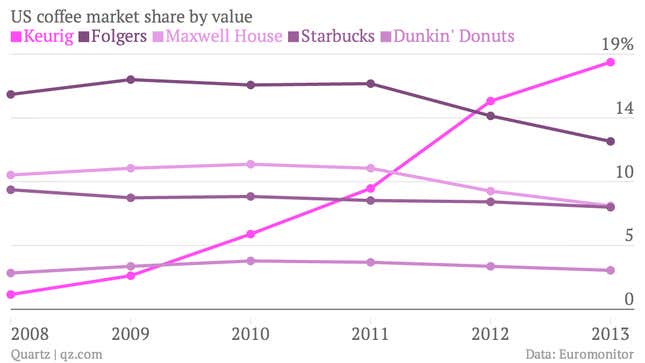 Keurig has gone from serving 1% of the retail coffee market in 2008 to nearly a fifth in 2013.

The rest of the world likes a very different set of coffee brands, as shown in the charts below (in each case arrayed below Nescafé, the world leader).
Four of the top six brands in Latin America are Brazilian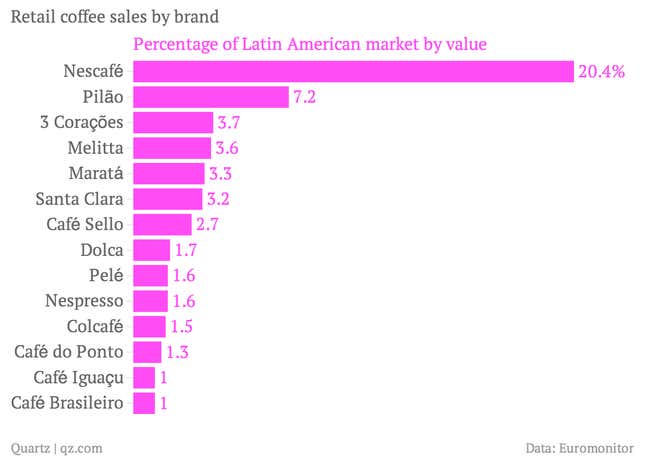 Instant coffee is more popular than fresh in Asia, so Nescafé dominates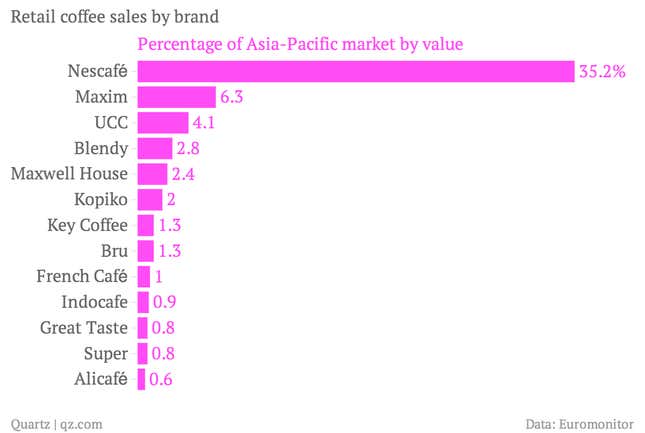 Single-serve Nespresso pods are a close second to Nescafé in Europe: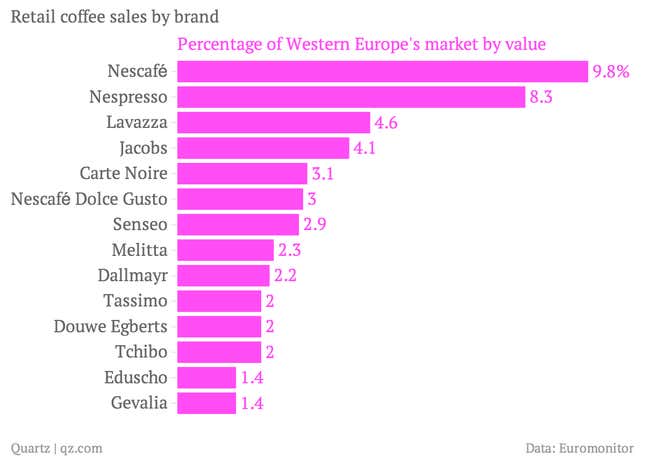 Worldwide, Nescafé still trounces Keurig