Barclays just gave its clearest signal yet that traditional investment banking is dying.
The UK bank announced plans today to cut about 7,000 of its 26,000-strong investment banking workforce, which is concentrated in London and New York, by 2016. It's Barclays' boldest retrenchment to date of investment banking, a business that was one of the industry's most profitable up until a few years ago. Barclays' performance in fixed-income currencies and commodities (a significant part of the investment banking operation), which we've noted has been in decline across the industry, contributed to particularly woeful first-quarter results.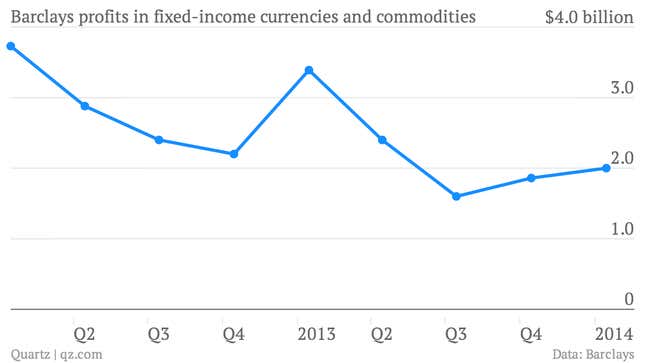 FICC trading, which contributed almost half of Barclays's first-quarter profit in investment banking, was down 40%. The businesses of M&A and corporate advisory—the other parts of investment banking—generated $941 million in profit, which was roughly flat compared to the prior year: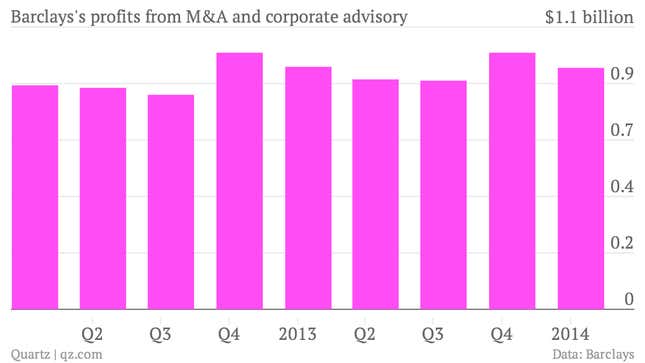 A skittish global economy and a laundry list of new regulations in Europe and the the US  have forced firms to set aside more capital to protect against unexpected catastrophes. Those regulations have made it more costly for some firms to operate and have eaten into profits.
The restructuring is a big reversal for Barclays, which had aspirations, under former chief executive Bob Diamond, of becoming a prominent global player after its acquisition of Lehman Brothers' failed investment banking business in the US. But that dream died on the vine after Diamond resigned (paywall) amid a sweeping interest rate-rigging scandal.
Through its restructuring, Barclays is aiming to cut its non-essential assets by more than half by 2016, to £50 billion ($85 billion) over the next few years. It also will create a so-called "bad bank" to house unloved units like physical commodities–an area the bank has already signaled it's getting out of.
Here's what Jenkins said in a statement about the moves:
This is a bold simplification of Barclays. We will be a focused international bank, operating only in areas where we have capability, scale and competitive advantage. In the future, Barclays will be leaner, stronger, much better balanced and well positioned to deliver lower volatility, higher returns, and growth."
Barclays isn't alone in its retrenchment. Morgan Stanley has scaled back in investment banking in favor of the safer brokerage business, where the firm primarily manages the wealth of its high net worth clients. Morgan Stanley's boss may have articulated the most definitive statement yet about investment banking, at a conference on May 6 in New York: "The investment banking industry for all intents and purposes has disappeared," he said. Other firms, like Swiss bank UBS (paywall), have cut their investment banking businesses as well. One of the few exceptions is Goldman Sachs, which is betting that it can scoop market share as competitors exit.