Today is a big day for the European Central Bank, which announced a raft of measures designed to try to stave off deflation in the currency union, after months of speculation. Here's a quick guide to what happened.
What's the problem here? Well, for one thing Europe seems to be flirting with deflation, a persistent, broad-based decline in prices, which is a really bad thing for economic growth.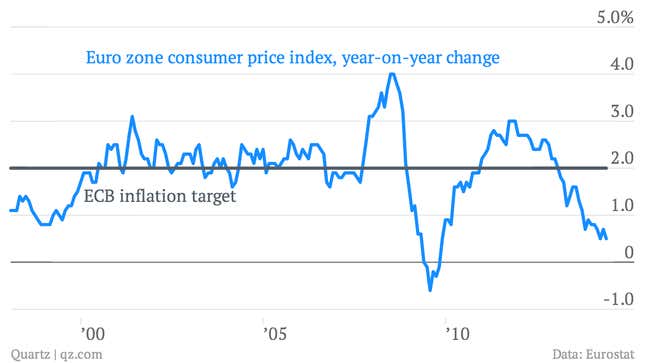 Low inflation has made it very expensive—in real terms—to borrow. And Europe's troubled banking system isn't supplying credit, which is a further drag on the economy.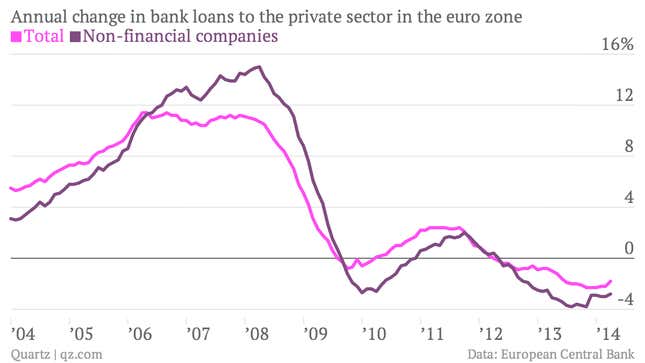 In an effort to do something about it, the ECB today pushed its already low policy rate even lower. (It's been 0.25% since late 2013. Today the bank dropped it to 0.15%.)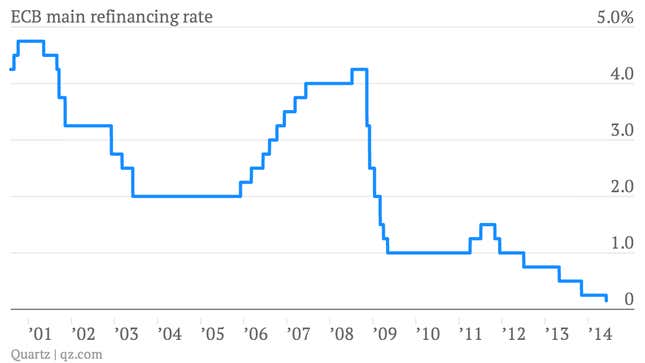 But given the scope of the problems the European economy faces, that's pretty weak sauce. So the ECB today took some more radical action. It pushed a separate policy rate, the overnight deposit rate, into negative territory. (It dropped from 0% to -0.1%.) In effect, that means the ECB is now charging financial entities to park their money at the bank. That's a pretty radical step that no other major central bank has taken.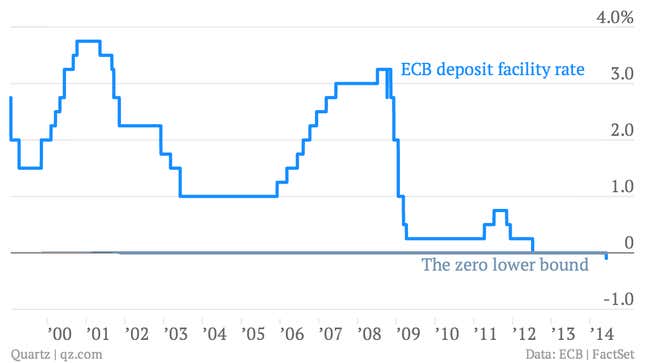 The ECB did a few more things too. The Associated Press does a nice job of summing them up:
Offer long-term loans to banks at cheap rates until 2018. The targeted loans would be charged a fixed rate, meaning that the rate could not rise, even if the ECB raises its benchmark. That gives banks confidence they have cheap funding out through 2018. The amounts they can borrow will be tied to the amounts banks lend to companies.
Start doing "preparatory work" on a program to buy batches of loans to small businesses in the form of bonds, a step to funnel more credit to companies through financial markets.
Stop collecting weekly deposits aimed at offsetting the monetary effects of earlier bond purchases. That would leave an additional €175 billion in the financial system that banks could in theory use to lend to each other or to companies.
So, is it going to work?
Well, nobody knows. And the financial markets seem to be taking a wait-and-see approach to today's announcements. European stock markets rallied on the initial announcement, which occurred at around 8:30am in the US. Gains for Germany were more muted than those in Spain and France.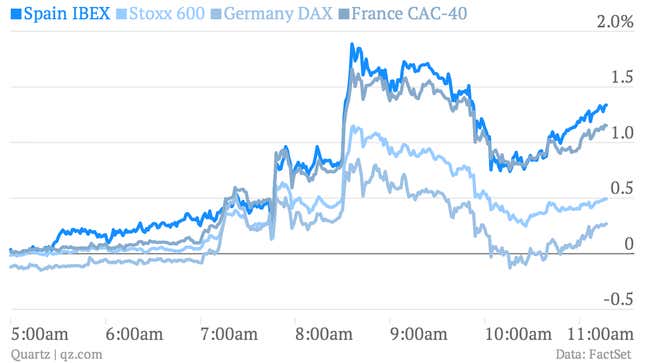 And the euro weakened sharply on the initial announcement, which would be a good indication that the markets found the ECB's announcements a convincing show of force. But, again, the impression the ECB made on the markets seemed fleeting.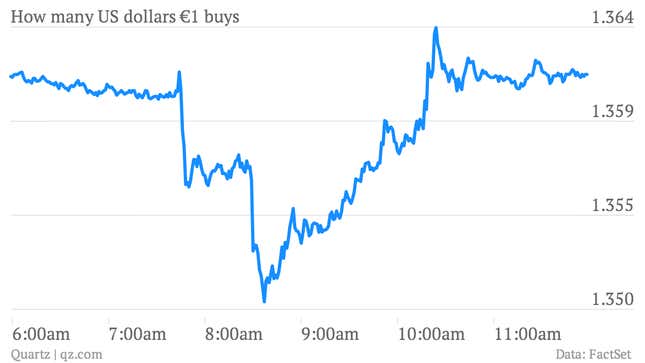 In other words, nobody knows whether the ECB has done enough here. Not even the ECB. Mario Draghi, the ECB president, has himself hinted that the bank can do more, if it needs to.
"We think it's a significant package," Draghi told reporters. "Are we finished? The answer is no."