A supplier in Shanghai that provides chicken and beef to KFC, McDonald's, and Pizza Hut restaurants in China has been selling beef and chicken as much as one year past their expiry dates. An investigative report found that expired meat products were "were repackaged after processing and their shelf life was prolonged for another year."
Chinese health authorities in Shanghai have suspended the supplier, Shanghai Husi Food Co. Both McDonald's and Yum (the US owner of KFC and Pizza Hut) and have issued statements on their Weibo accounts saying they have stopped using Shanghai Husi. The supplier is owned by a US-based meat processing firm OSI Group.
An undercover Dragon Television reporter found that in June 18 tons of chicken skin that was over half a month past its expiry date had been used for chicken nuggets, and that beef more than a month past its expiry had been used for KFC burgers. The meat was pulverized and processed to extend its shelf life for another year, according to the report. Workers told Dragon Television that the meat smelled but "eating it wouldn't kill you."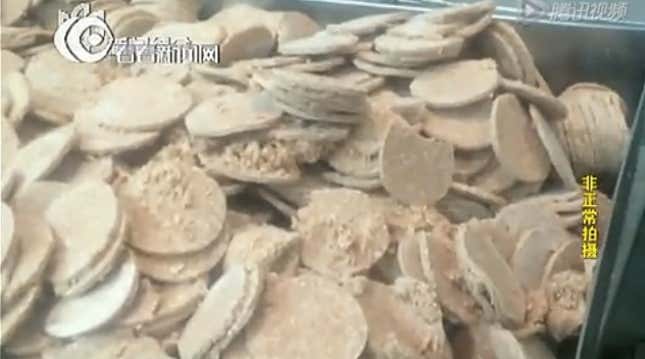 According to the South China Morning Post (paywall), the Dragon footage shows Shanghai Husi workers "picking up food from the floor and throwing it into processing machines." Discarded McDonald's McNuggets were "reprocessed until they passed inspection."
Yum said the food safety issue affected two breakfast burgers. McDonald's didn't specify in its statement which foods were affected. Shanghai Husi Food Co said it is cooperating with an official investigation.
This new scandal is obviously unwelcome news for the two top fast food retailers in China, but especially so for Yum Brands, which depends on China for almost half of its total global revenues and has only recently begun recovering from an avian flu scare and an earlier chicken scandal that hurt sales at its thousands of restaurants on the mainland.
The news was the most viewed topic thread on Weibo, with over over 27 million people deploring foreign fast food, China's food safety monitoring, and local media's tendency to make news by going after well-known consumer companies. One user wrote, "As long as it doesn't kill people, it's all fine!" Another said, "China needs to stop relying on this foreign garbage food. Go ahead and get out of China." Another said, "What is safe left to eat? China is really a sad place."