Another day, another ceasefire. Markets rallied on news of a truce between Ukrainian troops and pro-Russian rebels. The details are sketchy, but a 12-point plan agreed between combatants mentions an end to the shooting, a prisoner exchange, and a retreat from urban areas as conditions.
We've seen this movie before. Markets jumped earlier this week when Ukrainian president Petro Poroshenko said he had hammered out a "permanent ceasefire" plan with Russian president Vladimir Putin. But Kyiv and Moscow both walked back that statement almost immediately, and fierce fighting continued throughout eastern Ukraine. Markets gave up some of their gains, before today's re-run of a similar script fuelled a rally on renewed hope of an end to the fighting.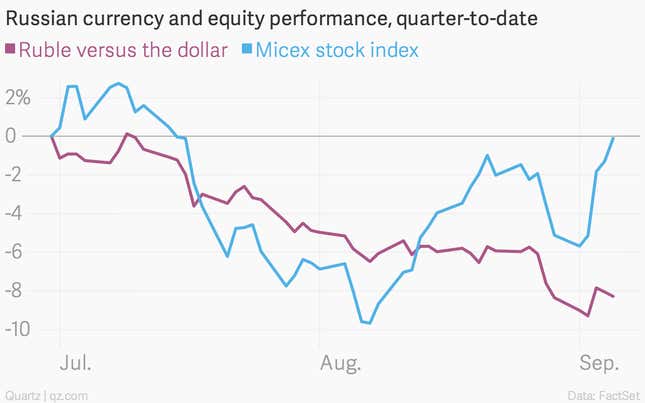 With the latest ceasefire only a few hours old, Western leaders appear to be going by the "fool me once" doctrine. US president Barack Obama said he's "hopeful but skeptical" that the truce will hold. US and EU leaders say they will tighten sanctions against Russia, regardless of the latest developments: "Be in no doubt," British prime minister David Cameron said. "The sanctions go ahead as announced." The Financial Times has published excerpts from a working draft of new financial- and energy-related sanctions now under discussion in European capitals (paywall).
Meanwhile, in Russia, officials have been revising their economic forecasts lower, but they are still generally more bullish than private analysts. A hasty pivot to find new business partners in finance and energy won't come soon enough to spare Russia's stagnant economy more pain. Ordinary Russians are showing defiance in the face of the Western squeeze, most visibly in a patriotic response to the Kremlin's retaliatory ban on Western food imports (paywall). A few more months of double-digit food price inflation may test their resolve.
Tellingly, the ruble is not rallying alongside Russian stocks today. Brave bargain hunters may see promise in punting on Russian stocks, which nonetheless remain at rock-bottom valuations despite the ceasefire-inspired rallies. The fragile ruble reflects the continued flight of capital from Russia, which is rapid enough—perhaps up to $200 billion this year alone—to make a big dent in its sizable reserves. This erodes a crucial buffer for the country now that global capital markets are largely closed to it.
The risks of tighter sanctions and unpredictable policies makes most Russian assets "unanalyzable," an emerging-markets fund manager told Quartz. He said that the bump after this week's first ceasefire announcement gave him a chance to open a short position on the ruble, since he believes any rally will soon be reversed. (And so it proved.) "Putin," he said, "is an absolute genius at creating confusion."