One of Apple's most successful products—which rarely gets recognized as such—is made not of aluminum and glass, but of words and pictures. The Apple keynote is the tool the company uses a few times a year to unveil its other products to millions of people.
To understand their hidden structure, Quartz reviewed more than a dozen Apple keynotes, logging and analyzing key elements. Here's what we found.
By the numbers
The Apple Keynotes podcast on the iTunes Store lists 27 events since Steve Jobs unveiled the first iPhone on Jan. 9, 2007. (A few are missing.)
They are an average 88 minutes long, with a similar look and feel—a minimalist slide presentation with live demos from Apple executives and industry leaders, punctuated by videos explaining Apple's design and manufacturing processes. These videos—a genre in themselves—have been frequently parodied.
Who's on stage?
When Steve Jobs was running Apple and healthy, he dominated the stage. During Jobs' finest performance—his 2007 iPhone "Stevenote"—he spent more than 90 minutes on stage, with breaks only to invite partners up for remarks, including then-Google CEO (and then-Apple board member) Eric Schmidt.
Later, Jobs gave other executives more stage time, notably Phil Schiller—Apple's head of product marketing, who subbed for Jobs during his medical leaves—and Scott Forstall, a long-time Jobs protégé that Apple CEO Tim Cook dismissed in 2012.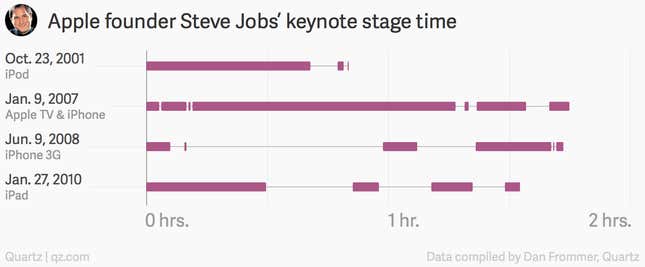 Cook has smartly taken a different approach. He instead plays emcee at Apple events, typically kicking things off with a company update, mixing in a few dry gags about Apple's competitors, then handing off the reins to Schiller for hardware introductions and Craig Federighi, Apple's head of software engineering, for OS updates.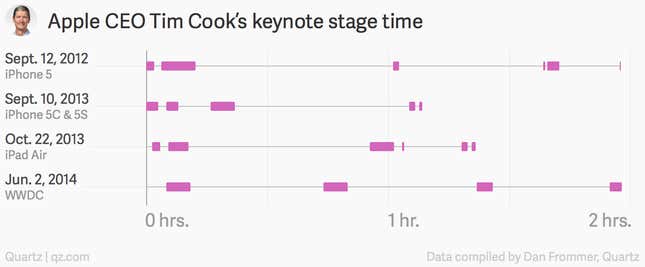 Cook usually spends less than 20 minutes onstage per event, but he has gone out of his way to remind the Apple community—its fans and customers, as well as its employees—how deeply he understands and cares for the company he has inherited. One of his frequent mantras is "only Apple…"—where he talks briefly about how no other company could create the products Apple just showed off.
Who's the funniest?
The crowd—ranging in size from hundreds to thousands, depending on the venue—is a critical part of the event, and Apple has gotten great at engaging the audience with drama, visual humor, and inside jokes. These events are designed to inform, but also to entertain. Jobs once went as far as to prank call a local Starbucks—live from the stage—to show off the new iPhone's local search feature: "I'd like to order 4,000 lattés to go, please!"
During Apple's most recent presentation, kicking off its Worldwide Developers Conference on June 2, a crowd of over 5,000 made more than 50 outbursts of laughter over the keynote's 117 minutes, and stopped to applaud almost 100 times. That became a laugh track for more than 20 million people who watched the keynote video—a record, Cook said during the company's earnings call in July.
Keynote humor these days typically involves poking fun at Microsoft, Google, or other Apple executives. To see who gets the most gags in, we logged the six most recent Apple events, recording who's on stage for how long and how many times the crowd broke into laughter. While Cook can be unexpectedly funny, Federighi—who spent the most time on stage—drew twice as many laughs.

Federighi, who re-joined Apple in 2009, has recently been an on-stage workhorse star, showing charisma and humor as he demonstrates Apple's newest OS features. He spent about 75 minutes on stage at this year's WWDC—Cook called him "Superman" by the end—and will likely play a role in this week's show. Maybe he knows some watch jokes?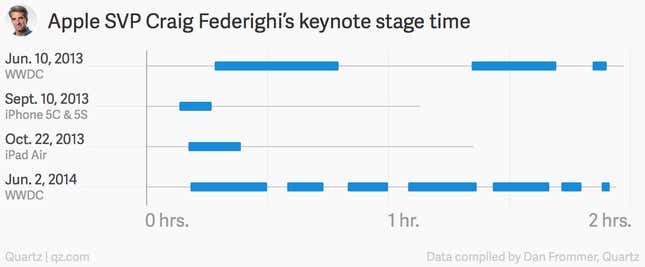 When is the unveil?
Of course, the "news" part of the keynote—the hot new product that millions will buy, and the reason people have flown to be there—often only lasts a few minutes. So to give the crowd its money's worth, Apple surrounds it with context and suspense. Jobs famously sometimes saved the best for last—"one more thing"—a line that Cook's Apple has respectfully retired.
What if you just want to know what the new iPhone looks like? On average, it has taken about 45 minutes to get to that part. But more recently, it has been shorter. With plenty to cover tomorrow—supposedly including two new iPhones, a wearable device, and a payments system—there shouldn't be much filler content.