Apple is holding an event in California today to show off its latest products, which will almost certainly include one or more new iPhone models.
The keynote is scheduled to begin at 10 a.m. local Pacific time—that's 1pm in New York and 6pm in London. But what time exactly will the new iPhone unveil take place?
Quartz reviewed all previous iPhone launches as part of our analysis of Apple's famous keynotes. We found that on average, it has taken about 45 minutes for Apple's speakers to get to that part of the presentation.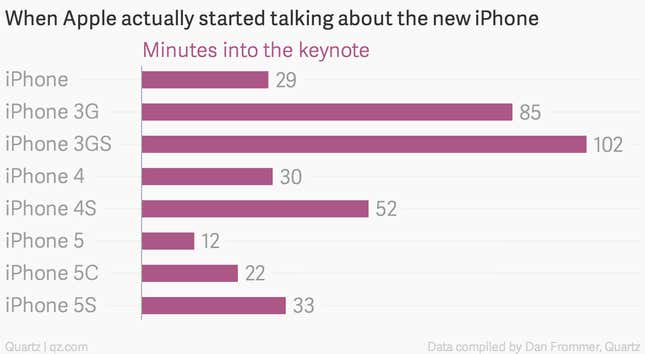 But more recently, it has been much shorter: It took just 22 minutes for Apple to get to the iPhone 5C unveil last year. The year before, the iPhone 5 segment started just 12 minutes into Apple's presentation.
With plenty to cover today—supposedly also including a wearable device, a payments system, and who knows what else—there shouldn't be much filler. The new iPhone is unlikely to appear in the first, say, 10 minutes—that's usually taken up by CEO Tim Cook's welcome, big-picture remarks, and often a video. But if you're set on catching the first glimpse, we wouldn't tune in much later than that.