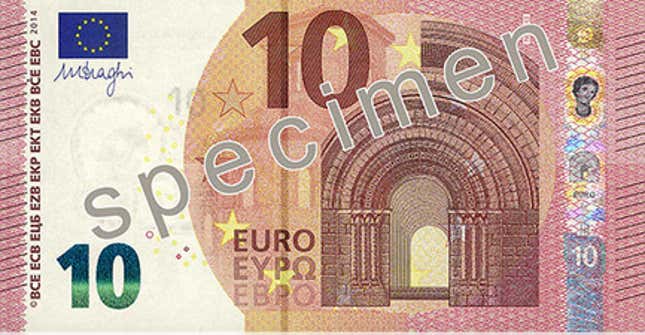 The European Central Bank recently released a new version of the €10 banknote. (It's nowhere near as nice as Norway's new notes, but hey, what is?) The central bank for the 18 countries that use the euro decided to promote the release of the currency with a selfie competition:
Though the end of the month, Twitter and Instagram users who take a selfie with the new note and tag it with the hashtag #mynew10 will be entered into a competition to win a new iPad. But not all entries are eligible for the prize—"Selfies must not under any circumstances show the new €10 banknote in a situation that may adversely affect the reputation and honour of the ECB," the bank says in the competition's terms and conditions (pdf).
Can you guess what happened next? As we've seen time and time again in corporate social media campaigns, the ECB's competition was quickly hijacked by people using the hashtag to express their frustrations with the euro, Europe, austerity, and politicians in general.
This Slovenian used a statue from the Tuileries garden in Paris—perhaps the oldest recorded facepalm—to question the logic of the ECB paying Twitter to promote tweets about the selfie competition:
This Frenchwoman notes how little €10 actually gets you, like a packet of cigarettes and half a beer:
A couple of people had a message for ECB president Mario Draghi on how best to use the new notes:
And on whether the president's salary is justified:
This Italian's rude gesture has been retweeted more 40 times:
But not as many retweets as this person in Spain, who lambasts her country's bleak economic situation:
Spaniards took to the hashtag immediately. This one sums up the mood, with Spain being compared to the Titanic in one:
This tweet uses the competition to highlight recent revelations of aggressive corporate tax planning in Luxembourg:
And several people called to scrap the euro entirely and return to the franc, lira, Cypriot pound, and other former currencies:
To all of which we can only say: ouch. When the ECB first announced its banknote revamp last year, it built an online Tetris clone to get the word out and teach people about the new features. It probably should've just stuck with that.