Flurry, a mobile-app analytics company owned by Yahoo, noticed two interesting trends in its data this week:
First, Apple had a massive Christmas.
Apple represented 51% of device activations measured by Flurry in the week leading up to and including Dec. 25, making it by far the dominant brand. Samsung—which has been the top-selling mobile brand in the world—came in second place with 18% of activations.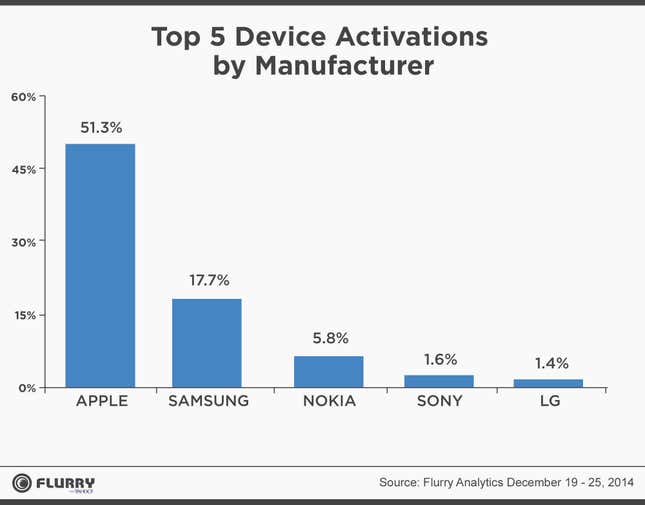 Important caveats: Activations and sales don't necessarily correlate, and Flurry can only measure activity in its network of apps. It would be a big surprise if Apple were to have sold almost three times as many devices this quarter as Samsung. But, still, it's a positive sign for Apple, which had predicted a big Christmas.
Second, phablets—phone/tablet hybrids—are really taking off.
Phablets—with screen sizes between 5 and 6.9 inches—represented 13% of Flurry's device activations the week leading up to Christmas, up from 4% last year. This is in large part to Apple's iPhone 6 Plus, which the company launched this year after what seemed like a bias against big-screen phones. Flurry says the 6 Plus was one of the top five devices activated.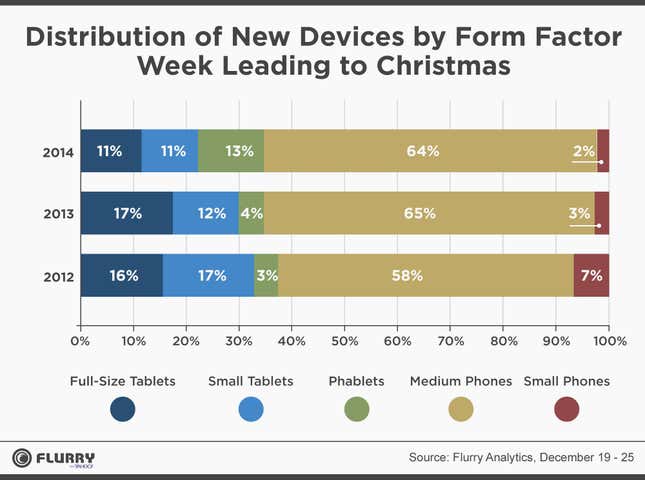 But, some perspective: Medium-size phones, with screens between 3.5 and 4.9 inches, still represented 64% of device activations—almost five times as many. And the iPhone 6 was the top device overall. Phablets are on the rise, but they're still a smaller market than normal smartphones or tablets.