It might not be performing as poorly as bitcoin or crude oil, but stock in Elon Musk's electric car company Tesla has started 2015 on shaky footing indeed.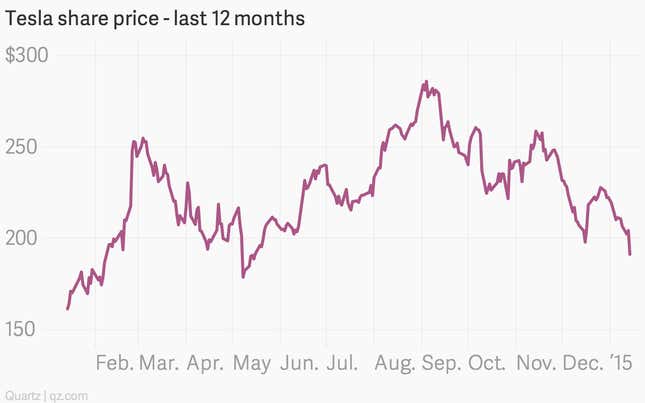 The shares are getting spanked today (they fell 5.7% in regular hours) and are now one-third off their peak from last September, when euphoria over the company's ability to revolutionize everything from cars to energy storage abounded.
What's changed? The slump in oil prices, which in theory makes electric cars less desirable, certainly hasn't helped. And overnight, Musk revealed at an auto show in Detroit that sales in China have been unexpectedly weak due to concerns about how easy—or, more precisely, how difficult—it will be to charge electric cars there.
China only accounts for a small percentage of Tesla's sales, but the world's biggest car market remains hugely important for the automaker (a theory supported by Tesla's decision last year to price its Model S sedans aggressively there—they cost the same amount, before taxes, as in the US).
Musk also said in Detroit that Tesla won't be profitable until 2020, but Tesla's lack of profits haven't ever really concerned anyone, and the company is still very much in growth mode, so if you are surprised by that, it serves you right.
As for the stock, anyone caught off by the current weakness would do well to remember that Musk, who has lost billions on paper himself due to the decline, warned not long ago that Tesla's share price was looking pretty toppy. Using traditional pricing methods it remains obscenely valued. And while Tesla's future remains tremendously exciting, high-growth equities with negligible earnings are never for the faint of heart.