The internet and television have finally converged.
On Tuesday, Jan. 27, Dish Network will begin rolling out the first live television service delivered entirely over the internet and available across the United States. It's called Sling TV and costs $20 a month for a small set of channels—including, crucially, ESPN—intended to appeal to young Americans uninterested in large and expensive cable bundles.
The first invitations will go to people who have expressed interest on the Sling TV website, with a fully public launch expected within the next two weeks. It's only available in the US.
I've been testing the service and can report that it works as advertised: You can watch crystal-clear live TV with a simple app that works on most devices. For sports fans, Sling TV will be an appealing option because it's the cheapest way to access ESPN. For everyone else, the service is more symbolic—worth following, if not subscribing to—because it shows what TV is becoming as it moves to the internet.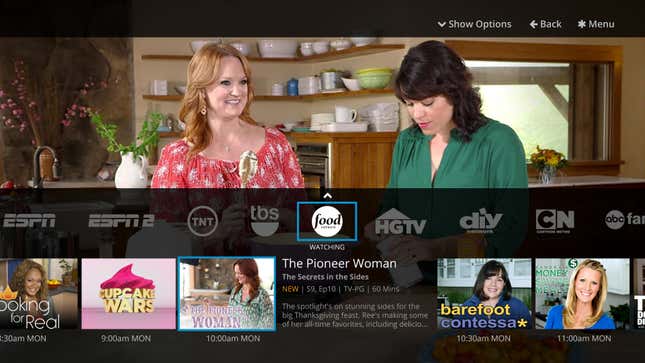 It will only get more interesting from here. Netflix, which already has 39.1 million subscribers in the US, is rapidly changing viewing habits, and competitors like Amazon, Hulu, and Vimeo are increasingly attractive as well. Later this year, HBO will start offering a streaming service that doesn't require a subscription to pay TV, which could prompt some other coveted channels to follow suit. That will put pressure on pay TV companies to offer slimmer, cheaper bundles of channels—and maybe even better service. Programmers will also make more of their shows available to watch whenever you want, while also investing in live events that can still draw massive realtime audiences.
That's the near future of television, of which Sling TV is only a small part for now. But its launch is still significant, coming after years of anticipation and heralding a new, better era for television fans. It will also help the US catch up with parts of the world that have enjoyed internet TV for some time.
How Sling TV works
Here's my demonstration of Sling TV running on a Roku 3:
Sling TV is similar in form to traditional pay TV, with three major differences: It's cheaper, offers fewer channels, and is only available over the internet. For $20 a month, you get ABC Family, Adult Swim, Cartoon Network, CNN, Disney Channel, ESPN, ESPN2, Food Network, HGTV, TBS, TNT, and Travel Channel. A few additional channels are available in two supplementary packages, each for $5 a month, but I can't imagine many people will opt for them. You don't get access to the four main broadcast networks: ABC, CBS, NBC, and Fox, though you can get those for free with an HD antenna.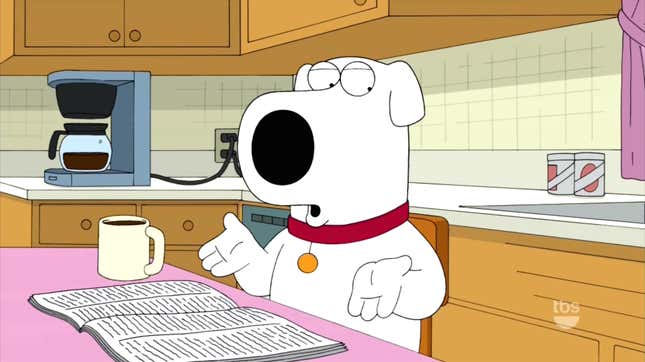 To start, Sling TV will work on Android and Apple tablets and phones, as well as the Roku 3, which plugs into television sets. Support for more devices, including other streaming media players and some TVs, is expected to be added soon. I tested Sling TV on an iPhone 6 Plus, iPad Mini, and Roku 3, and the service worked just fine on all of them.
The interface is as straightforward as you'd hope, given the limited options. Flipping through programming feels a bit like turning the knob on an old television set with just 13 channels. That's refreshingly simple compared to most cumbersome cable boxes, but it also drives home the service's limitations: It's still TV, with all the familiar drawbacks. For the most part, you're limited to whatever happens to be airing on the channels you happen to receive.
Some video is available on-demand. Food Network and a few other channels owned by Scripps Networks Interactive let you watch anything that has aired in the prior three days, which creates a large but somewhat random collection of video. When I searched for the cooking competition show Chopped, there were 19 episodes from 11 seasons available to watch immediately, but no way to binge on a complete season. It's also not possible to record shows for later.
The limitations are the fault of programmers and the archaic norms of pay television, but Sling TV could do a better job at making the reach and limits of its offerings more obvious. The interface is still frustratingly focused on live TV, when the target audience—"millennials," according to the company— clearly prefers the control offered by on-demand services like Netflix. Dish Networks says on-demand offerings will improve over time.
Sling TV also includes a decent selection of movie rentals, but countless services offer that. And it will soon add videos from Maker Studios, the Disney-owned production company best known for operating popular YouTube channels. It's early yet for this side of the business.
All pay television services struggle to balance the simplicity of live TV with the flexibility and breadth of on-demand video, without confusing users with the complex licensing agreements that dictate what can be offered. But I've seen better attempts by Comcast's X1 cable box, Time Warner Cable's apps, and Fan TV. Still, those services cost a lot more, have limits on use outside your home, and aren't available everywhere. Sling TV is cheap, and you can use it anywhere in the US.
More than anything, Sling TV is a response to the bloated bundles of channels that most pay TV services require to be part of your subscription. The average American household that pays for TV now receives 189 channels, up nearly 50% over the past five years, but watches only 17 of them—a number that hasn't budged: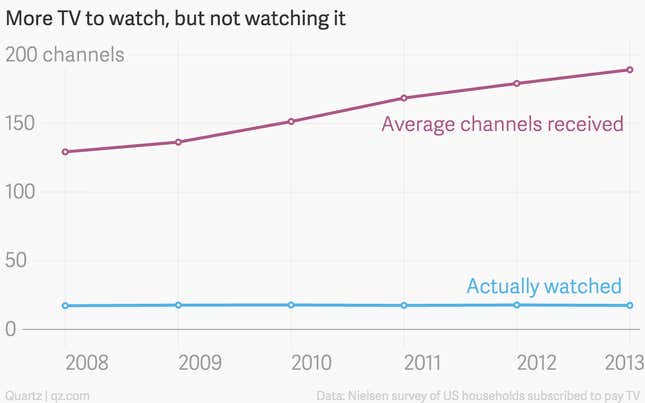 What Sling TV proposes—and, to a certain extent, delivers—is a world in which you only pay for the channels you actually want to watch.
The ESPN factor
If you just want a few channels filled with popular live programming, you can buy an HD digital antenna and get broadcast television for free. If you want a deep catalog of shows to watch on your own schedule, you can get Netflix ($9 a month in the US), Amazon Prime ($8.25), or Hulu ($8) for less than half of what Sling TV charges.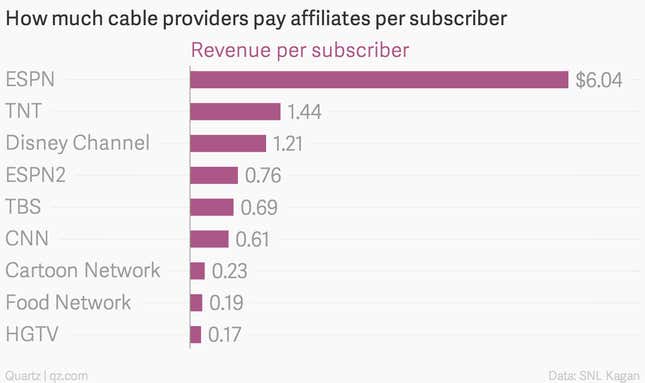 So why would you subscribe to Sling TV? Quite simply: ESPN.
The sports broadcasting behemoth has long been the most attractive element of any pay TV package. Cable and satellite TV companies pay an average of $6 per subscriber per month for the right to carry it—far more than any other channel. It's also the hardest to replace with subscription on-demand services like Netflix, because people want to watch sports live. In short, ESPN—and, more broadly, live sports—are the number one reason why more Americans haven't already cut the cord. Now it may become the reason for people to opt for a slimmed-down cord, instead.
When I briefly gave up pay TV in 2012, the hardest programming to part with was sports—but I still couldn't justify paying about $100 a month for sports alone. However, if my provider, Time Warner Cable, had offered a way to get ESPN for $20 a month, I would have happily downgraded. Sling TV says it is targeting people who previously cut the cord or never paid for television, but I bet it will also lead some existing TV subscribers to trim their bills.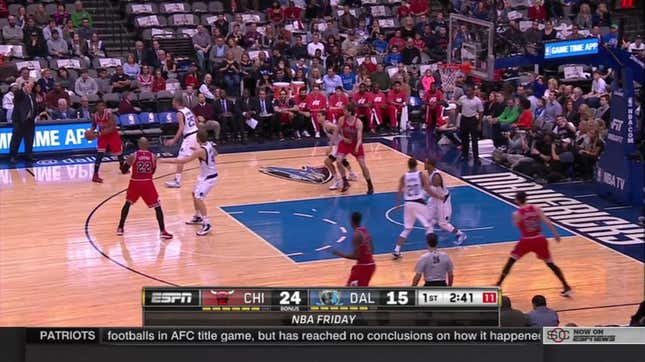 Sling TV comes with live ESPN and ESPN2. It also—and this is crucial—gets you WatchESPN, the network's excellent apps for mobile devices, streaming media players, and television sets. With that, you have access to pretty much all of ESPN's live programming, including niche channels like ESPNU and ESPNews, plus a growing wealth of online-only content on ESPN3. For sports fans, it's an embarrassment of riches. Over the past weekend, I watched professional basketball on my iPhone while standing on-line at Whole Foods, caught the Australian Open on my iPad while making pancakes, and watched endless college basketball on my TV set using a Roku 3.
ESPN, of course, doesn't cover the entire sports universe. Local teams still often air on regional sports networks that Sling TV doesn't carry. ESPN also shows just one National Football League game per week, on Monday nights. Most football games air on broadcast television, so real fans would need to get an antenna to supplement their Sling TV subscription. True diehards would still be better served by DirecTV's NFL Sunday Ticket package, which can be streamed online and is available to some people without a broader DirecTV subscription. However, fans of college and professional basketball—and people who enjoy watching whatever game happens to be on—will be just fine relying on ESPN.
One weird quirk: There are no commercials on ESPN using Sling TV, which is also the case on WatchESPN. Instead, during breaks, a canned message plays over equally canned music. The music is so bad it actually made me miss ads.
The obvious question is why ESPN doesn't sell this kind of access itself, cutting out pay TV middlemen. ESPN, which is owned by Disney, says the economics don't make sense for now, but it's experimenting with "over the top" services for specific sports like cricket. It may just be a matter of time before you can pay ESPN directly for what Sling TV now provides.
Until then, ESPN is by far the greatest selling point for Sling TV. Perhaps a few people will be moved to subscribe because they really love TNT's The Librarians or Food Network's Beat Bobby Flay, but they will be few and far between. And of course it's possible Sling TV will reach agreements to carry more highly coveted channels like FX (owned by 21st Century Fox), Bravo (NBCUniversal), or AMC (AMC Networks). But for now it seems like a simple calculus: Subscribe to Sling TV if you think ESPN is worth $20 a month.
Ease of use
Another major selling point of Sling TV is its simplicity. If you're accustomed to poor customer service, clunky cable boxes, byzantine channel guides, and the unshakable feeling that you're being ripped off, then Sling TV will feel like a breath of fresh air.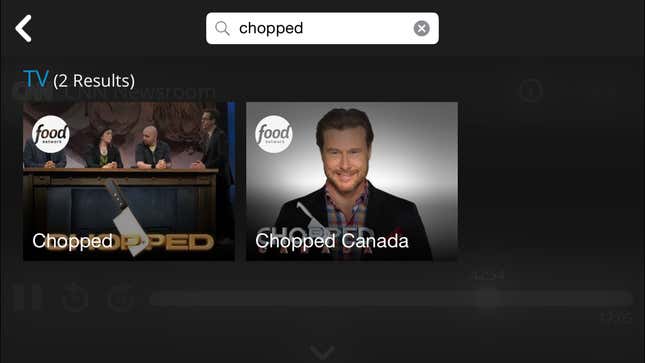 In addition to a simple interface, Sling TV promises that $20 a month isn't an introductory price that will rise after a year. There aren't any mysterious additional costs, like the $4.11 "franchise fee" on my monthly Time Warner Cable bill. And in his presentation at the Consumer Electronics Show, Sling TV CEO Roger Lynch made a point of how easy it is to cancel the service. So if you just want to subscribe for the NCAA men's basketball tournament in March—which will be on TBS and TNT, among other channels—you can do that without breaking a contract or making an aggravating phone call.
Though on-demand options are limited, at least searching for shows to watch that way is easier than what most cable boxes offer. You just type in the name of what you're searching for, and if it's available, it shows up. Netflix subscribers won't find that revolutionary, but, sadly, many cable subscribers will.
The other big, convenient difference from traditional pay television is that you can watch Sling TV wherever you want. It works exactly the same way over a cellular connection as it does over your home WiFi. While most cable companies offer mobile apps for viewing on the go, they all come with significant limitations.
The streaming life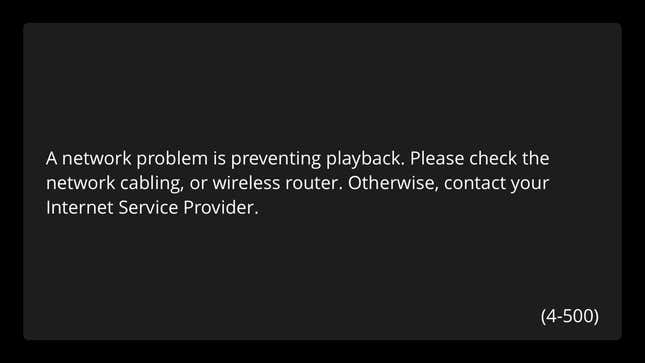 Of course, streaming video is only as good as your internet connection. Using my Time Warner Cable internet service, which promises but rarely reaches speeds up to 20 Mbps, I was able to use Sling TV without much trouble and enjoyed HD-quality streams most of the time. (From what I could tell, you need at least 2 Mbps to maintain a flawless stream.) However, changing channels takes an extra beat longer than traditional TV, and every once and a while doesn't work at all.
For most Americans, their internet and pay TV providers are one in the same, in the form of companies like Comcast, Time Warner Cable, Verizon, and AT&T. Overall, the industry has been losing television subscribers, but making up for it with new internet subscribers who are charged an increasing amount. More Americans now subscribe to cable internet than cable TV. (All of this makes current debates over net neutrality regulation all the more important.)
These internet providers desperately want to play a part in the television experience of the future. Some have improved their offerings to take advantage of internet TV, but they all seem trapped by their existing business models. It's no coincidence that Dish, which has always challenged the incumbents of its industry, is the first to offer a small, internet-only bundle of channels in the form of Sling TV. The $20-a-month package may not be as lucrative in the short term, but that won't be a problem if it's an experience that people prefer.
Comcast has experimented with internet-only television service on some college campuses, and its newest cable box for regular customers takes some advantage of internet delivery, too. If Sling TV or similar services prove popular, Comcast could embrace the idea more fully. It may ultimately have no choice.
While testing Sling TV, I was struck by my Roku homescreen: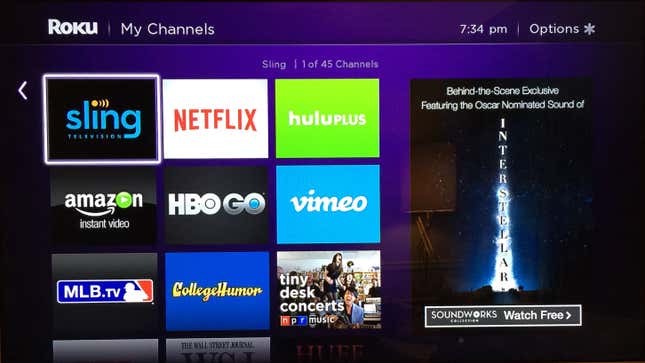 That's what internet television looks like. Maybe you subscribe to Netflix and Hulu Plus—and soon, HBO Go, as well. You watch the occasional series on Vimeo, and get your baseball fix directly from the league. It still costs a lot, but you have more options from a wider variety of sources. Live TV, meanwhile, is just another app.