Spotify could be putting off an IPO for another year.
According to the Wall Street Journal, the Swedish-based streaming music service is working with Goldman Sachs to raise $500 million from private market investors, suggesting the company won't need to turn to the public markets anytime soon. Spotify declined to speak with Quartz about its funding plans. But the notion that an IPO is on ice is consistent with what music industry sources and Spotify shareholders have told us recently.
Spotify is certainly achieving the kind of growth that would appeal to stock market investors. Its most recent financial accounts, filed with regulators in Sweden, showed that it generated about €747 million in in revenue in 2013, up 74% from 2012. It's still losing money, but that's no impediment to an IPO in the current climate, and its net loss has narrowed substantially, to €57.8 million from €86.7 million a year earlier.
And remember, those are figures for 2013, when Spotify had half as many users as it does now. (Spotify said earlier this month that it had 16 million paying subscribers and 60 million active users).
But there are a bunch of other issues confronting the company at the moment.
Spotify's closest proxy on the stock market right now is Pandora Media, even though the two companies have very different business models (Pandora is US-focused and makes its money from advertising; Spotify is more global, and primarily a subscription business).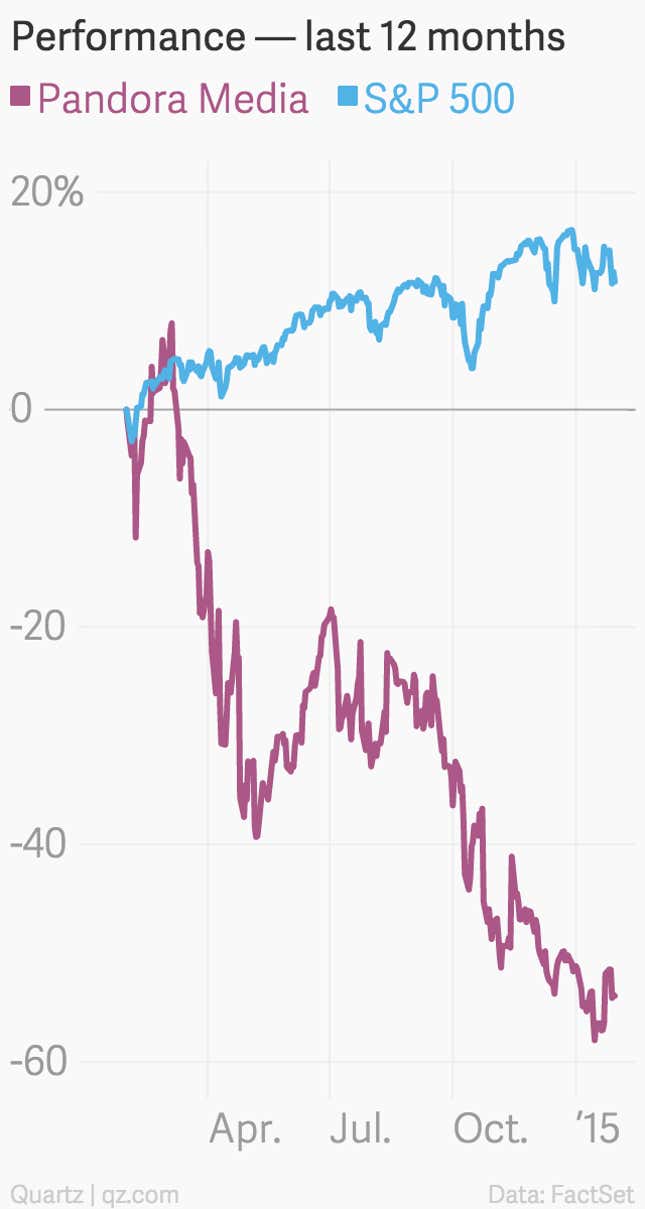 Pandora's stock price has been under serious pressure over the past year, halving in value. In theory, this might make it harder for bankers to sell the Spotify story to stock market investors.
There's also an 800-lb. gorilla in the room called Apple. The tech giant is reportedly close to integrating Beats Music (Dr. Dre's streaming music service, which it bought in a $3 billion deal last year) under the better known iTunes brand. Doing so could enable it to convert millions of iTunes music download customers into streaming music subscribers. If executed properly, this could pose a serious challenge to Spotify's dominance in streaming.
Perhaps most crucially, record labels, which own a significant chunk of the equity in Spotify, want the company to do away with its free, advertising-supported service. This is the service that Taylor Swift, who pulled her catalog from Spotify in November, is so upset about. It allows people who are prepared to sit through occasional ads to listen to songs on demand. Other free internet services are more passive and radio-like and don't allow for on-demand listening.
Like Swift, the labels don't like Spotify's free service because it cannibalizes album sales, and pays less in royalties than the subscription product does. But Spotify CEO Daniel Ek argues the free service is an important conduit for users to the paying service. It arguably would be difficult to go public before this impasse is resolved.
And finally, with plentiful pre-IPO financing available for tech companies that are still in a growth phase, there is no need to bother with the hassle of a stock market listing. So it looks like everyone who called Spotify's IPO too early (this includes Quartz) should prepare to sit tight a while longer.