Euro zone finance ministers are in Brussels to discuss—what else?—Greece. Even if you have been following the news closely, it can be hard to keep track of where things stand on the increasingly tense stand-off between Athens and the rest of the euro zone, which is Greece's largest creditor group.
This much is known: Greece needs a new bailout. Its current rescue program runs out at the end of February, and if it fails to sign a new deal with creditors it could default on its debt in a matter of months (or maybe even weeks). In the worst case, this could lead to Greece being forced out of the euro zone entirely, which would be an economic disaster.
Today's meeting in Brussels is the third attempt in just over a week to extend Greece's current bailout agreement, buying time to negotiate a new long-term aid program. The new Greek government—a coalition formed by the leftist Syriza party which came to power on a pledge to end austerity—wants to ditch some of the most onerous conditions attached to its current bailout immediately.
Euro zone creditors are keen for it to stick with the program as they negotiate a new deal (showing a lack of trust in the Greeks to stick to previously agreed reforms). At times, the players have seemed willing to compromise; at other times, it looked like nobody was willing to cede an inch.
The back-and-forth can be seen in Greek bank stocks, perhaps the best gauge of what the markets think about the outcome of the negotiations—if Greece is booted out of the euro zone, its beleaguered banks would lose the European Central Bank funding that is keeping them afloat.
With that in mind, here is your guide to all the sniping, leaking, cajoling, and attacking over the past week—a quick way to get up to speed on where we stand.
Monday, Feb. 16
After a seven-hour meeting of finance ministers on Feb. 11 failed to yield even a joint statement, expectations are low going into another meeting today, after the markets close.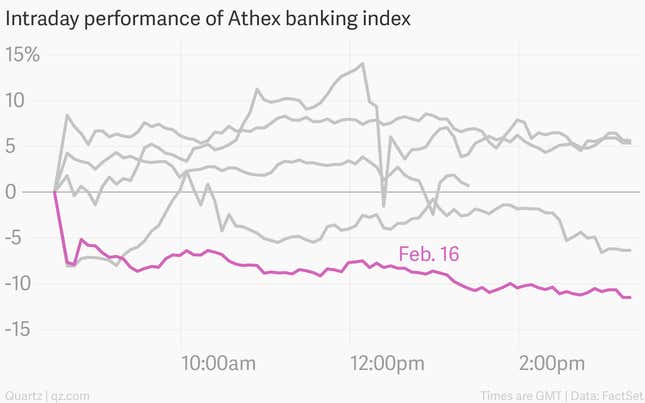 Tuesday, Feb. 17
Yesterday's meeting went even worse than expected. The Greeks refuse to agree to anything that suggests they should conclude the current bailout program, breaking up the meeting after a few hours. Although the differences between Greece and its creditors are largely semantic, neither side is willing to give any ground.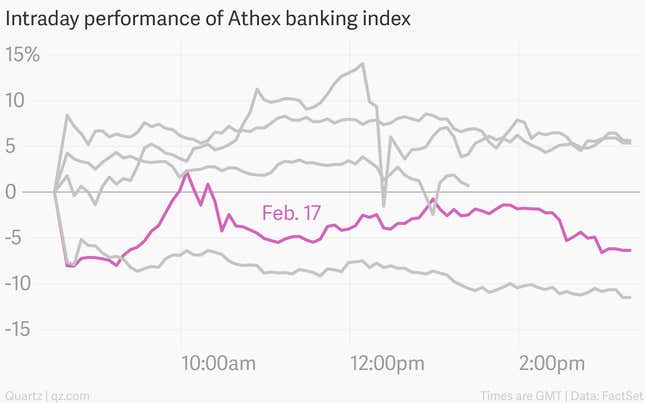 Wednesday, Feb. 18
There are signs of hope, as the European Central Bank boosts the amount of special support it will give Greek banks and the government in Athens releases the speaking notes of finance minister Yanis Varoufakis from the two failed meetings. The documents suggest a softer stance than was portrayed in the press—Greece says it will agree to "sensible conditionalities" in a counter-proposal to its partners.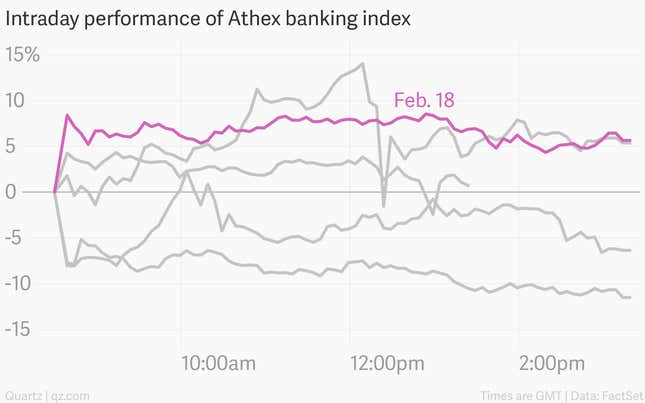 Thursday, Feb. 19
The Greek proposal is made public, and immediately read as a sign of significant compromise. Another meeting of euro zone finance ministers is called for the next day to consider it—and Greek markets rally hard in response.
But Germany quickly dashes hopes of an easy deal, with is finance ministry dubbing Greece's proposal a "Trojan horse" that seeks funds without conditions that the Germans deem tough enough. Markets quickly go into reverse, before regaining some ground amid hopes that common ground can still be found—after all, Germany is only one of 19 euro members with a say in the matter.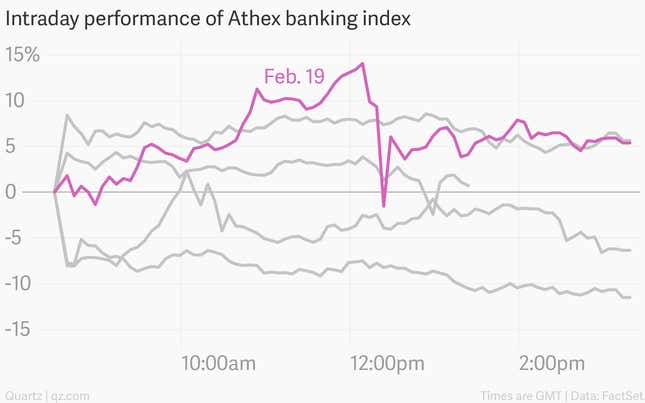 Friday, Feb. 20
The day of reckoning. Markets rise on news of backchannel talks between Greek prime minister Alexis Tsipras and two key euro zone power brokers: German chancellor Angela Merkel and French President François Hollande.
An hour-and-a-half delay to the start of the finance ministers' meeting rattles markets a bit, but at least it's not a cancellation. Greece and its creditors clearly don't see eye to eye on many things, but the will to keep the country in the euro zone seems genuine—or at least, that's what investors seem to think.