A cargo train from China's eastern province of Zhejiang has finished its maiden journey to Madrid and back, establishing the world's longest rail link, which China has dubbed the "21st-century Silk Road."
After a 24-day journey, 64 containers bearing Spanish red wine, olive oil, and spring water arrived in Yiwu, China this week, after passing through France, Germany, Poland, Belarus, Russia, and Kazakhstan. In December, this cargo train traveled from Yiwu, which makes 60% of the world's Christmas goods, to Madrid to deliver 1,400 tonnes (about 1,540 tons) of Christmas toys, decorations, and stationery.
China is establishing an ambitious network of overland links to the West, crisscrossing Central Asia and Eastern Europe, as part of a campaign to develop its poorer western regions, shorten trade routes, and deepen diplomatic ties in region. The 8,011 mile (about 13,000 km) route between Yiwu and Madrid—far longer than the 5,772 mile Trans-Siberian railway— is part of a larger trans-Asia link that already connects Chinese cities Chongqing and Beijing with the German cities Duisburg and Hamburg. By sea, the freight time between Yiwu and Madrid takes 45 days.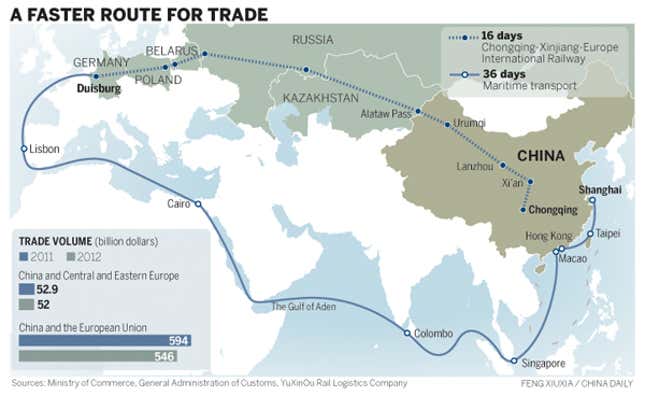 As Quartz has pointed out, rail infrastructure, once a tool of 19th century European empires, is now a manifestation of China's westward expansion. Freight trains are ferrying iPhones and other electronics from Wuhan, China to Poland. And China is or is in talks to build high speed rail in at least 20 countries, including a Trans-Asia railway that runs through Southeast Asia, and a more far-fetched proposal to build a bullet train connecting China to North America.