Apple will host another of its famous product events on March 9 in San Francisco. What's in store?
Apple Watch
It's widely expected that this is where the company will unveil more details about the Apple Watch, which is set to ship sometime in April.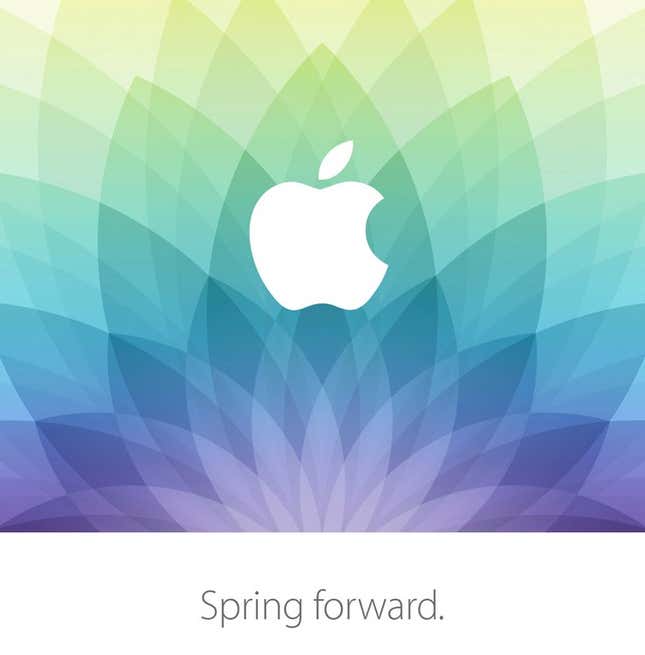 This will likely include any remaining features, a handful of launch applications from Apple and third-party developers, a concrete ship date, and pricing details. Apple has long said the entry-level ("Sport") model will start at $349. But it has not revealed pricing for other models, including its standard or premium ("Edition") lines, which could fetch hundreds or thousands of dollars, depending on their materials.
A slick new MacBook Air?
A new version of Apple's MacBook Air notebook has long been rumored, and Apple may use this event to unveil it. The new laptop is expected to have a higher-resolution "retina" screen and could be Apple's first to use a new, smaller type of USB connector.
A bigger "iPad Pro?"
Another anticipated device is a larger, "Pro" version of Apple's iPad tablet. Apple could potentially unveil it during this event. Or it could hold for later in the year, such as Apple's annual summer developer conference.
A new Apple TV?
Apple's media streaming device is overdue for an update. One idea is that the Apple Watch could be a useful remote control for "smart home" technologies, ranging from internet-connected lighting to security systems. Meanwhile, Apple has been working on a platform called HomeKit that is designed to manage some of these devices. One theory is that a new Apple TV could be the hub for this sort of system. We'll see.
An Apple Car?
Not likely. While a sarcastic remark about Apple's supposed car project could be a funny moment of comic relief, don't expect any real information for many years. Apple typically doesn't talk about future products until they're ready.