A collapsing currency, shrinking economy, and rampant inflation make a bitter combination for ordinary Russians. What makes it even more unpalatable is what's happening at the grocery store, where meat, fruit, vegetables, and other staples are increasingly scarce and expensive. Russia's economic woes are literally hitting its people in the stomach.
Finding new food suppliers at home and in friendlier countries abroad to replace imports lost to western sanctions and counter-sanctions has been slow. (Russia banned a wide variety of food imports from the US, EU, and elsewhere in August, after the annexation of Crimea and ongoing violence in eastern Ukraine prompted western nations to slap sanctions on Russian companies and individuals.) The resulting shortages mean that food inflation will rise above 20% in the first half of this year, according to analysts at VTB Capital, a Russian investment bank: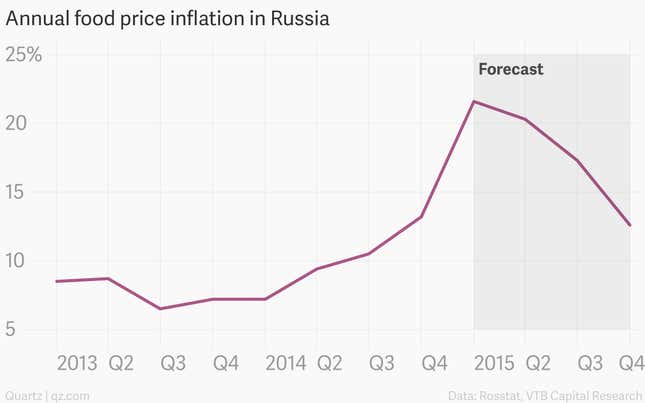 The average Russian's wages will fail to keep pace, rising by around 7% in 2015. After adjusting for Russia's runaway inflation rate, wages will fall by 7% during the year; overall consumer spending will drop by more than 8%.
As a share of total spending, half of what Russians spend this year will go just to buying food, according to VTB: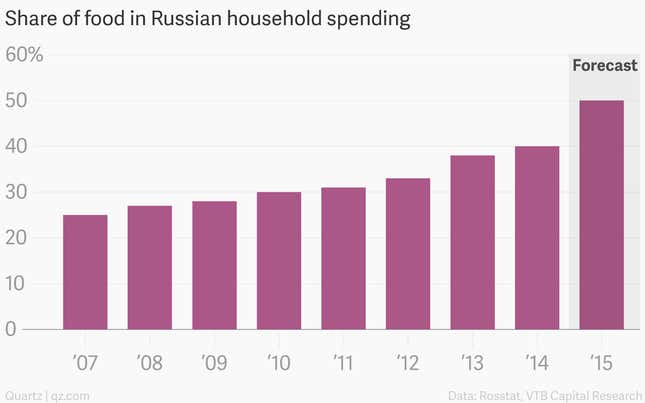 This is an extraordinarily high percentage, putting Russia on par with far poorer countries like Nigeria and Pakistan. In many advanced western countries, people typically spend a fifth as much of their budgets on food than is projected for Russia this year: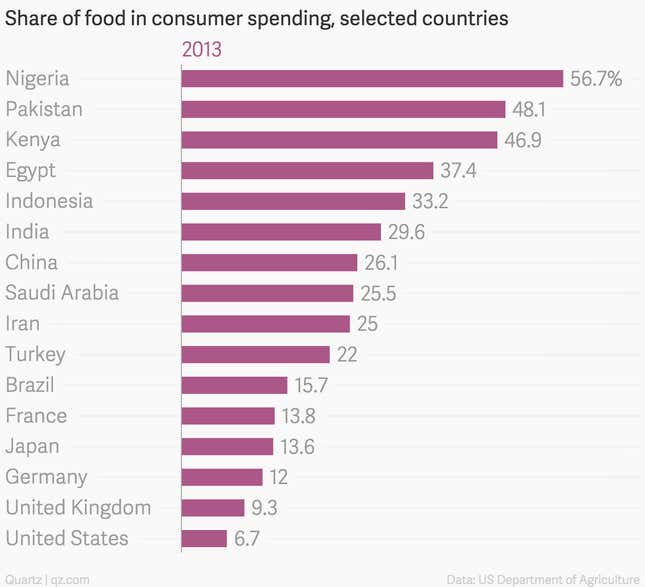 It's no wonder, then, that the Kremlin is reportedly exploring ways to ease the import ban (without losing face). But for all the hardship that's created by soaring prices and plummeting wages, more than half of Russians in a recent poll said they have been able to maintain their previous living standards. And Russian president Vladimir Putin's popularity ratings remain near record highs.