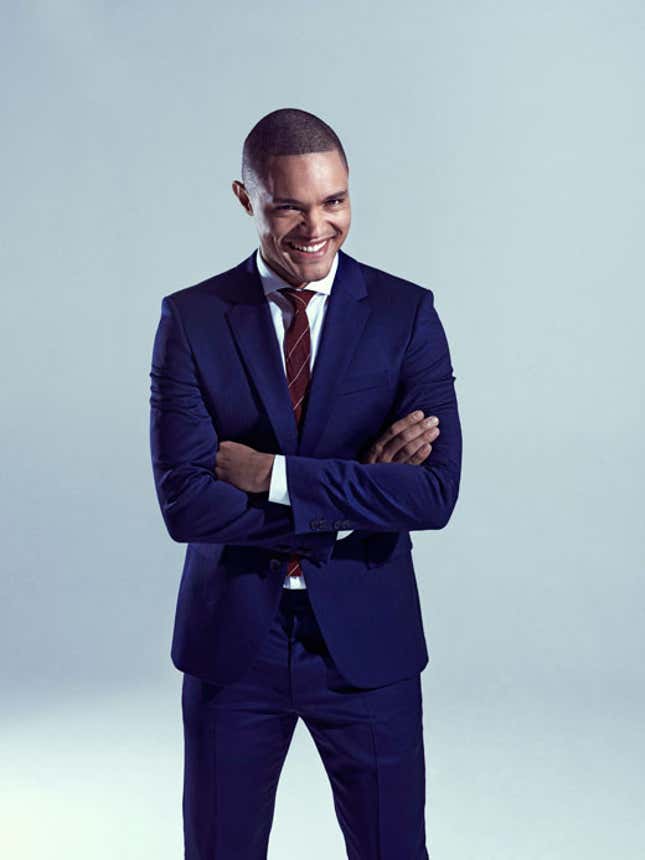 The new host of Comedy Central's popular left-leaning political satire show The Daily Show will be Trevor Noah, a 31-year-old stand-up comedian from South Africa who joined the show in December as a correspondent. He will replace Jon Stewart, who hosted the show for nearly 17 years and announced in February that he was stepping down.
Noah has appeared only three times on The Daily Show since he joined in December. Before becoming a stand-up comedian, Noah had his own radio program in South Africa and performed various other hosting duties, including at the South African Music Awards. He has had no high profile gigs outside The Daily Show—and was likely chosen for that exact reason.
"[Stewart] told me, 'I was where you were when I took over the show,'" Noah told the New York Times (paywall). "'Nobody knew me. I was just starting out, finding my voice, and that's when I was handed this seat.'"
"Now, it's my turn to steer the ship," he said.
Noah has a very different comedic style from Stewart's, but trying to find a "Jon Stewart 2.0″ likely wouldn't have worked. The only way for the show to move forward without Stewart was to hire someone that could make the show his or her own. Stewart himself was quite different from Craig Killborn, who hosted The Daily Show until 1998. From there, Stewart completely reshaped the voice and scope of the show.
Many fans were hoping for a female host, after nearly 20 years of white men hosting the show. The Daily Show correspondent Jessica Williams, who is also black, emerged as a fan favorite, but quickly said she wouldn't be taking over. And in a poll by Quinnipiac University, Tina Fey was the most popular choice.
Comedy Central president Michele Ganeless told the New York Times that gender wasn't really a factor in the network's search for Stewart's replacement. "We talked to women. We talked to men," she said. "We found in Trevor the best person for the job."
Watch Noah's first appearance on The Daily Show below: