From east London, to Brooklyn, to Tokyo and far beyond, thousands of music enthusiasts flocked to record stores around the world on April 18 to buy vinyl albums made by their favorite artists.
It was the ninth annual Record Store Day, a wildly successful promotion conceived of in 2007 by a group of music shops in the US, which later spread abroad, as a way to keep independent record stores afloat.
The day typically features special promotional releases (this year from the likes of Mumford & Sons, Foo Fighters, and Metallica), and special guest appearances. The medium of choice in record shops these days is vinyl, and sales are booming.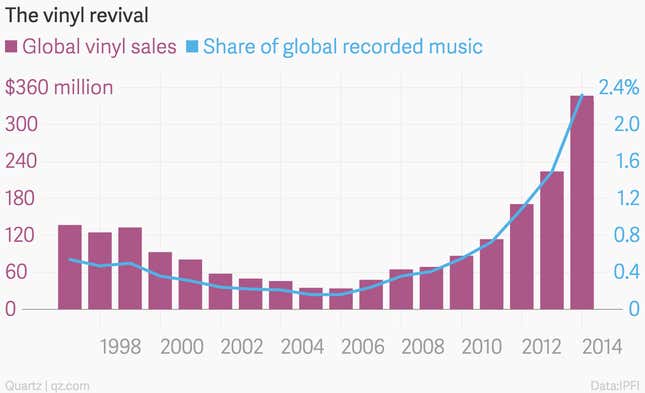 There are countless theories about what's behind the surprise comeback for the oldest record music format. As I've previously argued, it is probably less about the medium's quality (vinyl's claim to having superior sound to other formats is questionable) than its tangibility (relative to digital music) .
But while Record Store Day may be popular among a class of vinyl enthusiasts, it isn't about to save the music industry. Last year, vinyl accounted for less than 2.5% of the global recorded music industry, based on figures released today by the International Federation of the Phonographic Industry.
It is remains a tiny fraction of the physical music market (mainly CDs), and an even smaller portion of the overall recorded music industry.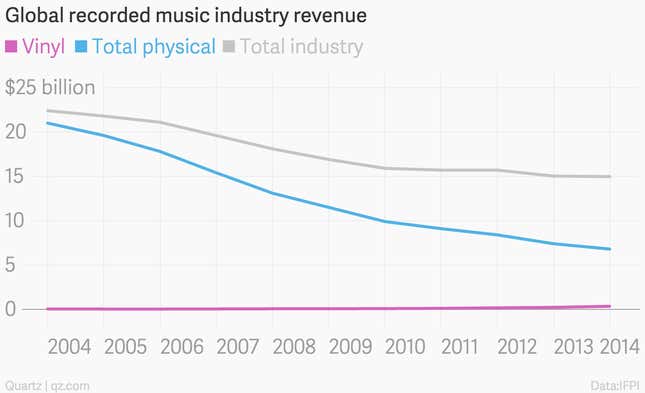 Vinyl sales have successfully tapped into music lovers' nostalgia, but investors are far more focused on digital sales becoming the industry's future.