China's war on pollution is starting to make some headway. In the notoriously smoggy Chinese capital of Beijing, air pollution—measured by the concentration of PM2.5 particulate matter—fell by 13% during the first quarter of this year.
That's according to a new study by Greenpeace, which also found levels that of PM2.5 fell by 31% in the neighboring province of Hebei. In the central Chinese city of Xi'an, PM2.5 concentrations dropped by 48%. In contrast, provinces where stricter pollution controls haven't been enacted, such as Henan, Hubei, Hunan and Sichuan, were among the ten most polluted areas for the quarter.
Last year, Chinese premier Li Keqiang declared curbing pollution as one of the key necessities for upgrading the Chinese economy. Since then, China has pledged $277 billion toward cleaning up its air, and updated its environmental law to allow for stricter penalties on companies that violate state pollution regulations. Steel and cement production in Hebei, responsible for much of the smog in Beijing, has been reduced—although it has also caused the poor industrial province's economy to take a hit.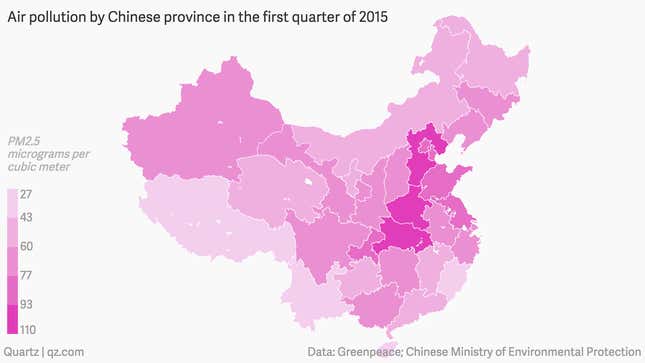 The improvement detected by Greenpeace is only a small step forward. "This is the only silver lining in a situation where 90% of cities still record levels of pollution that far exceed China's own air quality standards," said Zhang Kai, Climate and Energy Campaigner at Greenpeace East Asia, in a statement. The average concentration of PM2.5 for 360 Chinese cities analyzed by Greenpeace was 66 micrograms per cubic meter, almost double the national limit.
There's still a long ways to go, but environmentalists are applauding the fact that Chinese cities are making an effort to be more transparent about pollution levels. Now, 367 Chinese cities are monitoring and disclosing levels of PM2.5 under a recent rule that has set limits on PM2.5 concentrations for the first time—a regulation that will be applied across China as of 2016. According to Greenpeace, "the quantity of city-level air quality data available to the Chinese public now is unprecedented."