Russia's state-controlled gas group Gazprom has delivered a weak set of earnings, which probably brought a wry smile to officials in Western capitals. In response to Russia's role in destabilizing Ukraine, the US and EU have slapped sanctions on the company, restricting the equipment it can buy and limiting its access to finance.
Gazprom's profit last year dropped by nearly 90%, to 159 billion rubles ($3.1 billion), dragged down by lower gas deliveries, asset write-downs, and—above all—the weak ruble: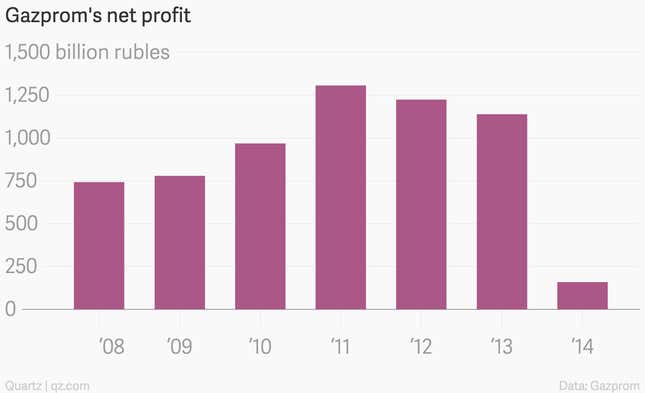 Part of the weakness in the headline results is down to accounting quirks. Gazprom mostly sells gas in dollars, which boosts its revenue when this is converted into rubles for reporting purposes—indeed, the company actually generated a record-high cash flow for the year. But at the same time, its dollar- and euro-denominated borrowings got a lot larger when translated into rubles, which puts a big dent in reported earnings.
Gazprom dismissed the financial impact of sanctions—it "does not believe they have a significant impact" on the company. Even so, there are factors that could make 2015 even uglier than last year for the company's income statement. Although Gazprom sold less gas by volume last year thanks to Russia's and Europe's weak economies, it was able to boost revenue by hiking prices in the markets where it dominates supply.
The EU reckons that this is an abuse of its power, and last week put the company's pricing policies at the center of a high-profile antitrust suit. Long considered a tool of Russia's foreign policy in Europe, the souring relations between Moscow and Brussels will now make it awkward for Gazprom to alter its prices for reasons other than market factors.
Speaking of the market, since gas prices typically follow oil prices with a lag, the recent drop in crude is just starting to feed through, further hampering Gazprom's ability to raise revenue. That revenue, at around $110 billion last year, represents a sizeable chunk of the Kremlin's own budget.
The subtext of the EU's case against Gazprom is that the company acts as Moscow's bully, overcharging its enemies and plying its allies with discounts. Now, the markets—and the victims of that alleged bullying—are teaming up and pushing back.