Last year, more than 100 startups reportedly joined the billion-dollar-valuation club, making these so-called unicorns not quite as rare as they once were. Larger funding rounds are pushing valuations way up and accelerating the rate at which unicorns are getting created.
Given this backdrop, it's surprising that e-commerce site Groupon still stands as the fastest startup to achieve a billion-dollar valuation, according to research firm Pitchbook. Chicago-based Groupon cemented its unicorn status in 2010, a year and five months after its founding.
Groupon, which will report its earnings this afternoon after US markets close, benefited tremendously from the economic downturn when it launched in 2008 as a daily deals site. But its current market capitalization of $4.71 billion is a far cry from its $12.65 billion IPO in 2011. Groupon is currently transitioning from its old model to become an e-commerce company, recently launching a marketplace for retailers to sell their products at a discount. Following on last quarter's mixed earnings, analysts expect the company to report earnings of one cent per share on $812.2 million in revenue.
The list below shows the 10 tech companies that reached billion-dollar valuations the quickest. Such explosive growth isn't necessarily a predictor of success. Aside from Groupon, Twitter (No. 6 on this list) has also been struggling in the markets lately, and Webvan (No. 9), a grocery-delivery service from the first dot-com boom, famously went bankrupt in 2001, two years after going public.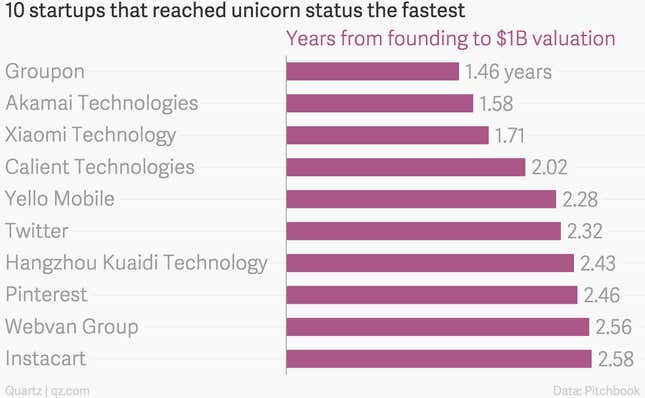 For its analysis, Pitchbook looked at companies whose valuation hit a billion dollars following a funding round, and did not include startup exits. Though group chat software Slack recently made headlines for its $2.8 billion valuation (after gaining a $1.12 billion valuation last October), Pitchbook didn't include it in its list of fastest-growing startups due to some technicalities. Slack was spun out of a gaming company called Tiny Speck, which was founded in 2009 (leftover VC money funded Slack's early development.) Though Slack purports to be a little over a year old, that only counts the time since its public launch in February 2014. The team started working on Slack at the end of 2012, and the company released a private beta version in August 2013. All this to say: Slack's technically older than it says it is.