This post has been updated with statements from Time Warner Cable and Mediacom.
There are very few, if any, entities of everyday life that Americans despise more than their cable companies. If you live in the US, you are unlikely to go through adulthood without, at least once or twice, waging verbal war with a customer service representative over the phone. It's a rite of passage.
In the annual American Customer Satisfaction Index, 70,000 Americans were surveyed about their satisfaction with over 300 companies across 43 industries. The cable TV and internet provider industries were tied for the lowest-scoring of all household consumer industries. Cable TV dropped 3% from 2014; internet service providers remained unchanged.
Many of these cable companies are increasingly becoming internet companies with a side business in television. But Americans really dislike their internet providers too, which means they essentially hate the same companies twice, for two different things.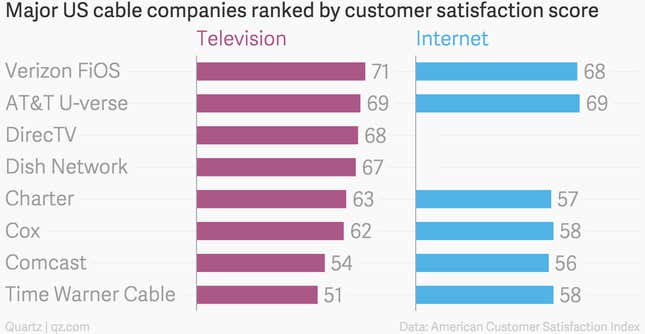 Both the TV and internet industries averaged a score of 63. For comparison, the cell phone industry received an average score of 78. Apple scored an 80.
Comcast fell to its lowest mark since 2008, dropping 10% to a score of 54. But Time Warner Cable took the cake as the company with the lowest score, falling 9% for a score of 51 to tie Mediacom Communications as perhaps the most disliked company in the United States.
Update (June 2, 12:59pm EST): In an email, a Time Warner Cable spokesman outlined to Quartz some of the ways the company is improving its customer service, including one-hour appointment windows, faster internet speeds, and more on-demand choices. "We keep on striving every day to make TWC the most reliable, best-value choice everywhere we serve," he said.
Update (June 2, 2:51pm EST): Responding to its score on the survey, a Mediacom spokesman told Quartz, "We take customer satisfaction very seriously, and have been working very hard to improve the customer experience." He cited some of these improvements, which include 30-minute appointment windows and an award-winning mobile care app.
Quartz also reached out to Comcast, and we'll update this story should the company reply.
Certainly, both Comcast and Time Warner Cable were damaged by their failed merger, which had drawn the ire of the general public before regulatory pressure forced Comcast to pull out. Americans feared that the merger would have made two powerful companies even more powerful, giving the combined TV and internet behemoth even less of a reason to invest in improving its customer service.
Since the merger failed, both companies have sounded slightly contrite, pledging to improve customer satisfaction. If approved by regulators, Time Warner Cable will be bought by Charter, whose CEO has already outlined all the ways customers will benefit.
Comcast announced a sweeping new customer service initiative, which includes the addition of 5,500 workers, a simplified billing process, and "greater consistency and transparency to customers." Quartz has also asked Comcast to elaborate on these new initiatives, and we'll update this story with any response.
A few years ago, Americans were stuck with these companies if they wanted to watch television. Today, they're still stuck with them—but only for internet access. A host of subscription on-demand services, including the streaming video company Netflix, and internet TV companies, like Dish's Sling TV, offer Americans an alternative to the traditional pay TV model.
If cable companies don't want to continue hemorrhaging video customers, they may need to find ways to make sure consumers are more satisfied with their service.