This post has been updated.
Apple, like most big tech companies, has a diversity problem. And that is especially true at its famous product keynotes, such as today's Worldwide Developers Conference.
Over the past two years, during seven keynotes that spanned more than 11 hours, Apple featured just one woman on stage: Christy Turlington Burns, the model and nonprofit founder who had been using an Apple Watch to train for a marathon.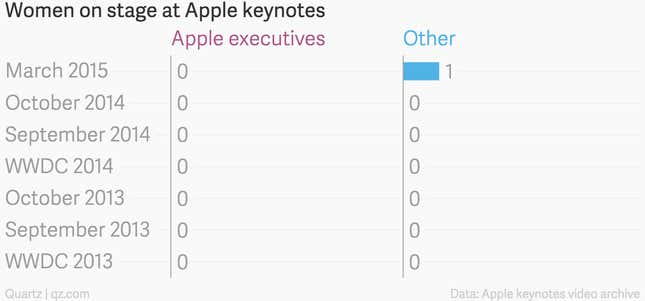 That will reportedly change today. In an interview yesterday (June 7) with Apple CEO Tim Cook, Mashable's Christina Warren noted there's been a lack of women on stage at WWDC keynotes. "I totally agree with you," Cook said. "You'll see a change tomorrow."
A big part of the problem is that Apple's senior executive team is almost all men, and Apple tends to feature mostly a rotating cast of its top executives on stage. During the event that featured Turlington Burns, for example, five men presented. During last year's WWDC keynote, seven did.
However, Apple has two women who could make their keynote debut today: Angela Ahrendts, the former Burberry CEO who runs Apple's retail business, and Lisa Jackson, Apple's vice president of environmental initiatives. Apple has been investing in both businesses, including a redesign of its Apple stores, and a number of green energy projects. Either (or both) could be good keynote material.
Apple also features women in many of its prerecorded video segments that it runs during keynotes. During the March event, for instance, three women appeared in a video explaining ResearchKit, an Apple project that allows medical researchers to collect data via special iPhone apps. Last September, Apple relied on women to demonstrate how shopping with credit cards is more annoying than using Apple Pay, its new mobile payments service.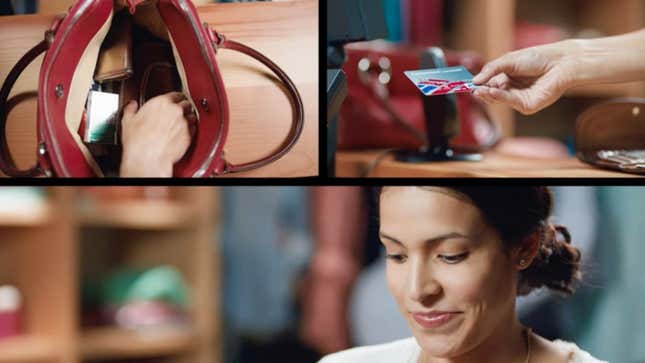 Even when Apple invites people from other companies to present on stage, they are almost always all men. However, at least two women have given product demos at Apple keynotes over the years: Representatives from two gaming companies, Ngmoco and Zynga.
Update (4:30pm): Two female Apple executives presented during today's keynote. Jennifer Bailey announced updates to Apple Pay, including new retail partners and its UK launch. And Susan Prescott unveiled Apple's new news-reading app. Here's an updated chart.