Apple will kick off its annual Worldwide Developers Conference today with one of its trademark keynote events. Here's what to expect.
A look at iOS 9 and the next version of OS X.
For the past several years, Apple has unveiled its latest operating systems at WWDC, which is typically available to the public in the fall. These updates potentially affect hundreds of millions of people: iOS 8, which Apple announced a year ago and launched last September, is now running on 82% of iOS devices worldwide.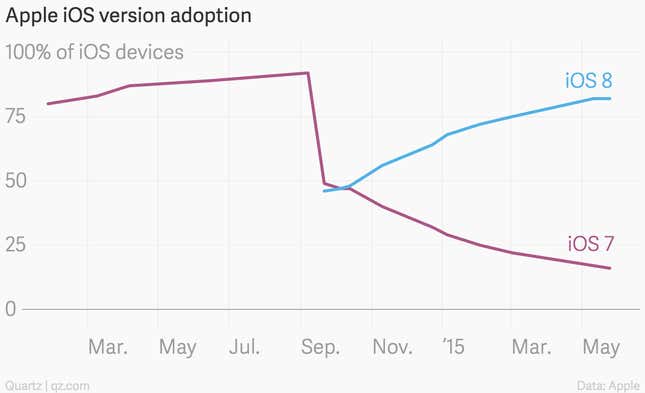 This year, expect a slightly tweaked look to both: Apple is reportedly changing its system font to San Francisco—the font used on the Apple Watch—from Helvetica. But don't expect any huge new features. The company is reportedly focusing on improving its existing features' stability this time around, with a few minor additions planned, such as transit directions in Apple Maps.
Apple might also expand its Apple Pay service to new countries, such as the UK or Canada.
A new music-streaming service.
A Sony executive all but confirmed that Apple's long-awaited music streaming service—potentially called Apple Music—will be announced today at WWDC. This is essentially Apple's answer to Spotify, which has been expected since Apple bought Beats Music more than a year ago.
The big picture is that streaming—free on YouTube, free and paid on Spotify—has taken off, and Apple's old iTunes Store model, based on buying and owning music, is now antiquated.
One of Apple's advantages is that it controls the homescreen and App Store real estate of many devices, and theoretically could design and craft a better app. However, it's not clear why someone would pick Apple's service over Spotify. Pricing, features, or network effects?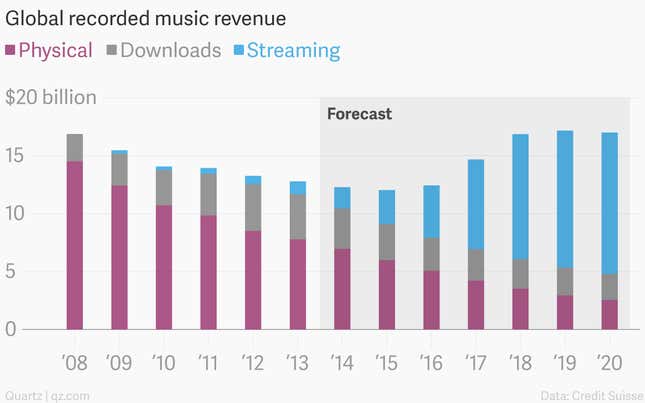 Better apps for the Apple Watch.
This is Apple's first WWDC since unveiling—and shipping—the Apple Watch, so expect a variety of related announcements.
Apple executive Jeff Williams said last month that Apple would reveal a new software developers kit for Apple Watch apps at WWDC. This will allow apps to run directly on the watch, instead of being beamed from a phone, which should improve their speed. It will also give developers access to more functions on the watch, such as its sensors and digital crown. Williams said this should immediately benefit fitness apps and games, among other categories. Another feature that many users have asked for is the ability to add information from other apps on customized watch faces.
It's conceivable that iOS 9 and the new OS X will also further integrate the Apple Watch, as this will be the first new versions of each OS since its launch.
Apple TV, missing in action.
Apple's media streaming device was expected to play a starring role at WWDC. But reports last week suggest that updates to its software and hardware aren't ready. Nor is a TV streaming service that Apple is trying to put together. Perhaps by the fall?
More tools for app makers.
Last year's WWDC keynote contained a surprising amount of new tools for iOS and Mac software developers, including a new programming language called Swift, a cloud hosting platform called CloudKit, and a new system for testing apps as they're under development. It makes sense that Apple will also update some of these.
Fresh faces?
As Apple CEO Tim Cook continues to shape the company, some executives have been getting face time at Apple events that they didn't before, such as Williams, who leads operations. Apple just promoted Jony Ive to chief design officer, and formally installed two deputies. Might Alan Dye, the new head of user interface design, make an appearance? Or one of Apple's women executives, such as retail head Angela Ahrendts?