Draped with a rainbow flag, she stepped onto the stage, hugged the university president, and asked him to make a cheering gesture with her to show support for sexual minorities. Wan Qing, a 22-year-old student from Sun Yat-sen University in Guangzhou, came out as a lesbian at her recent graduation ceremony to call for gay equality.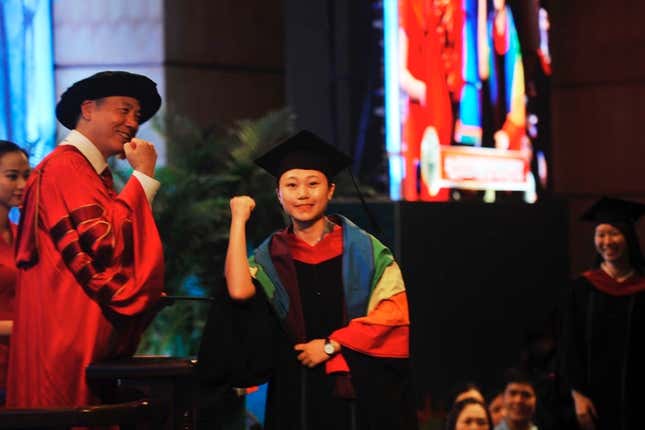 Wan told Quartz that her decision to come out was partly affected by the legalization of gay marriage in the US, but that she wants something different: gay rights for those who, like her, want to remain unmarried.
"I'm a lesbian. I hope sex and lust between females can be admitted, and same-sex marriage is not an end but a start," Wan wrote on Weibo, a popular Chinese microblogging platform, after Saturday's commencement. "Unmarried people should also enjoy social equality."
While gay rights activism is common on college campuses in the West, it is practically invisible of in China. Student-led gay rights groups are rare, and open declarations like Wan's nonexistent.

So Wan's coming out garnered significant attention, not only in Chinese media reports but also on Weibo, where a discussion thread about it has already received more than 740,000 viewings, with the numbers climbing quickly.
The discussion comes as gay rights activism is quietly building in China, even as other kinds of activism is often being stifled by the government.
Gay marriage is still not legal in China, but same-sex couples have been holding informal weddings. And there's a growing public awareness that behind many "straight marriages" are hidden same-sex relationships, as evidenced by the "cooperative marriage" and "homowives" phenomena. 
Wan thinks gay people are settling for straight marriages to get basic rights, such as raising children. Her answer is not to legalize gay marriage, but to "have a critical look" at the marriage system as a whole, she told Quartz.
Thousands of bloggers sent Wan their well wishes and praised her courage (link in Chinese) for doing what others won't dare to. Yet some thought Wan put the university president on the spot by asking him to cooperate with her on stage, noting it would have been awkward for him to not play along.
Commented one blogger, "No matter whether he supports same-sex love or not, he has the right to remain silent and make no acts. Have you respected him?" 
Wan countered she was friendly to the president when receiving her diploma on stage. "I have the right to decide how to use the time, as long as I didn't harm anyone," she told Quartz.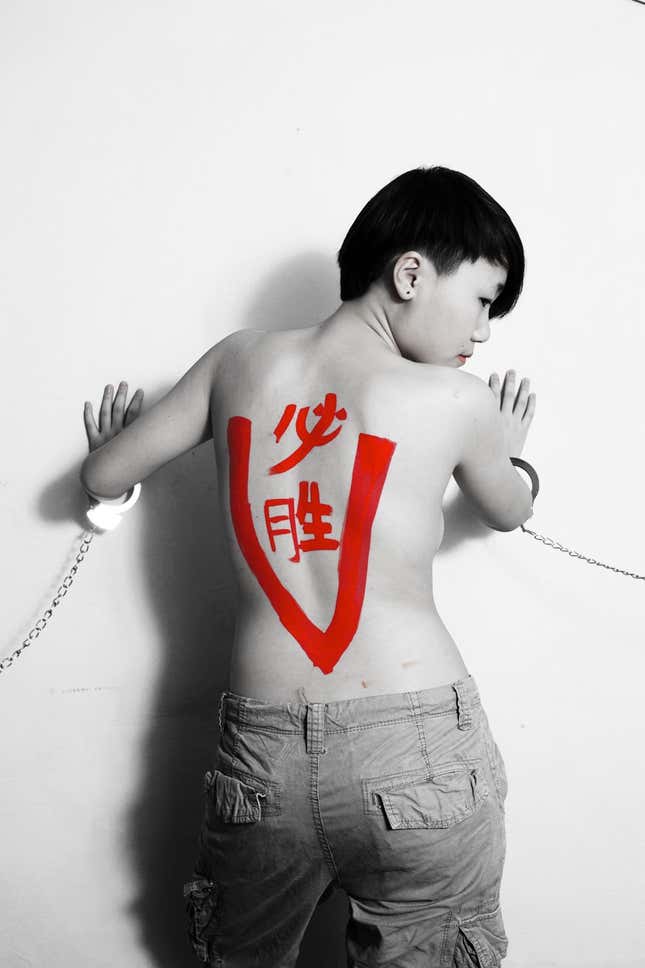 Wan's openness to "sex and lust" have made some people uncomfortable. She wrote in her coming-out post that, when she looked for partners on messaging services, she realized many guys thought sex only counted as such if it involved a penis. She aimed to help people better understand gay sex, but ended up incurring much criticism.
"When you need to be satisfied, it's natural that you find a person who feels the same," she told Quartz. "But sex is stigmatized in Chinese society."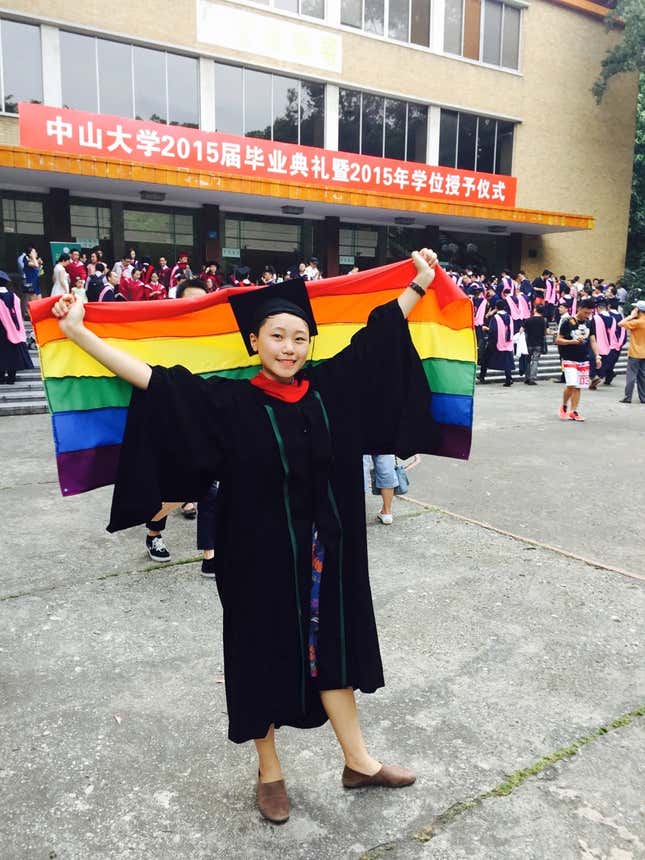 Wan said that she intends to run a studio of her own to make videos and visual arts for promoting gay rights, or whatever civil rights interest her. Before that, she'll go back to her parents, in the city of Chongqing in central China, to tell them about her coming out. She said they haven't asked her—which means they might not be aware—but feels they shouldn't be the last ones to know about it.
"If they are very emotional, I'll let them vent," she said. "Then talk to them again."
Wan's university has been keeping silent about her coming out, despite the president's "disputable" support. According to the state-owned Global Times, some professors of the school's Communist Youth League Committee asked for the images of Wan's rainbow flag to be removed from its WeChat (a social media platform) account. Wan told Quartz that she personally had not received any warnings from the school.
The president's office at the university told Quartz they had no comment on Wan.