You can now watch Homeland, Masters of Sex, Penny Dreadful, and thousands of hours of other shows and popular Hollywood movies online in the US without needing a cable TV subscription. CBS-owned Showtime, the premium US cable channel that some believe rivals HBO in quality of programming, has launched its new streaming service (also called "Showtime") on Apple devices, Roku, Hulu, and PlayStation Vue.
Like HBO Now, Showtime is available as a 30-day free trial before you start getting billed $11 per month (HBO Now is $15). After you sign up via an Apple device, a few helpful messages appear, warning you that your subscription will renew automatically after the first month, and directing you to your Apple settings where you can turn auto-renew off if you so choose.
Unlike HBO Now, Showtime actually offers live feeds of both the east coast and west coast versions of its regular cable channel. Quartz tested the live east coast feed on an iPhone 6, and after buffering for a moment, the video played seamlessly.
Hulu is offering Showtime's new service to its subscribers at a discounted rate of $9 per month. Given that offer, and the plethora of other online streaming options that span a wide range of content, it's now possible to watch basically every good TV show over the internet for a reasonable price, without a cable subscription.
With HBO and Showtime now fully online, expect other major American TV networks to join the fray as well. There are about 10 million Americans who have broadband internet, but don't pay for traditional cable TV service. That's a lot of potential customers, in addition to those who do pay for cable TV, but want to try these internet offerings anyway.
Here's what Showtime looks like on desktop: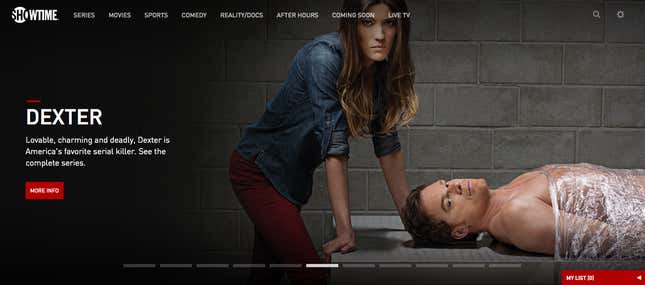 And here's how it appears on mobile: