The streaming TV revolution is happening, whether traditional cable companies like it or not. Thus far, most cable and satellite TV companies have been fairly reluctant to embrace the cord cutting phenomenon—but there are a few exceptions. Now, Comcast—the largest cable company in the US—will offer streaming TV of its own. The service, fittingly called Stream, will give Comcast internet customers access to HBO, a dozen broadcast networks,and cloud DVR storage for $15 per month. It will be available in select US cities later this year before rolling out across the country in 2016.
"Clearly, there are changes that are happening in the market," Matthew Strauss, Comcast's head of video, told the New York Times (paywall). "Not everybody is going to want a full pay-TV bundle."
For $15, customers are essentially getting Aereo with HBO. Aereo, the internet TV service that the US Supreme Court dubiously ruled was illegal last year, allowed people to watch broadcast channels like CBS, ABC, NBC, and Fox over the internet for free, and then record those broadcasts. But the Aereo ruling didn't make all cloud DVRs illegal, and Comcast is confident in the legality of its service. In any event, if Stream is anything like Comcast's current cloud DVR storage via its X1 cable box, it will allow customers to download and save shows onto their devices and then watch them elsewhere.
Stream's price point is extremely reasonable considering that customers are getting HBO—which alone costs $15 when bought on the internet—in addition to the broadcast networks and the ability to store programs in the cloud. Still, it's a modest offering from a cable company that might feel threatened by the rise of services like Sling TV, PlayStation Vue, and, likely, Apple's upcoming internet TV service. But there are a few caveats.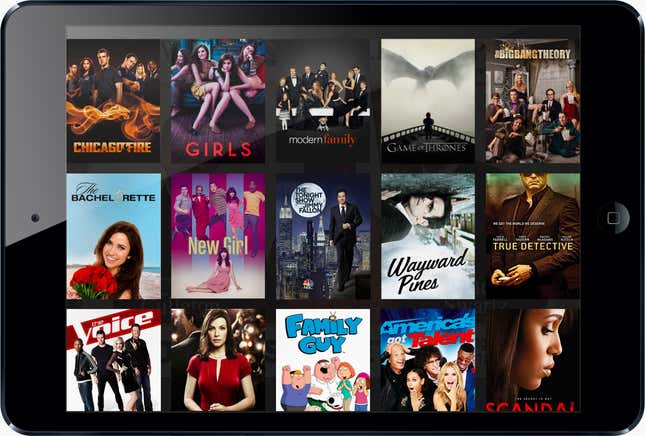 You can't get Stream on your actual television set (where most people would want to watch TV) without a workaround like hooking your laptop up to the TV with an HDMI cable. Stream is also, according to Engadget, an IP-based cable service delivered over Comcast's managed network, meaning that it's basically just cable TV using internet pipes. You can't stream live TV with any internet connection—it has to be your Comcast network at home.
We're still quite a ways from true a la carte television, in which consumers can pay for the exact individual channels that they want on a case-by-case basis—but we're inching toward it. The cable bundle, once thought to be indestructible, is inarguably starting to form cracks. Comcast, as well as the entire cable TV industry, is hemorrhaging TV customers, making it increasingly clear that the future of many of these companies will be on the internet. Instead of offering internet TV completely, some companies now offer trimmed down cable TV bundles that they think might appeal to people who are considering cutting the cord. But many think such packages are mere half measures that won't adequately thwart the rise of services like Netflix or Hulu.
If nothing else, Stream appears to be an honest effort on the part of Comcast to provide a service to its US subscribers that they might actually use, caveats notwithstanding. Maybe that'll help improve its mangled reputation.