The deadly explosions that took place at a warehouse storing dangerous chemicals in Tianjin last week killed over a hundred people, cost billions of dollars, and have raised serious questions about China's industrial safety and emergency preparedness. Local land and waterways may be polluted for years to come.
Even as the government censors online "rumors" and legitimate press reports, Chinese media, including  state-run outlets, have launched in-depth investigations into Ruihai International Logistics, the company that owned the warehouse and specializes in storing highly toxic chemicals. These reports point to strong political connections between the company and government officials, indicating corruption played a huge role in the company's growth and operations.
Xi Jinping's far-reaching anti-corruption drive has ensnared top party officials, curbed massive bribes and reached deep into industries from oil to media to railways over the past two years. But as the Tianjin blasts show, in some places business in China is still being done exactly the same way it was before he took office—the powerfully-connected get special treatment that benefits them, and the rest of the country pays. 
Ruihai's politically-connected founders
The founders of Ruihai are the son of a former police officer and a former state company executive, state-run Xinhua news agency reported on Aug. 19, based on interviews with the founders. These men are also the only two shareholders of the company, the founders told Xinhua, but they own their stakes in it through other people.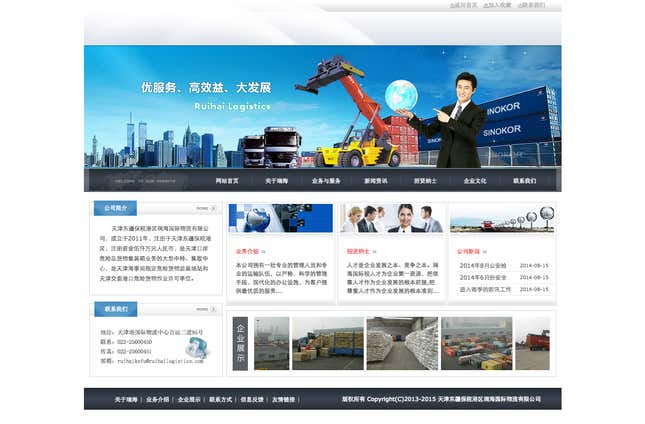 Yu Xuewei, 41, former executive at state-run chemical company Sinochem, holds 55% of Ruihai's shares, though his cousin is listed publicly as the holder of those shares, he told Xinhua. Yu still sits on the board of directors of Tianjin Port Sinochem Dangerous Goods Logistics Co., a subsidiary of Sinochem, as AP reported on Aug. 21.
Dong Shexuan, 34, the son of a former police chief for Tianjin Port, holds 45% of the shares, through schoolmate is the publicly-listed holder. Both the founders and the public holders are in police custody.
The two founders told Xinhua that they used their political connections to win benefits for Ruihai, though neither admitted to paying a bribe. In particular, they say their connections have  helped Ruihai to pass government inspections on handling dangerous chemicals business, including to obtaining  various fire safety, land, environmental and safety certifications, Xinhua reported. Dong told the news agency:
My guanxi [connections] is in police and fire. When we needed a fire inspection, I went to meet with officials at the Tianjin port fire squad. I gave them the files and soon they gave me the appraisal.
The founders' interviews are somewhat puzzling. Public confessions by detained activists and lawyers have become common in China, but it is highly unusual to see news reports like this as part of an ongoing news investigation.
Ruihai was unlicensed
A company website says Ruihai was established in 2011 and is licensed to transport dangerous goods. It has 70 employees, posts annual revenue of over 30 million yuan ($4.7 million), and can handle about 1 million tons of cargo a year.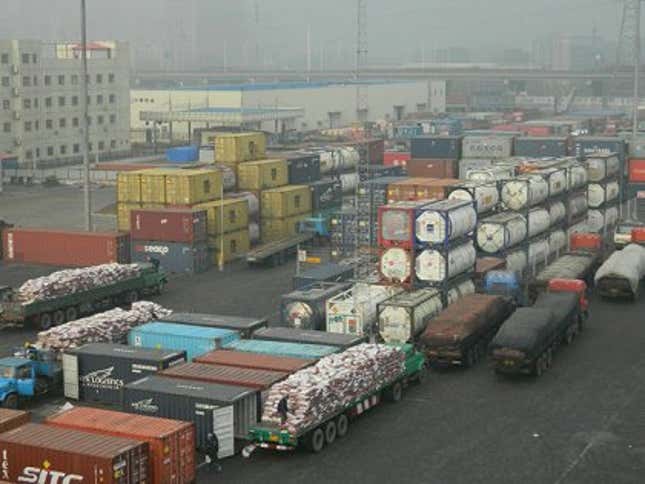 But according to the National Company Credit Information System, a company registration website administered by the State Administration for Industry and Commerce (SAIC), Ruihai was established in December 2012. The company was not supposed to handle dangerous chemicals until Tianjin Municipal Transportation Commission, Tianjin's branch of the state's Ministry of Transport, issued a license. Information on the website only shows the title of the license document, and says Ruihai was licensed to handle dangerous chemicals until October 2014.
But a license document  (link in Chinese), which was made public by the Beijing News on Thursday, shows that Ruihai, on a trial basis, was authorized to store nine different dangerous goods at its warehouse only from Apr. 16 to Oct. 16, 2014. Both the title and the end date match online information on the trade group-administered website. The document, dated May 4, 2014, is marked "confidential."
Xinhua's August 19 report confirms the existence of the document and says the company only got another formal license this June, meaning it had been handling dangerous chemicals without any approval  for eight months. It  quotes founder Yu:
"After the first license expired, we applied for an extension. We did not cease operation because we did not think it was a problem. Many other companies have continued working without a license," said Yu Xuejun.
Even Ruihai's official license may be illegal. Chinese laws say business shouldn't be licensed to handle dangerous chemicals until they go through safety assessments and complete inspections. Ruihai's safety assessment was only completed in August 2014, the Beijing News reported—that's after Tianjin authorities trial approval in May.
Calls made by Quartz to Ruihai were not returned.
Safety regulations were ignored
The August 2014 safety assessment report allows Ruihai to store dangerous chemicals in their warehouse a mere 560 meters away from a nearby housing estate, despite Chinese regulations consider any distance less than 1,000 meters is unsafe, Xinhua reported on August 19.
"The first company said it was too close to residential buildings and violated the regulations, so we wouldn't pass," Dong told Xinhua."Then we found another company who got us the documents we needed." So far the safety assessment report hasn't been made public by authorities, Xinhua reported in a more detailed article in Chinese on August 19.
Tianjin Zhongbin Haishen is the safety evaluation company who examined Ruihai. The company's public liaison is the National Engineering Research Center for Fire Protection, which is supervised by the Ministry of Public Security, according to SAIC's company registration website.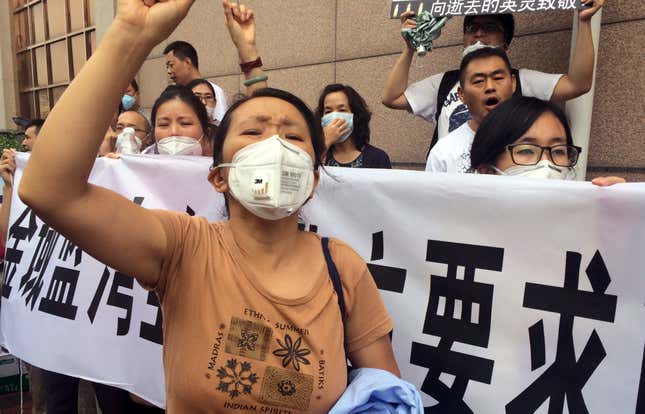 An environmental-impact report ordered by the Tianjin Environmental Protection Bureau in December 2013 said a survey of local residents found that 100% of responders agreed that Ruihai should go ahead with the construction of a warehouse for containing dangerous chemicals in the area, Xinhua reported. Some residents interviewed by the news agency said they had never seen such a survey, nor had they even known of the existence of a nearby chemical warehouse before the blasts.
A "fat meat"

Tianjin is the closest port to Beijing, and accounted for 70% (link in Chinese) of the dangerous goods shipments into China's largest city last year. But only three logistic companies are licensed to handle nine categories of dangerous chemicals. Ruihai is the only private company among them, Chinese media has reported.
There are about 40 logistics companies in port area. Others also have tried to get licensed to handle chemicals, but none has got an approval, the Beijing News noted.
One person in charge of a local logistic firm told the newspaper that the business of dangerous chemicals storage is "fat meat"— an industry where monopolies mean it is two or three times more profitable than ordinary goods shipment.
Ten Ruihai executives, including Yu and Dong, were detained soon after the blasts occurred. A week after the blasts, China's top official on work safety, Yang Dongliang, was also taken into custody for "suspected violations of party discipline and the law"— a standard euphemism for corruption. Until one day before his arrest, Yang, who is also the former vice mayor of Tianjin, was still supervising the rescue work after the expositions. Authorities have not said whether his detention is related to the blasts.
The People's Daily, the party's paramount mouthpiece, compared the incident to former anti-corruption cases in an editorial (link in Chinese) on Aug. 17:
"We have investigated thoroughly and handled publicly in big cases on Zhou Yongkang, Xu Caihou, Guo Boxiong, and Ling Jihua [four fallen high-rank officials amid President Xi Jinping's anti-corruption campaign]. Is it necessary for us to conceal a safety accident? How can officials cover up one another?"
As more details of the Tianjin blasts have come to light, there are signs that China's top leadership is furious. Xi's anti-corruption campaign is being thwarted by forces within China, according to an editorial (link in Chinese) carried by state media August 20 under a pen name.  "The scale of the resistance is beyond what could have been imagined."