It's not hard to see that something is up with the world's largest brewers today (Sept. 16):
A long-rumored deal between Anheuser-Busch InBev and SABMiller is in the works, with official confirmation that the former intends to make a takeover bid for the latter. After the big jump in SABMiller's shares in trading today, a takeover could cost AB InBev something like $100 billion (including debt), earning it a spot in the top 10 largest deals of all time.
As with any mega-deal, there's a lot that can go wrong. As both companies note, "there can be no certainty that an offer will be made or as to the terms on which any offer might be made."
But the markets clearly love the logic of the tie-up. Unusually, the shares of both the buyer and the target jumped today. Shares of the acquiring company usually fall on takeover news, particularly for the largest deals, given the patchy history of mega-merger performance.
A simple combination of both companies at current prices would form a beer giant with a market cap of around of $270 billion. The combined company would control nearly a third of the global beer market by volume, according to Euromonitor.
Even by the standards of the steady consolidation of mass-market beer groups, this is a significant concentration of power in the hands of a single parent company. It would bring AB InBev's core brands like Budweiser, Beck's, and Corona together with SABMiller stalwarts like Coors, Miller, and Foster's.
Or not. Although the brewer's portfolios are complementary in some regards—particularly SABMiller's enviable market share in fast-growing markets in Africa and Latin America—there will be serious antitrust hurdles to overcome in several countries where both companies operate. American regulators won't look kindly on the country's three largest beer brands—Bud, Coors, and Miller—being owned by the same company.
Here's where AB InBev controls more than 30% of a country's beer market: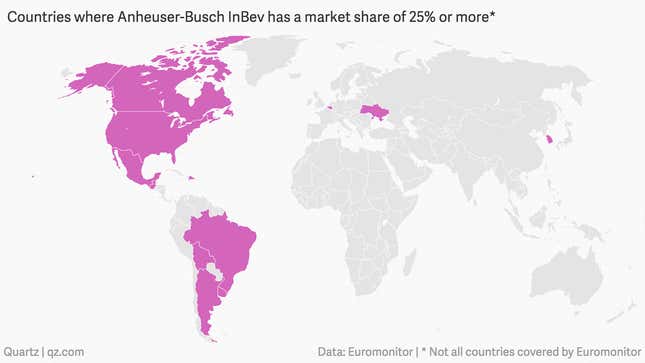 And the same for SABMiller (not including a host of African countries not covered by Euromonitor):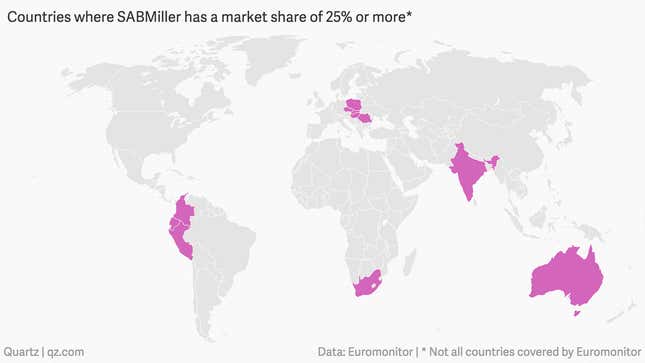 Macro-brewer merger mania is gripping the markets, with shares in other brewers—including Heineken, Carlsberg, and Molson—all jumping today. SABMiller was rebuffed by Heineken last year, and SABMiller could launch a new bid for it or another rival to bulk up and scare off AB InBev. The spin-offs required by regulators if AB InBev swallows SABMiller could also kickstart a wave of mergers.
In an emailed statement to Quartz, Spiros Malandrakis, a drinks analyst at Euromonitor, says that "macro-beer is now gazing at the event horizon" of large-scale consolidation. This is the last hurrah for Big Beer before "the craft movement is coming of age and solidifies its position as a key disruption force within beer and the entire alcohol industry," he notes.
SABMiller and AB InBev have been burnishing their craft credentials for years—SABMiller recently bought London's Meantime, while AB InBev has seen Goose Island fly off the shelves since buying it. But there has also been a backlash against sprawling conglomerates snapping up formerly independent small-scale brewers. Future innovation, growth, and profit in the beer industry will come from "small-scale experimentation," according to Malandrakis. And although investors may cheer the financial synergies of the coming corporate combinations, these deals "will remain largely irrelevant to the scores of millennials seeking alternatives to Big Beer's offerings."