The race for the luxury electric car market is shifting gears.
Soon after Porsche announced at the Frankfurt Auto Show that it will be building an electric sports car, Audi said it has even grander plans. Audi of America's president, Scott Keogh, told Automotive News that it plans to turn its e-tron Quattro SUV electric vehicle concept into a production model in 2018. After that, the company will work on another electric vehicle, and Keogh expects electric vehicles to account for one-third of the company's US sales by 2030.
"Our number one thing is not to build a compliance car but to build a cool, desirable car, because that's what's going to help our brand and our customers are going to like it," Keogh told the trade publication.
Audi's all-electric 500-horsepower Quattro SUV will be able to travel roughly 310 miles on a single charge, whereas Tesla's forthcoming Model X will be able to go about 270 miles. Audi appears to be following a similar strategy to Tesla: Both are next releasing a luxury SUV that, as Automotive News put it, are intended to "provoke desirability." The Quattro SUV will be about the same size as its existing Q7 SUV; details were thin on what the second electric vehicle would look like, however.
"We will need and are actively looking at what is the second" battery-electric vehicle, Keogh said. "There will be more, without a doubt."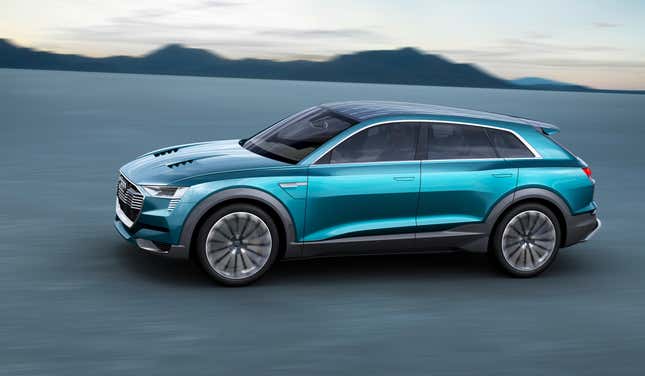 Tesla CEO Elon Musk has previously said he wants competition—the company opened up its patent repository in 2014 in the hopes of spurring on other companies to build off their technology. It seems his wish is slowly coming true. Porsche's Mission E is expected to go into production by 2020, and Mercedes-Benz is apparently also working on putting out its own luxury electric vehicle in the next few years.
While Tesla in the short term is continuing to focus on the high-end luxury market—the Model X will cost about $132,000—Musk also intends to bring electric vehicles to the mass market in the longer term. The next car the company is working on will be the Model 3, which is expected to cost about $35,000—still expensive compared to the most popular sedan in the US (Toyota's Camry), but it's a step in the right direction.
Tesla may be facing increased pressure from established luxury brands in the coming years, but it does have two key advantages over its rivals: It already has cars on the road—proving the company knows what it's doing—and its future might not just hinge on the luxury market. However, it'll need to keep selling those expensive cars if it's going to be able to build cheaper ones in the future.