At the moment, 3D printing is still mostly about experimentation. While it hasn't quite taken off to revolutionize the way consumer products are made just yet, it does offer a lot of exciting, innovative ideas, especially in the realm of sneakers.
MIT's Self-Assembly Lab, a group focused on research into "active" materials, is working in collaboration with product designers Christophe Guberan and Carlo Clopath on one of the most unique footwear possibilities involving 3D printing: It's a shoe that can be "programmed" to match the contours of your foot.
Their Minimal Shoe, as they've dubbed it, is created in a unique process. They stretch out a textile and then 3D-print lines of plastic in varying layers and thicknesses on it—essentially, the structure of the shoe-to-be. Next they cut out the portions of the textile they want. Released from the original stretch, the textile will "jump" into a new shape according to the arrangement of the 3D-printed lines left on it. Hypothetically, you could either custom print a shoe for each wearer with just a few lines of extruded plastic, or you could make a nearly one-size-fits-all shoe, since the stretchy textile will conform to any given shape.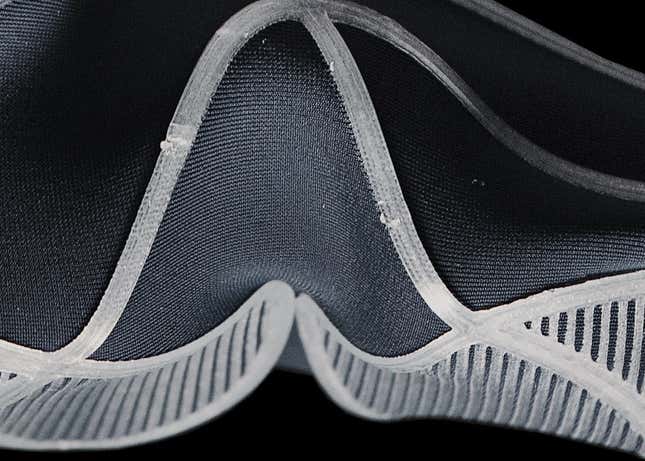 Skylar Tibbits, one of the directors of the lab and a research scientist in MIT's architecture department, tells Quartz they're investigating both possibilities, and that the "morphability" of the textile could make for a more comfortable and adaptable type of performance footwear.
The whole shoe wouldn't have to be created with this method either. Just the upper could be, or portions of it, and then it could be attached to a more traditional sole. It's also relatively easy to make, compared to 3D printing an entire sneaker.
"Imagine using active materials to produce one-size-fits-all shoes, adaptive fit, and self-forming manufacturing processes," a statement by the lab says. "This technique would radically transform the production of footwear forever."
Although the shoe is still a work in progress, Tibbits told The Creator's Project that a large sportswear company is currently interested in the process, though he isn't certain what might come of it.
Actually, of all the consumer-goods industries exploring uses of 3D printing and customizable textiles, sneaker makers could well be among the first to bring products to a mass market. Adidas has already introduced a 3D-printed midsole that could give every customer the perfect fit, and Nike's COO recently expressed his confidence that we'll soon be able to 3D-print Nike sneakers at home or the nearby Nike store. Both have also shown an interest in finding new ways of manufacturing lightweight textiles that can stretch and contour to the wearer's foot, as in the knit uppers that have been so popular for both.
The Self-Assembly Lab is working on other projects too, including materials that can transform in response to outside stimuli. So, for instance, something like sneaker laces that could tighten from heat or the energy of a small battery. Currently it's collaborating with Airbus on creating a dynamic carbon-fiber component for the company's airplane engines.
The Minimal Shoe in particular came about when the lab received an invite to design footwear for the "Life on Foot" exhibition at the Design Museum in London.