Condolence and support from heads of state across the globe poured in to France after Friday's terror attacks in Paris. China's president Xi Jinping told French president François Hollande by telephone that his country is ready to join France in combating terrorism.
But despite the kind words, China's real anti-terrorism focus seems to be within its own borders.
At the G20 summit in Turkey on Sunday (Nov. 15), China's foreign minister Wang Yi said the international community should cooperate with China to fight Uighur separatists in its far west territory of Xinjiang, state news agency Xinhua reported (link in Chinese). There should be no "double standards" in fighting terrorism, Wang said, and the United Nation should play a leading role to form a "united front" for it.
"China is also a victim of terrorism. The fight against the 'East Turkestan Islamic Movement'… should become an important part of the international fight against terrorism," Xinhua reported Wang saying.
China has expressed concerns about the rise of ISIL, fearing it will stir up unrest in Xinjiang, where some Muslim Uighurs seek an independent state called East Turkestan. State-backed media reports (link in Chinese) Uighur separatists are fleeing the country to join ISIL in Syria, Iraq, or its branches in Southeast Asia, though Beijing has said the situation isn't entirely clear.
In recent years, China has been home to dozens of terrorism attacks and violent clashes, which have spread from the northwest to the whole nation, as Quartz has reported. Chinese media often blames Uighur separatists, but other reports say Chinese authorities are brutally cracking down on the local community—in one incident killing dozens of protesters this year.
The international community remains skeptical, because independent reporting in the area is difficult. China's government has also long been criticized for its heavy-handed, draconian treatment of its largely Muslim Uighur population, including banning religious holidays like Ramadan, and making it illegal for women to wear burqas in some places.
The day after the Paris attacks, the state-backed People's Daily posted a rare article (link in Chinese) about what it said was a mission to root out terrorist militants in Xinjiang. A series of nine pictures showed a group of armed police, whose faces are blanked out, climbing and camping in mountainous areas, and getting ready to storm into a shabby house. (The original has been removed but here is a cached page.)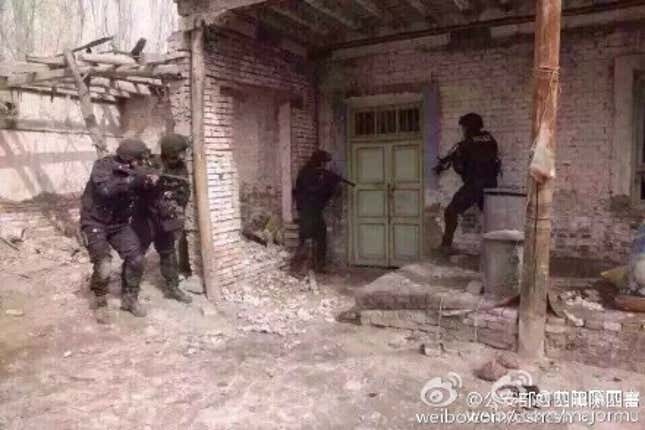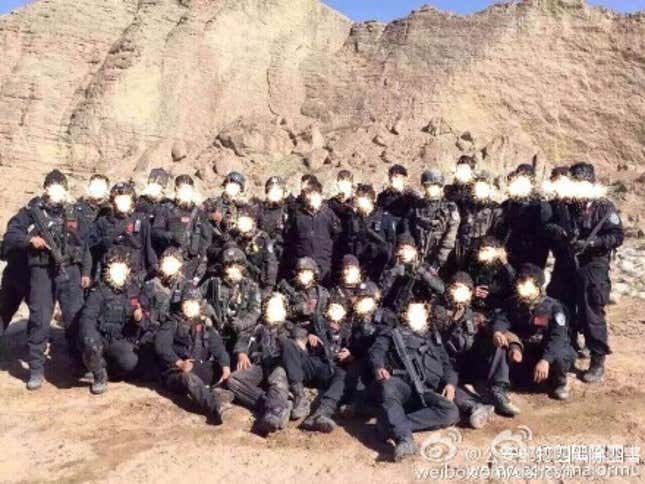 "France's Paris was hit by its worst terrorist attack in history, with hundreds dead and injured. On the other side of the world, police in China's Xinjiang, after 56 days of pursuing and attacking, carried out a full attack on the terrorists and got great results," reads the text accompanying the pictures.
The content originated, it appears, from a post on the social media platform Sina Weibo (link in Chinese, registration required), in what seems to be the official account of the public security ministry. But that post, and re-posts that followed, have been deleted.
One picture shows a note that looks to be written by a member of the anti-terrorism team on the mission. It records when the battle was completed and when the bodies of terrorists were found, and also warns that anyone taking violent anti-government actions will pay a price thanks to "the people's police and the people's army."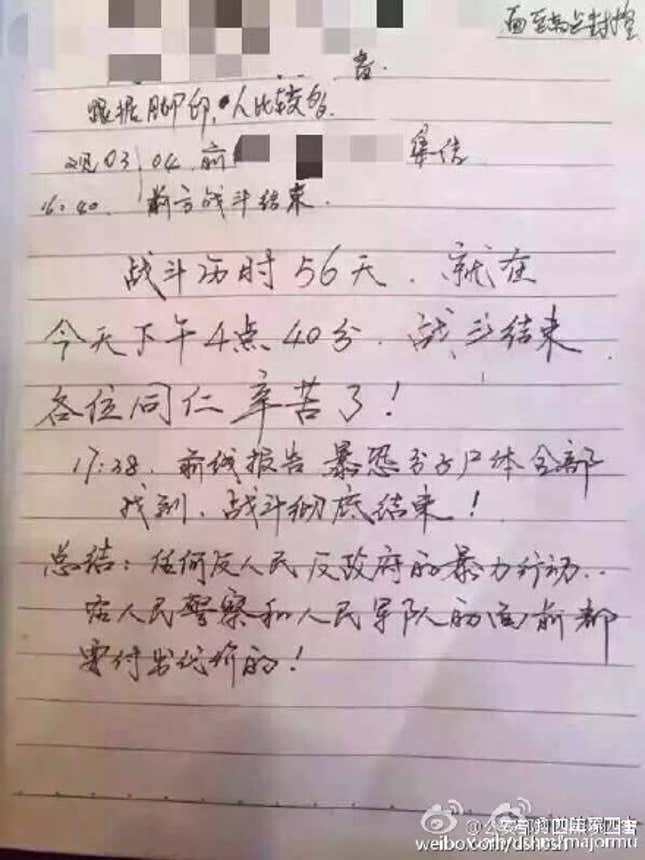 It's unclear where and when the pictures were taken exactly. Chinese state media didn't reveal what the original terrorist attack was, or how many people were killed in the police force's retaliation.
After a briefing Sunday about the Paris attacks, China's police chief Guo Shengkun ordered more intelligence gathering and analysis, as well as patrols at key venues, according to the website of the public security ministry (link in Chinese).