The head of Fanya Metal Exchange has been taken into custody on suspicion of "illegally absorbing public savings," after the trading platform froze an estimated $6 billion it collected from hundreds of thousands of Chinese investors last April, a police document reviewed by Quartz shows.
Fanya chairman and founder Shang Jiuliang and other company executives were arrested for the crime, after the Kunming city police started an investigation into the company on Dec. 1, according to a document dated Dec. 24 written by Shanxi provincial police. The document was given to Quartz by Fanya investors, after circulating among them this week.
Fanya is one of the most prominent cases of suspected fraud in China's loosely regulated, but fast-growing, financial system. The Chinese government played a part in the metal exchange's rise, and then mostly ignored investors' protests and complaints for months after their money was frozen.
The classified document includes the investigation results from Kunming police and orders Shanxi  provincial police to investigate local investors' complaints. One Shanghai-based investor told Quartz she got it from a Fanya investor who works for a government agency, but didn't provide any other information.
Shanxi police refused to comment on the document when contacted by Quartz, and calls and emails to Fanya have gone unanswered. Several investors told Quartz the document is consistent with others they have seen from their hometown police officers.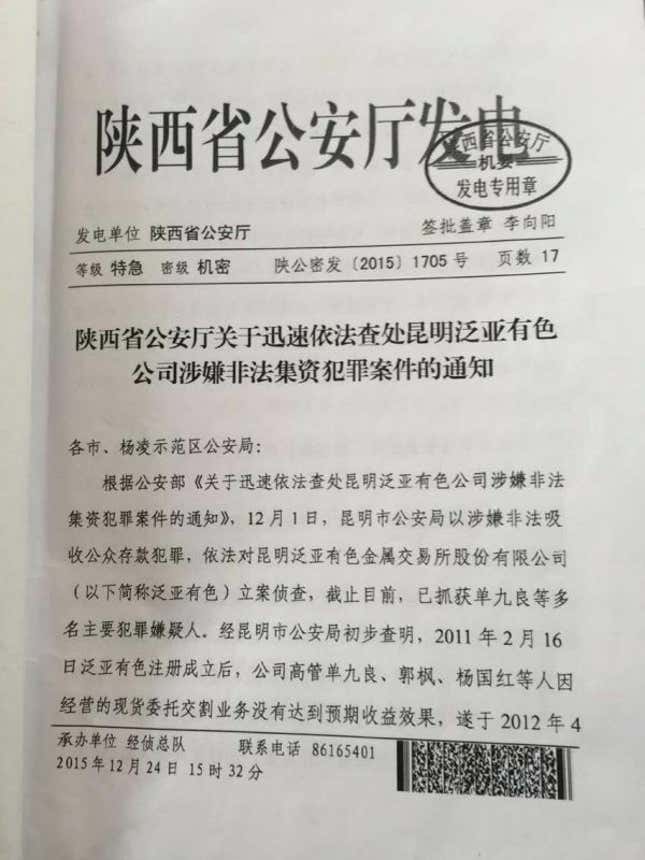 Fanya's founder Shan Jiuliang has been missing since last October, Imagi International Holdings Ltd, a Hong Kong-listed company Shan also chairs, announced on Dec. 17. The Kunming government said it began investigating Fanya on Dec. 22. Last August, incensed investors took matters into their own hands, and attacked Shan at a hotel, then turned him in to police. He was released without being charged at the time.
The police document runs down what the investigation has found out about the Fanya fraud so far:
Founded in 2011 as a spot exchange for rare metals, Fanya has defrauded 238,600 Chinese investors of more than 40 billion yuan (around $6 billion) by selling financial investment products that promise annual returns of between 10% and 13%. The company's "entrusting sales" program (which allows retail investors to lend money to end users to buy metals) has never been approved by China's central bank and other regulators, and the company faked buy and sell orders to control the metal prices on its electronic trading platform, the document says.
The document also orders officials to seal Fanya's warehouses and to recover any illegal assets gained by the suspects. It also orders officers to prevent investors from petitioning or holding public protests. "[The victims] have a persistent and strong will to go to Beijing to make collective petitions," the document says. "[It] has become a major risk on social stability."
Fanya investors have been trying to get their money back through a series of public protests after their appeals to government officials to deal with the case failed. A planned protest in Beijing was cracked down by police last October, with hundreds of investors being detained overnight and later released. More than two dozen protest organizers were taken into long-term custody, and some of them are accused of the crime of  "gathering crowds to disturb public order."
Investors told Quartz some of the 28 organizers are still held in detention and will probably be formally charged and prosecuted. The charges could carry jail sentences as long as five years.