Thousands of Chinese investors were expected at a protest in Beijing this morning (Oct. 26) asking the government to force Fanya Metal Exchange, a trading platform-turned-asset manager, to return an estimated $6 billion of their funds. But only a few dozen actually turned up, after a nationwide police crackdown over the weekend that resulted in hundreds of investors being pulled from Beijing hotels, and others receiving threatening police visits in their homes, several investors told Quartz.
At around 9am, less than one hundred investors were gathered across the street from the headquarters of the China Securities Regulatory Commission (CSRC), where they planned the protest, eyewitnesses and investors told Quartz. Dozens of police already stood by at the gate of CSRC, with around twenty buses parked nearby, presumably ready to take investors away. Some were arrested on the spot: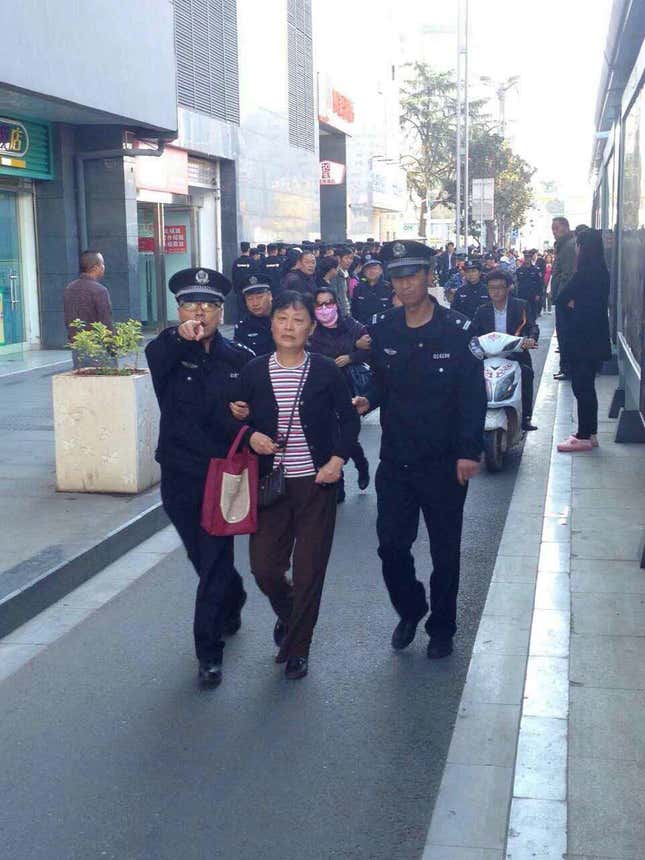 Investors, many of whom have lost their life savings and family members' as well, say they're protesting because they feel they don't have any other options. "We want the government to take up its responsibility on this subject, we are not anti-government," Lu, a businessman from north China's Shanxi province who has invested  several million yuan in Fanya, told Quartz from the protest site. "If we don't defend our rights, we'll never have hope." Lu said his wife was taken by police from their hotel room last night.
As many as 220,000 Chinese investors put money into the metals exchange, which halted all trading six months ago. Fanya's founder and chairman Shan Jiuliang recently said Fanya is not responsible for paying the investors back. The Chinese government played a part in Fanya's rise, but so far local and national government have done little to get investors' money back. Increasingly desperate investors have staged a series of protests, even, at one point, kidnapping chairman Shan and turning him in to the police.
Police allowed protests in the past, but Monday's comes as more than 200 top leaders of China's ruling Communist Party hold a policy-making meeting in Beijing known as the fifth plenum, where China's next five-year plan is expected to be announced. The meeting seems to have inspired the crackdown.
One 53-year-old Fanya investor, who asked to be identified only by his surname Li, told Quartz on Sunday (Oct. 25) that he had decided not to attend the protests for safety reasons, after police kept harassing him and his family at their home in Hangzhou, in Zhejiang province. Li said a police officer warned him to not go, because many foreign media will be reporting on the fifth plenum in Beijing, so the protests will make the state look bad. The police officer, Li said, warned him "stern action" would be taken if he went.
The protest was not scheduled for the Party's fifth plenum, organizers told Quartz, the timing was just a coincidence. Police began to intercept protesters who were making their way to Beijing over the weekend, as well as clearing out Beijing hotels where they were staying.
Protesters believe police used the complaints that they filed about Fanya to local authorities to track them down.
"Several hundred" Fanya investors who checked into Beijing hotels were rounded up by police and kept in Jiujingzhuang Relief Services Center, Beijing's biggest detention hub for protesters, one investor who had been detained told Quartz by phone on Sunday night. On Monday morning, she said she and other investors were on a high-speed train back to their hometown of Zhejiang, under police supervision.
The police didn't use any force at all, she said, perhaps because all the investors complied with their instructions. Still, being detained was something she said she "never expected" would happen.
A protest organizer surnamed Tao from southeastern China's Zhejiang province told Quartz organizers didn't know the exact number of investors who had be jailed or taken away by Beijing police. But she said there were still around a thousand investors in Beijing, sleeping on the street to avoid police. Whether they'll actually hold a protest "all depends," she said.
Tao said investors originally expected Monday's demonstration would be "the biggest protest in the past decade in Beijing," but they had never thought of  starting any confrontations with the government. "If we don't have the money back, we won't have our lives," Tao said.
The government has been fast to deal with protesting investors, "but slow dealing with the cheaters," Li said.